Written by Rebecca Thompson
August 11, 2017
The junior open division title has gone to a team from Manitoba, Ontario, or British Columbia since the gender split in 2012. It is no surprise that the top contenders for this year's championship are from the same cities.
Manitoba took home their first national title since 2012 in Edmonton last year and the MOFO boys are coming in on a hot streak to Ottawa this year. MOFO bodes a strong team full of height and speed that claimed Prairie regionals with ease. Their drive and athleticism makes them a heavy favourite to win the junior open division at CUC this year.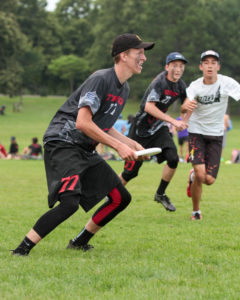 TORO, from Toronto lost a tightly contested final last season are determined to get their shot at redemption this year. According to head coach Evan Phillips, the team is well rounded and doesn't rely on one or two superstars. Instead, they have depth and trust in all their athletes.
"The 2017 TORO team has a good mix of veterans and rookies. We have spent a good deal of the season working on integrating the new players into our system, so have seen some bumps in the road for sure," said Phillips.
"We don't have one or two players that we can rely on to make plays, like past years we are banking on a solid team effort for success at Nationals. We are hoping for a strong finish and to peak at the right time."
Bonfire, from North Vancouver, is the fifth seeded team going into nationals and has a solid shot of beating their seed in Ottawa. This isn't the first time that Bonfire has been in the mix at CUC. A third-place finish in 2014 has helped them build their program as they won spirit in 2015 and took home another bronze medal in 2016 in Edmonton. Bonfire won the Misfit cup this year beating Alpha and Misfit, and finished second to Alpha at BC regionals.
Despite Bonfire's mid-season success, they come in ranked behind BC's Alpha. Under new coaching this season, Alpha finished first at BC regionals and looks to be peaking at the right time. BC has only one title since the gender split, and Alpha will be looking to bring the trophy back to British Columbia.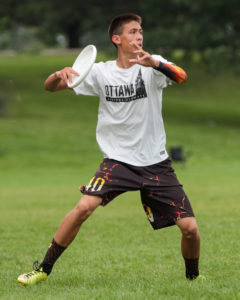 To win the bronze last year, Bonfire had to beat Ignite, the home team from Ottawa. Ignite only graduated four players from the team that finished fourth in Edmonton, meaning they are bringing in a squad full of experience with a home soil advantage.
"The players on Ignite have risen to every challenge they've faced in the last two seasons and we expect this will be the case at CUC 2017," said Andrew Leach, one of the coaches for the Ottawa team.
"Ignite will grind and put in their best effort from the opening pull on Sunday to the final point in every game they play at this tournament. Our number four seed says a lot about the heart of the players on this team."
With 24 teams competing in the junior open division this year, anything can happen and there will likely be upsets across the board. How the brackets line up in the playoffs will have a significant impact on the above-mentioned teams runs to the final but they are all in with a shot.
Watch the 2017 CUC junior division live on ultimatecanada.tv from August 13-16, 2017.