Ultimate Canada Magazine – April 9, 2018
Written by: Rebecca Thompson
A drama filled weekend full of tight games, upsets and big plays made for a fantastic 2018 Canadian 4v4 Ultimate Championship. Teams came from as West as Alberta to as East as Newfound Land to fight for the 2018 4v4 national championship.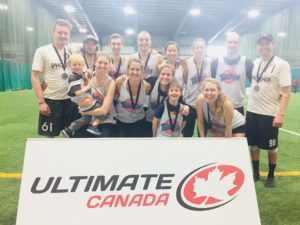 Trillium Carnage took home the gold medal in the event's inaugural year in 2015, repeating their title again in 2016. The team was unable to attend the event in 2017, but returned to collect the trophy once again this year. Carnage took on Tune Squad of Kitchener, ON, in the final storming to an 11-8 victory.
"Our team motto was work hard, give them the pipe and desire," said MVP of the final, Alisha Zhao. "We layed out for everything, put it all on the line and came together to win. It's always a great challenge to come to these tournaments and I'm sure we will be back next year."
Tune Squad improved on their results from the last two years, finishing 4th in 2016, 3rd in 2017 and now a silver medal in 2018. Captain Adam O'Donnell says the team is optimistic that they can keep climbing the ladder next year.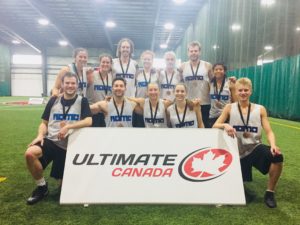 NOMO, from Edmonton, AB, finished third as they defeated P'tits Secret of Sherbrooke, QC, on universe point 18-17 for the bronze medal. NOMO stood out with the combinations of brothers Dave and Tyler Hochhalter, father-son duo Eric and Alex Bedard, and national team talent Terri Whitehead and Sarah Norton. This team was exciting to watch throughout the weekend and it will not be surprising to see them stay on the podium for the next few years.
The biggest upset of the weekend game in the quarterfinal between P'tits Secrets from Sherbrooke, QC, and Ninjax of Montreal QC. P'tits Secrets were down 9-4 at half-time, but stormed back in the second half to upset the number one Quebec seed 18-17 on universe point.
The team from St. Johns, NL, Dwayne Johnson, left their mark on the competition with the dominance of players like Erin Daly and Nick House. Daly got the disc every other pass for her team and tore defences apart as it seemed like no one could contain the two-time World Beach Ultimate national team player.
With programs like the one in St. Johns growing all the time, there is no doubt we will see more small programs and teams hit the podium in the next few years.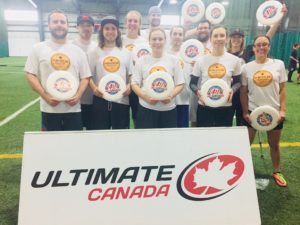 Fortitude, the second seeded team out of Winnipeg, MB, took home the spirit award for C4UC 2018. Fortitude battled adversity and injuries throughout the weekend but remained positive and finished strong with the spirit title.