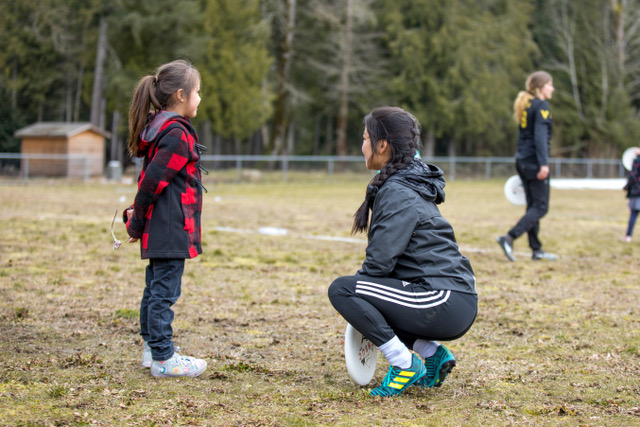 Photo of an Ultimate Spirit clinic on Vancouver Island. Photo credit: Nathan Kolakovic
Indigenous Peoples Day provides all Canadians an opportunity to recognize and celebrate the unique heritage, diverse cultures, and the many contributions of First Nations, Inuit and Métis peoples. Ultimate Canada would like to take this opportunity to highlight the work of Ultimate Spirit, an Indigenous focused program delivered by the BC Ultimate Society. Embracing the Truth and Reconciliation Commission's Call to Action #88, CUSP has combined Spirit of the Game and the transformational nature of ultimate with the First Peoples Principles of Learning. The result is a multi-week school-based program delivered within Indigenous schools and communities that connects the broader movement of Ultimate Spirit which builds community connection with an emphasis on healing, wellness, culture, spirit, and sport.  
While reading through the guide, even the language demonstrates the level of inclusivity and accessibility CUSP fosters. Referring to everyone as participants instead of athletes not only reinforces the importance of non-gendered language, it also celebrates any level of participation. Whether that's running through the drills with enthusiasm, focusing on learning how to throw or observing on the sidelines, everyone is welcome in whatever capacity they are most comfortable. It also serves as a much needed reminder that ultimate has more to offer beyond athleticism. Ultimate Canada recognizes the value of indigenous participation in our sport. When diverse perspectives are welcomed and respected, learning is both impactful and symbiotic. We have much to learn from the Indigenous Peoples of these lands.
Are you interested in starting your own local program to connect and unite with indigenous communities but are unsure of how or where to start? Check out the CUSP guide to be inspired!