Written By Rebecca Thompson
August 11 2017
The junior women's division has seen a different champion each year for the last three years. The competition is tight and there are several powerhouse teams that will compete for the title this year.
Last year, Misfit, who in the past has been the second team out of Vancouver, won the national championship in a major upset over BC number-one seed Alpha.
"The girls have a level of consistency that makes them look more like women's players than juniors," said Michael Fung, one of the coaches of Misfit. "I'm happy with the progress they've made through the season and I'm excited to see them compete at nationals."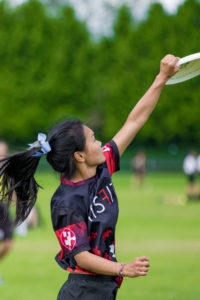 Last year's win has propelled Misfit to the number one seed going into Ottawa this year, while also gaining the top players from Alpha, as the Alpha junior women's team folded in May. Misfit's roster is very deep making them a favourite to win CUC 2017.
"The biggest challenge we will face is the weather," added Fung. "It's been a picturesque summer in Vancouver and we haven't faced adversity in that realm yet. However, this is an incredibly capable team and I have no doubt that they will find success in Ottawa."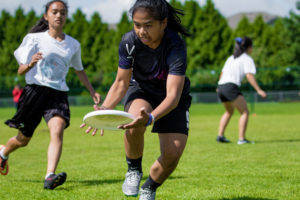 The second seeded team in the junior women's division is Vortex, also from BC. Vortex has consistently been a top team with two silver medals at nationals since the gender split in 2012, but they have yet to win the top prize.
At BC regionals, Vortex played Misfit in the final in a tough battle that ended in a universe point loss. Misfit may be the favourite going in, but Vortex have proved that they can go toe to toe with them and anything could happen when these teams match up at nationals.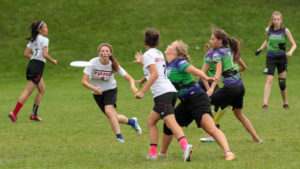 The last Ontario team to win junior women's division from was TORO in 2014 when they took down Tribe from Vancouver. The Toronto based team's most recent CUC result was a bronze medal in 2016, and with world championship (WJUC) gold medal winning coach Carla DiFilippo leading the way, they are sure to be in the top four again this year.
For any of the above-mentioned teams to get to the final they will have many tough opponents to beat, including MOFO, hailing from Winnipeg, Manitoba. MOFO is the underdog team in the running at nationals this year. After a fifth-place finish at in Edmonton in 2016, the team has been gaining momentum as they rebuild their program.
"MOFO girls has had a large turnover of girls coming in from the Red River Rebellion program, with some strong returning players," said coach Karen Hatch. "They have tight chemistry that will carry them far into this tournament."
With other strong programs such as Bonfire (North Vancouver), Wicked West (Ottawa) and Aera (Quebec) lurking in the top eight, none of the above-mentioned powerhouses will have an easy route. Teams have a tendency to play their best when rising to the challenge of strong competition.
To watch live coverage of the Canadian Ultimate Championships Junior Divisions, visit ultimatecanada.tv