Ultimate Canada Magazine – August 29
Written by: Etienne Fournier
** English version follows **
Résumé Mixte [Presénté par Discraft]
Le pré-classement de la division Master Mixte est un exercice périlleux. Celui de la division Mixte l'est encore plus. Toutes les 20 équipes qualifiées pour le CUC 2019 tenu à Brampton Ontario visaient la médaille d'Or. Andrew Batchelor, le directeur compétitif de l'événement nous confiait que 14 de ces équipes pouvaient espérer prendre part au quart de finale. Anchor (Atlantique) était classée #1. La pression serait énorme pour l'équipe championne de 2018, Pretty Boys & Handsome Girls (MB).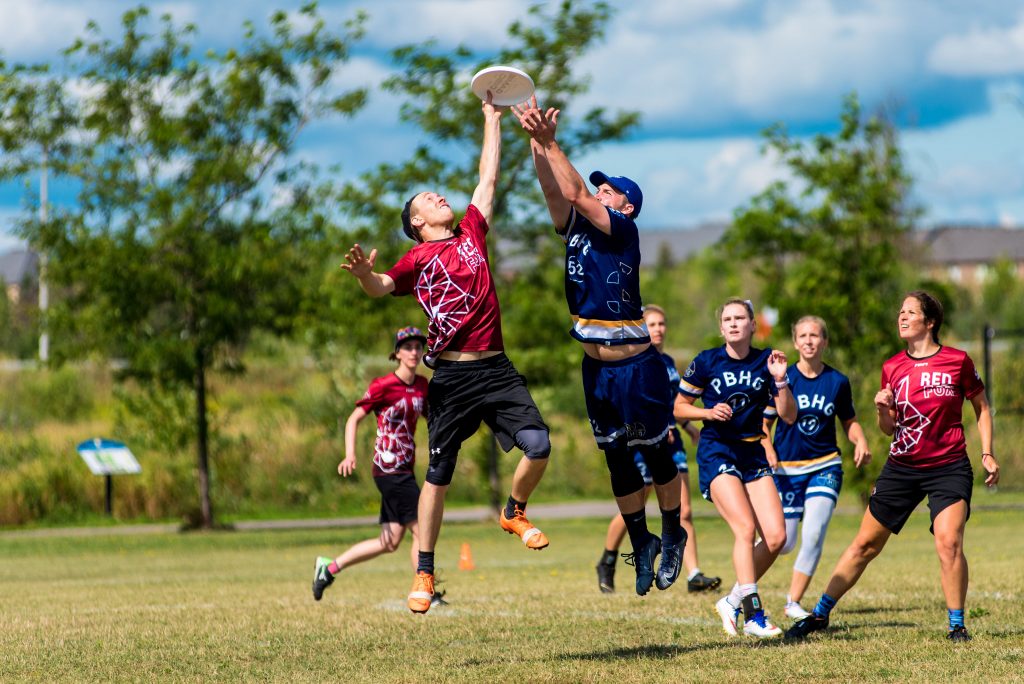 La pression sur les champions défendant s'est avéré telle qu'ils ont perdu dès les pré-quarts de finale contre PB&HG (Manitoba #5). TT (CB, #8) a été l'autre pré-classée dans le top qui a vu ses espoir arrêtés en pré-quart suite à leur défaite contre Union (Ontario, #4). Ces deux matchs se sont terminés par une seul point d'écart. Pour ce qui est des surprises plus prévisibles, Lab (Montréal, #13) et Iceberg (Québec, #11) se sont qualifiées pour les quarts de finale. Les alignements de ces deux équipes présentaient des athlètes aguerris et habitués à compétitionner à haut niveau. Ils avaient le potentiel d'aller loin dans ce championnat.
Quart de finale
Les deux quarts du haut de tableau présentaient 3 équipes du Québec tandis que les deux quarts du bas de tableau présentaient 4 équipes de l'Ontario.
Lab a vaincu Iceberg 14-10 dans un match où l'athlétisme et les habiletés ont été mises de l'avant. Les deux équipe se connaissaient très et avaient plusieurs proches amitiés. L'autre quart de finale du haut de tableau opposait Battleship (Québec, #6) et PB&HG. L'équipe québécoise l'a emporté 12-10. Battleship a pris la première demie 8-2 et a su maintenir son avance malgré la pression exercée par les Manitobains.
Les autres quarts de finales, toutes ontariennes, ont offertes des matchs extrêmement serrés. Force (#7) a vaincu sur point universel Khaos (#2) après que ces derniers ait mené pendant presque toute la partie. L'autre quart devait aussi se terminer par un seul point de différence en faveur de Soup (#3) contre Union (#4) dans un match où l'esprit sportif a été sérieusement malmené.
Demies finales
La première demie finale a été toute québécoise, opposant l'expérience de Lab à Battleship qui a changé près de la moitié de son alignement en début de saison. La profondeur de l'alignement de Lab l'a finalement emporté sur Battleship 15-8, qualifiant Lab pour la finale.
L'autre demie finale a été toute ontarienne. Le mouvement de disque continu et la défensive serrée de Soup a eu raison de Force par le compte de 15-7.
Match pour le Bronze
Les deux équipes bataillant pour le Bronze se connaissaient bien pour s'être affrontées plusieurs fois au cours des dernières années. Ces affrontements se sont généralement terminés par un faible écart en faveur de Battleship.
Le capitaine de l'équipe québécoise, le #18 Kevin Guillemette, a fait ce qu'on attendait de lui; bouger le disque, s'offrir en soutien et alimenter le jeu long. Le #32 Peter Mapp, basé à Ottawa a lui aussi connu un fort match pour Battleship; il s'est offert comme cible pour le jeu long et a gagné plusieurs batailles aériennes, inscrivant 3 points dans la match pour le bronze. Andréanne Légaré #87 a donné a Battleship une sérieuse option sur la victoire en inscrivant un point Callahan malgré son petit gabarit sur un disque flottant qui, malgré son petit gabarit, elle a su attrapé parmi l'amoncellement de joueurs dans la zone de point de Force. Geneviève Richard #14 de Sherbrooke a sécurisé une avance de 2 points tard dans la deuxième demie quelques instants avant que la sirène qui annonce le dernier point du match. Du côté de Force, Caitlind Lusty #25 a été dominante tant dans ses tracés qu'en défensive tandis que le #9 Tyler Sadler a assuré une belle distribution de disque. Les exploits de ces deux joueurs ne devaient suffir pour contenir Battleship qui a tout simplement gagné plus de batailles individuelles que Force.
Médaille d'Or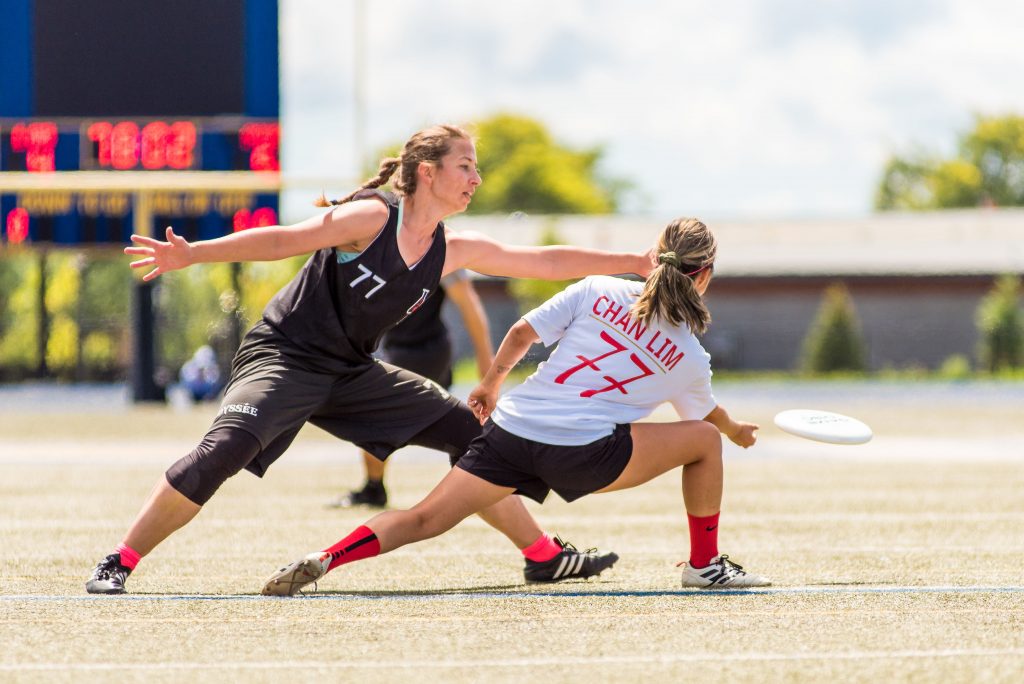 Les attentes étaient élevées pour la finale qui a opposé Lab à Soup. Les joueurs des deux équipes savaient à quoi s'attendre de l'adversaire. Ils se sont souvent affronter dans différentes équipes au cours des précédentes années.
Les deux équipes ont échangé l'avance 5 fois au cours de la seule première mi-temps. André Arsenault #13 de Lab a tranché le débat en inscrivant le 8è point de son équipe pour confirmer une courte avance de 8-7 à la mi-temps.
Soup a répondu en attaquant la deuxième mi-temps avec deux points bris consécutifs. Malgré le doute qu'a provoqué cette poussée, l'équipe québécoise s'est ressaisie en inscrivant deux bris sans réponse, prenant la première avance de 2 points du match.
Soup a fait preuve d'une résilience extraordinaire. Contrairement à ce qu'elle nous a habitué, Julie Landry #11 de Lab a raté une passe de routine qui a été intercepté par le Kielan Way #13. Quelques secondes plus tard, Way a attrapé en lame lancée par Joel Bellavance #11 malgré la pression de deux défenseurs. Ce point bris a créé l'égalité 13-13.
Lab a répondu en inscrivant leur 14è point en offensive. On s'attendait à ce qu'un point universel soit nécessaire pour déterminer qui gagnerait l'Or. C'est encore André Arsenault #13 qui a tranché le débat en sortant de nul part pour intercepter une passe près de la zone de point de Soup. Arsenault a remis rapidement à Kevin Quinlan #81 pour ensuite s'ouvrir quelques secondes plus tard dans la zone payante et confirmer le point de la victoire. Lab a ainsi gagné la médaille d'Or après une bataille épique entre les deux équipes en présence, chacune ayant été contraintes de se battre pour chaque espace, chaque passes et chaque points. Lab devient ainsi la première équipe québécoise mixte à devoir organiser Équipe Canada pour les Mondiaux 2020.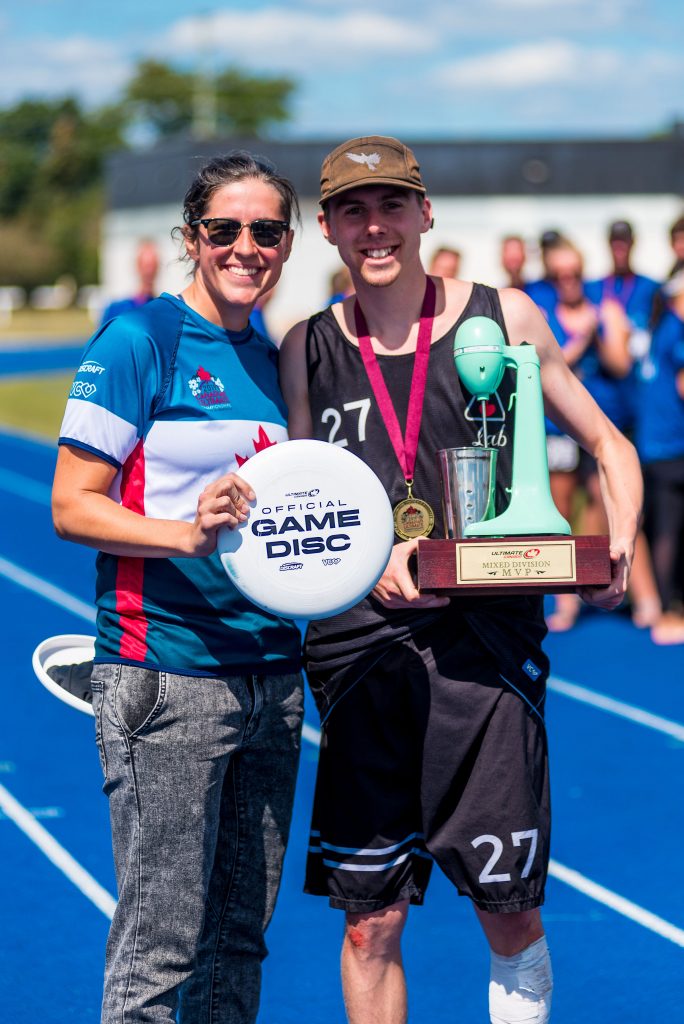 Joueur le plus utile
Miguel Goderre # 27 de Lab s'est mérité le titre de joueur le plus utile, inscrivant 3 points dans la finale en plus d'avoir agit comme passeur principal tout au long du tournoi. Julie Landry #11 a aussi connu un très fort match comme passeuse, inscrivant aussi 2 points et 1 passe pour le point. Joel Bellavance #11 de Soup a été très solide pour circuler le disque tandis que sa co-équipière Birkley Davis #16 a inscrivant 1 point en plus de sa contribution significative en attaque et en défensive.
Esprit sportif malmené
Tout comme pour la division Master Mixte, Soup et Lab ont terminé dans les bas fonds du classement pour l'esprit sportif. Seulement une équipe du top 8 finale a atteint le top 8 de l'esprit sportif (PB&HG a terminé au 8è rang général et de l'esprit sportif).
L'ultimate mixte est en bonne santé au pays. Gagner avec un esprit sportif n'est pas une option; c'est la base même du sport. C'est la responsabilité de tous les athlètes et de tous les leaders d'équipes de s'assurer que victoires et esprit sportif demeurent indissociables. L'esprit sportif doit faire partie du livre de jeu, du plan de match et des critères de sélection aux essais.
Mixed Division Recap [Presented by Discraft]
Master Mixed division seeding is tricky. Mixed division is even trickier. The 20 teams qualified to attend CUC 2019 in Brampton in the mixed division were all shooting for the Gold medal. According to Andrew Batchelor, the Competition Director of the tournament, 14 of these teams had a legitimate bid to the quarters. Anchor (Atlantic) was seeded #1. The pressure would be great on the defending champion, Pretty Boys & Handsome Girls (MB). Indeed, the pressure had proven greater than expected.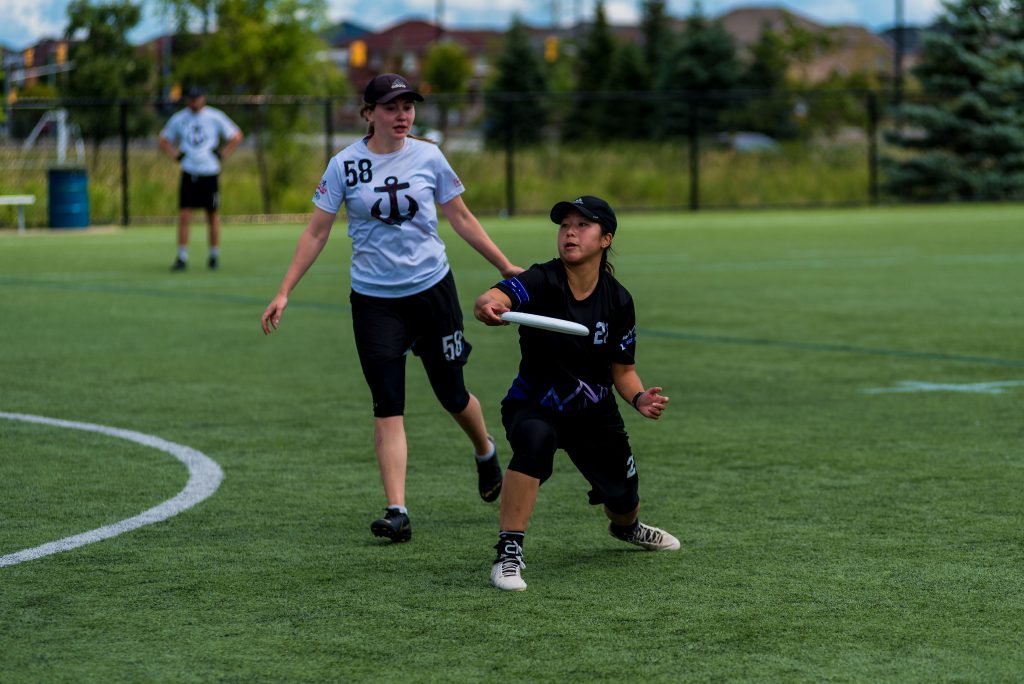 First upset; the defending champion ambition to defend their title was stopped in pre-quarters in a very tight battle against PB&HG (Manitoba #5). TT (BC, #8) was another initially seeded top 8 team not qualifying for quarters, losing to Union (Ontario, #4) by a second pre-quarter game ending with a 1 point differential. Other upset, this one more predictable, was to see Lab (Montreal, #13) & Iceberg (Quebec, #11) qualify for quarters. Both teams lined-up very experienced and skilful rosters built to go far into this championship.
Quarterfinals
The top two quarter brackets featured three teams from Quebec, and one from Manitoba, while the bottom two brackets were all four Ontario teams.
Lab took Iceberg in a great athletic match-up favouring Lab 14-10. The 2 teams knew each other having friendship across both teams. The other quarters featured Battleship (Quebec, #6) who took over PB&HG 12-10 in a game where Battleship was able to hang on to an 8-2 lead at half regardless of a great come back from the Manitoba team.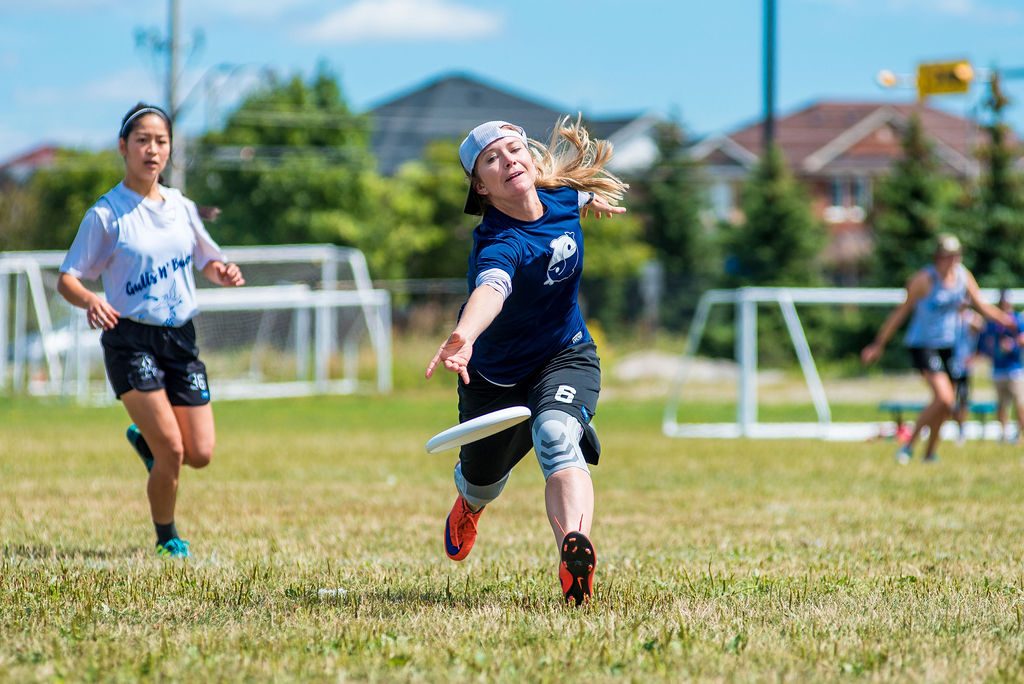 The four Ontario teams in the two other quarter-finals offered tremendously tight games until the end. Force (#7) upset Khaos (#2) on universe point after the latest had led almost all game long. The other quarter-final ended by Soup's (#3) victory over Union (#4) in what was a low spirited game.
Semis
The first semi would be an all Quebec one, the experienced Lab facing off Battleship who handled an almost 50% player turn over to start the season. Experience and depth would finally win the game; Lab was too strong for Battleship. They earned their spot for Gold with a 15-8 victory.
The other semi-final would be an all-Ontario one. Soup's constant disc movement and intense defense would be overwhelming for Force to manage. Soup qualified for the final with a 15-7 victory.
Bronze medal game
The two teams facing off in the bronze medal game knew each other fairly well, having played one another many times over the last 2 years. Each of those face offs resolved in a very tight output, almost all favouring Battleship. The Quebec team co-captain, #18 Kevin Guillemette did what he excels at; moving the disc around, getting open for resets and fire long throws. Ottawa based Peter Mapp #32 would also do what he does best for Battleship; offering long options and winning aerial battles, scoring three times in the Bronze medal game. Battleship's Andréanne Légaré #87 would give her team a serious option on the medal by scoring a callahan, catching a floaty disc through the mingle of significantly taller players. Sherbrooke based Geneviève Richard #14 scored a break point late in the second half, securing her team a two-point lead a few minutes before the hard cap horn. Battleship finally won 10-7. Force's #25 Caitlind Lusty's dominant cutting & defending and #9 Tyler Sadler's great disc movement were not sufficient to offset Battleship earning their Bronze by winning a greater number of individual battles.
Gold medal game
Expectations were high for Lab vs Soup Gold medal game. Most of the two teams' players had played one another many times in the past. Both teams exchanged lead 5 times in the first half. Lab's André Arsenault #13 closed the debate scoring the 8th point for Lab in order to get to half leading 8-7.
Soup responded strongly by starting the second half with 2 consecutive breaks. Lab's experienced roster started to have doubts. The Montreal based team would erase those two breaks a few points later scoring three in a row to take a 12-10 lead, earning the first two points lead of the game.
Soup displayed amazing resiliency. Lab's Julie Landry #11 threw an uncharacteristic unforced error pass into Kielan Way #13 hands. A few seconds later, Way caught a difficult blady pass from handler Joel Bellavance #11 while being pressured by two Lab defenders. This breakpoint put both teams at 13.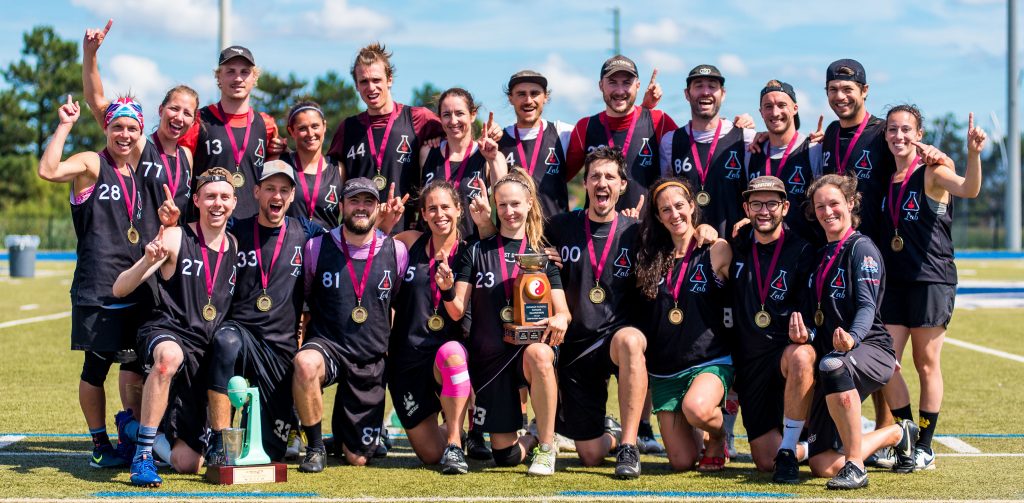 Lab got the lead back by scoring their 14th point on offense. A universal point seemed necessary to define who would drive home with a Gold medal around their neck. Although, Lab's André Arsenault #13 came out of nowhere to intercept an up-the-line pass from Soup near their end zone. Arsenault quickly dished the disc to Kevin Quinlan #81 who quickly fed #13 back in the end zone. Universe point would not be required. Lab won Gold 15-13 in an epic battle where both teams fought for every inch, every pass and every goal. Watch the Gold medal game here.
MVPs
Miguel Goderre # 27 from Lab was named the MVP, scoring three points in the final and acting as a primary handler through the Gold medal game. Julie Landry #11 had also a great impact as a handler, having two goals and one assist. Soup's Joel Bellavance #11 was very good at moving the disc while Birkley Davis #16 scored one point and contributed significantly with great cutting and exceptional person to person defense.
Low Spirit ranking
Similar to the Mixed Master division, Soup and Lab finished 2nd and 3rd last in spirit. Only one of the final top 8 teams made it to the top 8 in spirit (PB&HG finished 8th for spirit and ranking). Mixed Ultimate is very healthy in the country. Winning with spirit is not a nice to have; it is the sole foundation of the sport. It is up the all the players and team leaders to ensure that victory and spirit go hand in hand at all levels. It should be a part of every team's playbook, game plan and try-out criteria.
Gold – Lab (QC)
Silver – Soup (ON)
Bronze – Battleship (QC)
Spirit – Quakers (QC)
MVP – Miguel Goderre