Written By: Kevin Underhill
Ultimate Canada Magazine – September 19, 2017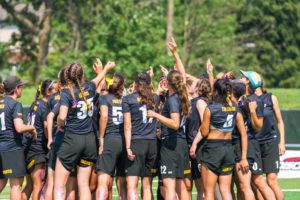 WOMEN'S DIVISION
When Capitals disassembled and the 6ixers formed from their ashes, the burning question was, 'how long will it take for the Toronto women's program to become truly elite?'
After defeating tournament favourite, Vancouver Traffic in the 2017 CUC finals, Jordan Meron is happy to put that question to bed.
"We are a top level team," the 6ixers captain said. "We have expectations to do well and perform our best."
Heading into the tournament, Meron said the team was trying its hardest to keep the emphasis on themselves and avoid putting on any additional pressure. This was an attitude that she said the team kept when facing off against Traffic in the finals.
"We wanted to just go into that game and try our hardest," she said. "We really wanted to see what we were capable of."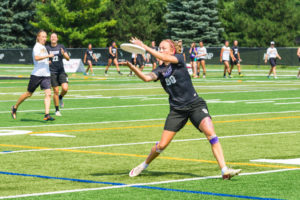 The 6ixers, now national champions, proved that they are capable of just about anything when they string together an amazing performance. Despite being underdogs, the young Toronto contingent delivered a near-flawless performance in the title match against a strong Traffic team.
6ixers coach, Carla DiFilippo, said every opportunity to play in a championship game is important to the development of this young team.
"Whenever you have the opportunity to play in a final, especially at CUC's, you take full opportunity of it," DiFilippo said. "Win or lose, playing in that final against such a talented team like traffic was going to make us all better players and coaches. It's a win-win."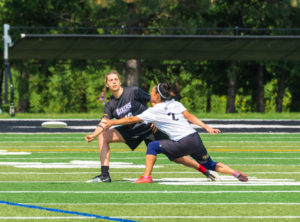 The 6ixers got star performances out of Laura Kinoshita, Sarah Bobak and Lauren Kimura. But the real game-changer came in the form of 19-year-old rookie, Anouchka Beaudry.
The Quebecois import threw for eight goals and caught a pair as well. She commanded the backfield with the poise and calmness that you'd expect from a ten-year veteran. But the stars can only shine when everyone else is doing their job. For many of these players, it was their first or second nationals and they stepped up in a big way.
Meron said that despite leading for the bulk of the game, they kept the underdog mentality through to the very end.
"Being the two or three seed is really ideal. You are hungry to prove yourself but you don't have the pressure of a one-seed," Meron said. "It almost felt like we were coming from behind the whole game. I didn't really know the score for a lot of the game. When we won, I was overwhelmed with excitement."
DiFilippo said leaders like Meron and Bobak are part of the reason the young team is making strides at the rate they are.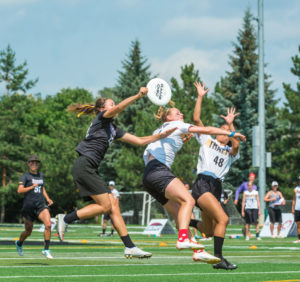 "We have amazing leadership on the team. Vets who know how to push themselves and their teammates. Vets that lead by example and work hard," she said.
Now that the 6ixers have gone out and proved their elite status, they are turning their attention to the next step.
"We are going to use this momentum to continue to grow a strong team of Toronto women," Meron said. "We're looking forward to the [USAU] Fall series and we're already talking about WUCC."
OPEN DIVISION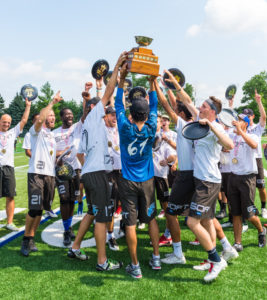 On the open division side of the tournament, Toronto GOAT was the clear favourite coming into Ottawa and they marched un-scathed to their second national title in three years.
GOAT faced some adversity on their way in the form of strong Mockingbird and Phoenix teams but Ottawa and Montreal lacked the extra punch to be able to knock off the number one-seed, GOAT.
Sachin Raina, head coach of GOAT, said the constant theme of the season has been the young players stepping up. This tournament was no different.
"Everyone sees Ben Burelle and Sparkles (Jason Huynh) won MVP, but some other young guys that pretty much ran the offense were Connor Armstrong and Nate Hirst," Raina said.
With Veterans Cam Harris and Adrian Yearwood injured at CUC, it was the youth movement that propelled GOAT to their gold medal.
Nathan Hirst, a young member of the 2016 national open team slotted in very nicely along side Thomson McKnight and Connor Armstrong on GOAT's offensive unit. Armstrong led GT to a national title last year, earning MVP honours in the process.
"Connor had, as far as a handler is concerned, as close to a perfect game as you can have in the finals," Raina said. "He made the right decision every time and made sure of everything."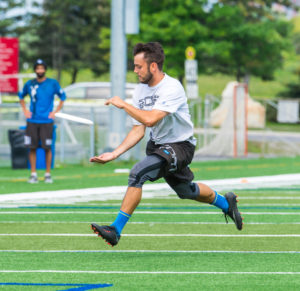 The championship game pitted GOAT against General Strike. The story line coming into the game was surrounding Mark Lloyd's contribution to Strike and whether or not the ex-GOAT superstar would be enough to tip the scales. Despite some brilliant defending by Lloyd and a greatest, he wasn't enough to close the gap against a very strong GOAT team.
Moving forward, Raina said the team is very much looking forward to the 2018 World Ultimate Club Championships in Cincinnati.
"For a lot of the older guys it's sort of a bucket list tournament that we've never been to. It'll be a nice way to cap off some amazing careers," Raina said. "For the younger guys, it's another week together, getting experience together and developing the team moving forward."
Sachin said he's exited about the young teams and expects that the fall USAU series will just continue to add to their experience as a team.