Ultimate Canada Magazine – December 3, 2018
Written by: Lakehead University Thunderwolves Women's Team
The Lakehead University Thunderwolves have proved themselves as a competitor in Women's University Ultimate Frisbee. The team has recently seen great success, winning their first tournament in the program's history in March 2018. This season, the program continued to show significant progress as the women went 6-1 in the CUUC Division II tournament to take the title to Thunder Bay for the first time. And most recently, Lakehead went on to win the first leg of the 2019 Canadian Eastern Indoor University Series (CEIUS) in Kingston. The programs success comes after years of dedicated hard work from captain, coach and Team Canada Alumni, Jasmine Ferdousi.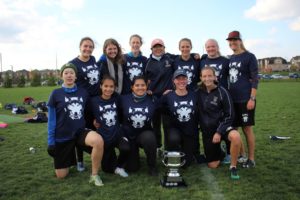 Ferdousi, who competed for Team Canada in 2014 and 2015, started her education at Lakehead University in 2014. Moving to a new city she immediately sought out the opportunity to stay involved in ultimate.
With no women's program at the school, Jasmine decided to travel to Ottawa with the Lakehead open team to compete at the Canadian University Ultimate Championships. The next year she was determined to see the women's program grow in Thunder Bay, convincing two more women to travel with the open team to compete in Montreal, QC.
By 2017, Ferdousi was able to scout a small, dedicated group of women to finally send a Lakehead women's team to nationals after a five year drought. With only five weeks to bring the new team and ultimate program together, she worked relentlessly; organizing flights, hotels and fundraisers while running weekly practices for both the women's and open team.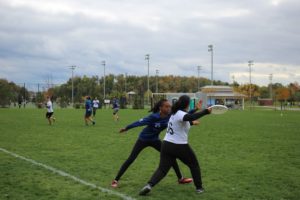 Heading into the tournament with zero games played and unsure where their talent would land them, the Thunderwolves played very well to place among the top four in CUUC Division II.
Ferdousi took this momentum into 2018 and registered the women for the CEIUS 4v4 tournament in Waterloo, ON. Here the women continued to show their talent and skill as Ferdousi gracefully lead her team to their first tournament win in school history.
This school year, with many returning players and several new talented recruits, the women were excited to start preparing for the 2018 CUUC's in Brampton, ON. Once again, Ferdousi happily took on the task of organizing the tournament details off the field while taking on the role as captain and coach on the field. With this being her last year at Lakehead University, Ferdousi was hoping that her team would play their best to cap off her last year of eligibility.
Making the decision not to try to qualify for Division I based on another year with a very small roster, she believed their talent and group cohesion would land them atop of Division II. She pushed the girls hard and with lots of new competitors to play, the Thunderwolves used their quickness, grit and knowledge of the game to their advantage to take home the 2018 CUUC Division II Title.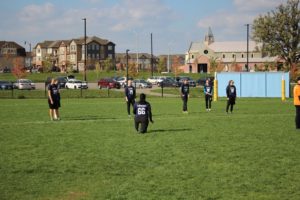 Speaking to Ferdousi's contributions to ultimate in Thunder Bay, she has been the driving force that has made the Lakehead program the success it is today. Driven by her passion for the sport, love of spirit and her natural gift for teaching, she single handedly created an ultimate powerhouse in Thunder Bay.
Her leadership style is serious yet unbelievably personable, inspiring players to constantly want to improve their skills while continuing to learn the ins and outs of game. Every game and practice she sets the tone for her team, playing with intensity and a high level of spirit and while pushing herself and teammates to perform at the best of their ability.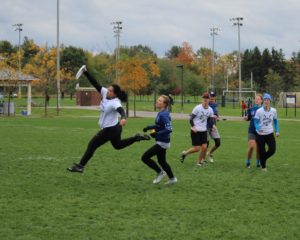 John Gotwals, Thunder Bay Ultimate President and mentor to the Lakehead Club Team writes: "I always tell students that a successful university ultimate career is one that leaves the local scene better than it was when they arrived. Through her many contributions as a player, coach, and recruiter, Jasmine has met this standard many times over."
Off the field, Ferdousi selflessly spends countless hours before every tournament organizing flights, booking hotels, making travel itineraries, ordering uniforms, running fundraisers, among other responsibilities in order to make these tournaments possible.
Ferdousi is quoted as saying: "I do it because I love it." And, with her style of play and leadership, that's extraordinarily evident on and off the field.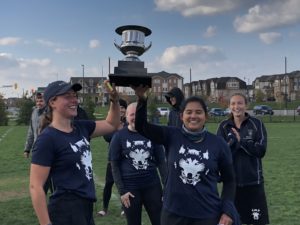 Ferdousi is a natural leader and ultimate has allowed that to come to light, letting her talent as both an athlete and coach shine brightly. Lakehead is only the start of her coaching career and at 22 years old, there is no doubt she'll remain involved in the sport. It's exciting to see where else Ferdousi will leave her mark.
As a team, the Thunderwolves have nominated Jasmine Ferdousi for Ultimate Canada's Coach of the Year, Female Athlete of the Year, as well as Spirit of the Game Award.