Ultimate Canada Magazine – October 30
The 2018 Canadian University Ultimate Championships was everything a national championship should be.
The open division was firing on all cylinders as always, with massive plays, upsets and a story book ending for Queen's that saw Mothership return to the top of the podium for a third time in four years.
Here are the starting seven players from the open division at university nationals:
James Lewis – Queen's University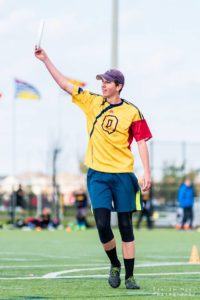 Queen's Mothership returned to the top of the podium this year, winning their third title in four years. This is a team with such a deep roster that it is hard to not put them all on this list. That being said, finals MVP James Lewis earns his spot through his dynamic play on both sides of the disc. Lewis left a mark on the competition through his assertive cutting. He was a tremendous threat on offense while also being one of the best defenders on the field. There is no doubt that we will start to see James Lewis's name appear all over the ultimate community soon.
Thomas McAlear – McGill University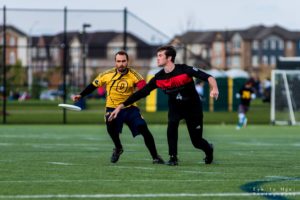 McAlear comes up from honourable mention to the top seven this year after a dominant performance at CUUC. As a starting handler, McAlear's throws were some of the best in the division. Time and time again McAlear was able to put up the throw of his choice, regardless of the mark, making him a serious threat to the competition. His consistency helped give McGill a depth that carried them to the first finals since 2013.
Cooper Toogood – Dalhousie University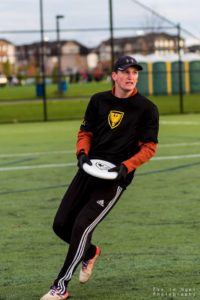 Despite not finishing where they may have hoped, Dalhousie was one of the most exciting teams to watch this year at CUUC. Their offensive line brought fire power and chemistry through the likes of Stephen Snow, Molly Wedge and Cooper Toogood. Toogood was central to initiating movement on the field and directing traffic. You could find him on either end of the disc putting up perfect deep shots or striking to the end zone for the goal. In between, Toogood was vital in the handler space making him one of the most well rounded players in the division.
Patrick Keenan – University of Guelph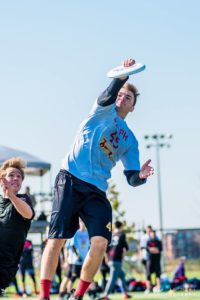 Keenan led the Guelph Gryphons to a strong performance nationals, finishing it with a ridiculous layout grab for the goal on universe point in the bronze medal game. Keenan was flanked by a team of stars such as Kinley Gee and Connor Armstrong who both made this list last year. But Keenan quickly proved that his name belongs up there as well with his powerful play on both O and D. Whether it was making big defensive plays in clutch moments, throwing in numerous assists or the textbook timing of his deep cuts, Keenan was all over the field for the Gryphons.
Christophe Tremblay Joncas – McGill University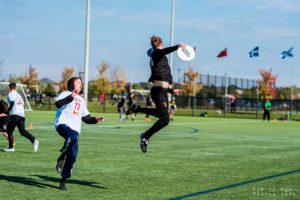 McGill had their best run at CUUC this year since 2013 and it was in big part to Christophe Tremblay Joncas. Joncas was commanding on both sides of the disc, playing on both O and D in most games. His large frame makes him a threat both in the air and with the disc as he was nearly impossible to put a mark on. On defense, he delivered big plays coupled with shut down defense that rarely saw his opponent receiving the disc. With both Joncas and McAlear not returning for MUT next year, rookie Hayden Stone will need to fill some big shoes to bring McGill back up to the top.
Mike Mackenzie – Queen's University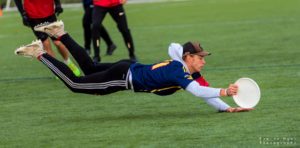 Mackenzie returns to this list after an injury sidelined him in the 2017 season. Queen's has the depth that carried them back to the top of the podium, however Mackenzie's season performance was formidable as always. His ability to move quickly in tight spaces allows him to easily get open for the reset, paired with his smart movement of the disc and vision on the field, is dangerous to any opponent and helped direct Mothership back to a gold medal. Out of the 11 points Queen's scored in the final, Mackenzie was involved in eight of them, putting up four assists and four goals.
David Colic – Carleton University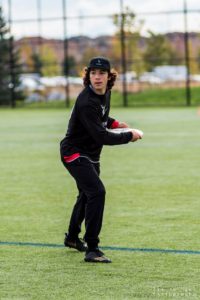 Colic was easily one of the best cutters and goal scorers in the division. There was not a single game where Colic did not find himself on the board for both assists and goals. He finished off division one with 15 goals and 15 assists, not counting his mass of goals scored on the Friday qualifier which helped carry Carleton past Ryerson in the game to go. Colic was practically unguardable as he used his speed to beat his defender to the open side, and with his consistent and creative throws there is no doubt he will continue to be a menace for the Ravens in the seasons to come.
Honourable Mentions: Rhys Toogood (Queen's), Francis Vallée (Laval), Oren Binnun (Manitoba), Jordan Faries (McGill), Stephen Snow (Dalhousie), Noah VanDuzer (Guelph), Scott Graham (Waterloo).