Ultimate Canada Magazine – February 27, 2019
Black History Month takes place in Canada every February. Canadians are invited to participate in Black History Month festivities and events that honour the legacy of Black Canadians, past and present. You can find more information about the month here.
This profile features Shola Olundegun who has been playing Ultimate since middle school and competed with Mola Mola at CUC mixed in Surrey this past summer.
Ultimate Canada: How did you get started in Ultimate?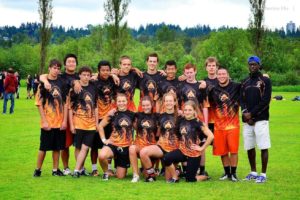 Shola Olundegun: I first got into Ultimate in grade six at Glenbrook Middle School. My PE teacher at the time was Kurt Savage from Furious. He was super enthusiastic about Ultimate and he showed us highlight reel of him playing and made the very first PE unit Ultimate. For the most part, everyone in the class was not so into it but if we wanted the credits we had to do it. After that I didn't see ultimate until about grade eight when there was an after school program, where if people wanted to play a game they can show up and do so. I believe I attended for about a month and again forgot about it. Fast forward to grade 12 at New Westminster Secondary School, one of my best buddies was running a high school team and was recruiting members for the team. I was heavily invested in Track and Field so initially I wasn't interested but because I was a top sprinter for the Track team, he insisted that I join the team. In the end he won me over and I played for the team and we were quite successful for a bunch of athletes that came together to play some flat ball. I guess it's at that time I got hooked and started to play in VUL, Clubs and other University teams afterwards.
UC: How has your experience been, being a player of colour in the community?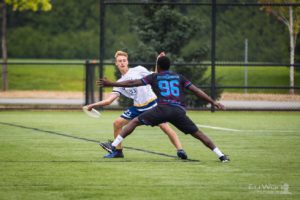 SG: I don't really think about that kind of stuff on the surface level. I don't play ultimate because of colour but because I like the sport; and I believe everyone will agree regardless of skin colour. If colour has a play, it's the unwritten rule that if there is an African player on both teams, we both agree to mark each other unquestionably. It's weird but it happens 100% of the time, at least in my experience.
UC: Do you have any thoughts on how we can increase participation from the Black community in Ultimate?
SG: I don't have a real definitive answer for that. I think just increasing general awareness of ultimate will naturally bring in those people. It's natural for Africans to accept Basketball or American Football as their niche. Maybe some sort of promotional event with those community can help send more awareness at the very least.
UC: Do you have anything else you would like to add?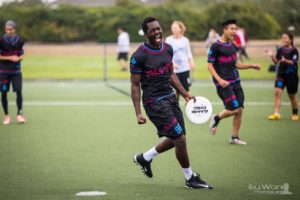 SG: Ultimate is very unique in that I feel that it is one colour of all sizes. It is a great sport with great potential where you can express your full human potential as an athlete. Jump, Sprint, technique, field sense and more. I would suggest any person to at least try it and feel the adrenaline.
I have Coached Ultimate for about five years, played in Vancouver for about two years then moved to Thunder Bay Ontario for about three years where I had the opportunity to play with Lakehead Thunderwolves, Thunder Bay Giants, The Prominence and even some players from Toronto Rush when I visited there. And now I'm back to Vancouver where I want to elevate my game. It doesn't matter where you go or what you do, its always a positive experience and the experience you gain, connects you to the last. Just try it and I'll see you on the other side.