Ultimate Canada Magazine – February 28, 2019
Black History Month takes place in Canada every February. Canadians are invited to participate in Black History Month festivities and events that honour the legacy of Black Canadians, past and present. You can find more information about the month here.
Our final profile features Hadiya Roderique. Roderique has competed at and won multiple Canadian Ultimate Championships and has competed and medalled at World Championships with Team Canada.
Ultimate Canada: How did you get started in Ultimate?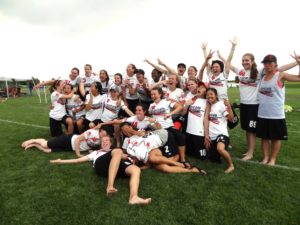 Hadiya Roderique: I owe my start in Ultimate in part to the Withers family, and in part due to sheer luck. Adriana and I were, for a very brief time, in the same residence at McGill. And one day, I looked out of my dorm room, saw the ultimate team practicing, witnessed the magnificence of Graham Withers' calves from four floors away and wondered what was going on down there. So, I wandered down to ask. How fortunate I was to be in the only residence that looked out onto McConnell field, and to happen across the most inviting and welcoming of university competitive sports! It turns out that was the only day all season that the team practiced on that field, so it was very much right place, right time.
I was not very good when I started – as a track athlete, I just knew how to jump or run in a straight line, and I could NOT throw. But, I was fast, stubborn and determined to learn and improve. The next year, I made the A-team. I was Captain for the next three. Many of my fondest memories from University are my experiences with the ultimate team.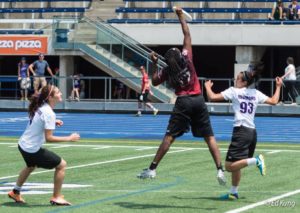 I started my club play in Montreal the summer after my first McGill season, playing for Venus, Loki (co-ed) and the inaugural year of Storm. I then moved to Toronto in 2005, joined Lotus and Capitals, and played here on club teams and National teams until my retirement last year.
UC: How has your experience been, being a player of colour in the community?
HY: It has been interesting. I have been the only Black female player in the women's system in Toronto for my entire career. At Nationals, I would be one of a few – I think max 3 or 4 of us at any one time. While most of the time I felt like I belonged as an athlete and a person, there have certainly been odd situations and times at which I felt like I was on the receiving end of stereotypes. For example, if there was a black player on another team, I was often assigned to them on the assumption that we were both fast cutters. Or the time when I was in a car with a teammate and mentioned that I was a lawyer, and they commented that I didn't sound like one. The times when I would approach the Hotel desk, as the main hotel booker, with my teammate beside or even behind me, and the staff would address my teammate. The joking assumptions by teammates and other teams that I must be a good dancer or singer/cheer person because I'm Black. I mean I am, but that has nothing to do with my skin tone!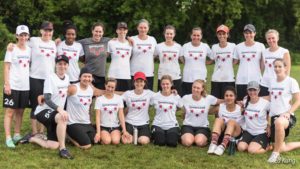 My teammates would sometimes tease me for looking fancy on the airplane while they would be in sweats and comfortable clothing. I don't think they ever knew or realized that the reason I had to be more buttoned up was to get treated equally to them.
Downtown Brown was also a really important part of my sense of belonging in the sport. The camaraderie, the Saturday circles and discussions about race, were really important. I've gotten rid of a lot of jerseys, but never those.
UC: Do you have any thoughts on how we can increase participation from the Black community in Ultimate?
HY: I would urge people who want to get involved in coaching to start programs at schools with higher populations of minorities, especially Black children. Ultimate has such a low barrier to entry into playing – a space, a frisbee, and some cones or markers, and it's fun! Kids like fun, so get them hooked early before you lose them to other sports. Plus, at the rate that the sport is moving, high school experience will be key. Make sure to show them some clips of Remi Ojo and I and other Black athletes playing, so they can see people like themselves in the sport. Representation is really important – I think people underestimate what it feels like to see someone who looks like you doing what you want to do. Plus, watching Remi making sick layouts is a joy.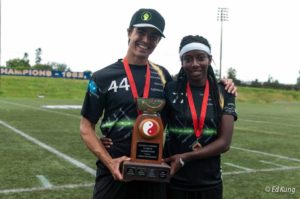 UC: Do you have anything else you would like to add?
HY: Just a special shoutout to Union 2013 for providing me with the best team experience of my career. I never felt a greater sense of belonging as a player then I did with them. A true team in every sense of the word. #4women.