Ultimate Canada Magazine – March 8, 2019
International Women's Day is celebrated every year on March 8th. It is important to strive for gender equity not only on this day, but everyday. The theme of this year's campaign is #BalanceforBetter and acts as a call to action for driving gender balance across the world—the campaign continues year round. For more information on International Women's Day, you can visit their website here.
To celebrate the day, we are featuring ten amazing women from the Canadian Ultimate community.
Adriana Withers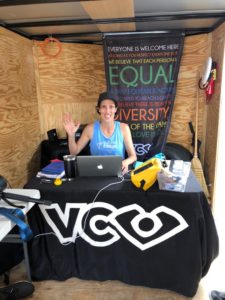 Withers created VC Ultimate in 1998 and is a leader in the Canadian and global Ultimate community.
"In general, my experience as VC Ultimate's leader has been extremely positive. I don't think that my personal experience would have varied much if I was not a female, although I do occasionally wonder if it has affected some relationships over the last 20 years. There have been times when I know I've been seen as "unreasonable" or "hard to work with" for standing by my personal, and VC's, values with regards to some strategic relationships. Would that have been the case if I was a male, or would I have been respected for being strong and firm?
I also feel a responsibility to push to look for equitable action in everything we do as a company and every initiative that we support, which is a burden I don't know if a man in my position would feel. I think that it's important to lead by example, though, and as Canada's longest standing ultimate company, I take that responsibility very seriously. Life may be easier and the company may be more profitable if we weren't always pushing to support the values of inclusivity, equity and environmental responsibility – what we think of as our embodiment of Spirit of the Game – but that's not the kind of leader I am or company VC is. We have a responsibility to the community that has supported us for 20 years to be more – to be #OnlyTheBest." – Withers on her experience as a female leader and CEO in Ultimate.
Kira Frew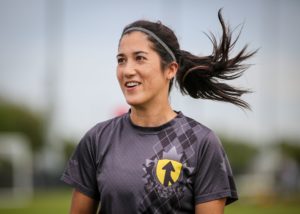 Frew has competed at the highest levels for both her club teams and internationally for Canada. She is one of three women on the Ultimate Canada board of directors, and is a member of the High Performance committee.
"Winning the UPA College Championships with UBC in 2008 is one of my fondest memories of my ultimate career. We went on a 10-1 run to win the finals after being down 5-8 at half. The team played an amazing tournament and showed so much grit, intensity, skill, and support for one another along the way. It was the culmination of five years of determination and hard work, and the perfect way to finish my college ultimate career. Some of those women remain my best friends to this day. We even had a memorable ten-year reunion weekend during Flowerbowl last year!" – Frew on a highlight of her Ultimate career.
Sarah Jacobsohn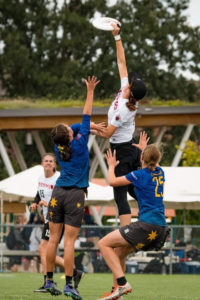 In 2018, Jacobsohn captained both MOFO and Team Canada U20 to podium finishes—gold at CUC and a bronze at WJUC. Jacobsohn was named as Ultimate Canada's 2018 Junior Female Athlete of the Year.
"Competing on Team Canada U20 for the past couple of years has allowed me to make so many connections with other people that I otherwise wouldn't have made. I was never used to being in an environment with other competitive female athletes, as I go to a private school with an exceptionally small population of girls. Being surrounded by such strong female role models was an experience in itself, and being in an environment like that helped me grow so much as an ultimate player and as a female athlete in general." – Jacobsohn on a highlight of her experience competing for Team Canada U20.
Amanda Froese
Froese was the first openly transgender athlete to compete at the Canadian Ultimate Championships. Froese competed with the gold medal winning team MOFO at CUC 2018.
"My experience as a transgender woman in the ultimate community has been up and down but I wouldn't trade it in for anything. I started playing as a female just after I started identifying as female in the spring of 2017. I was fortunate to start on a team with a lot of my friends and supportive people, but not all the teams we would play against were as supportive and I would hear that I should not be playing as a female because I was not one. This was very hard for me, but luckily it helped that my team would stick up for me and defend me from those people making those comments. Being the first open transgender athlete to compete at Canadian nationals has given me a lot of opportunities to speak to different school to tell my story and show what its like to be transgender, along with my love for the sport. All though I may have struggled throughout my journey, it has made me into the strong and confident woman I am today and ultimate is the main reason for that. Ultimate gave me a place where I can just be myself and play a sport that is so much fun." – Froese on her experience as a transgender woman in the Ultimate community.
Alison Fischer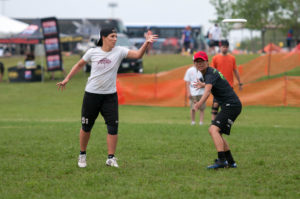 Fischer has competed and coached at the national and international level. She is currently the head coach for Iris, Quebec's top women's team, and the U24 women's national team.
"My favourite thing about coaching women's ultimate is the opportunity to work together with my athletes to help them push the boundaries of what they believe they can achieve. I love challenging my athletes to develop their confidence, resilience, self-reliance and vulnerability on and off the field. I also feel incredibly lucky to have a chance to work alongside other female coaches who inspire me to be better every day and who share my passion for building a positive, dynamic, collaborative team culture." – Fischer on her favourite thing about coaching women's Ultimate.
Linda Kudo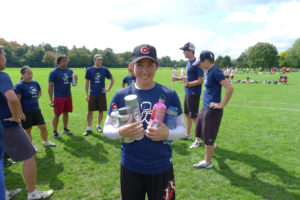 Kudo has been leading the way in Ultimate for years as a player, president of the Hamilton Ultimate Club and as an observer.
"A series of fortunate circumstances placed me in the right place at the right time to meet the people who would lead me into officiating.
My first time at Canadian nationals, I played in a couple observed games. In one of our games, I was lucky to have a woman observing our game. She observed by herself. She was an inspiration!
The following January, I played at the Acapulco hat tournament (shout out to Fernando & my Mexican ultimate peeps!!!). I met an American who was a regional observer coordinator. While discussing the pros and cons of observers in games, she suggested that I should do it and I thought, "Why not?" She told me about the next clinic and I signed up.
Observing isn't easy for anyone. As a woman it is harder because you are visible and memorable in a sea of men on team orange. Missteps are remembered and attributed to the female observer but rarely do players remember the guy that worked their game. Your stance, facial expression and actions are scrutinized more so than your peers. Looking like you are concentrating is described as resting bitch face. Rarely a descriptor given to male colleagues. Listening to a player and letting them finish talking is seen as indecisiveness and not knowing what you're doing. But I hope by getting more women playing sports and encouraging them into observing, that we stand out less on the field and blend into the sea of athletes and officials.
Officiating is a hard job, but I find it rewarding. I like feeling helpful. I find that the self-critiquing and post-game analysis required for learning and growth also make it easy to get down on oneself. But the camaraderie of the amazing people with which I've had the privilege of crossing paths helps me keep my chin up and keeps me moving forward. Frankly getting the best view of the spectacularly athletic plays on the field is worth it every minute of sweat and pre-tournament rules prep." – Kudo on how she got into observing and her experience as a female observer.
Molly Wedge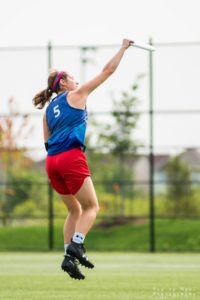 Wedge is a competitive player in the Halifax ultimate community, competing with Anchor, Salty and recently with the University of Dalhousie Open team at CUUC.
"It was awesome! I learned a lot, and it really boosted my confidence as a player. I was added to the roster pretty late, but my team was incredibly supportive and made me feel like I was a very valued member of the squad. It also felt pretty good to score on players that would scream "I'M POACHED!" the whole time I was guarding them!" – Wedge on her experience competing with an open team at university nationals.
Katie Berezan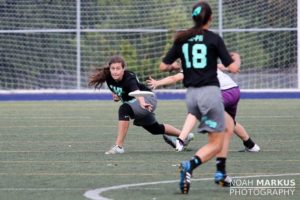 Berezan is a long-time competitive Ultimate player out of BC and is currently the league manager for the Vancouver Ultimate League.
"The privilege of getting to know so many incredible, strong women who are role models on and off the field is by far the best part of playing and working in Ultimate. This support system celebrates my successes (and theirs) as well as provides me strength in tougher times. There are still challenges I experience as a woman participating in sport. In both work and play there is a constant fear that what I bring to the table is not enough, I don't deserve to be here. The toxic subliminal messages get through in small ways, like stumbling to explain to an outsider that my touring team is on par (or better) than that professional team they've heard of, or while playing in rec league getting lessons on how to do something I have done (at least) a thousand times before. As I transition into working within the sport, I feel proud that there is a recognition of gender equity in our daily practices – it is not perfect, but it is practising." – Berezan on her experience as a female playing and working in Ultimate.
Lauren Kimura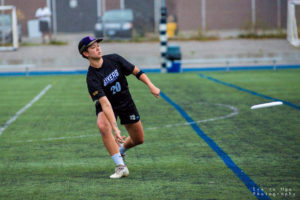 Kimura competes with the Toronto 6ixers and has won medals both nationally and internationally. She was named as Ultimate Canada's 2018 Female Athlete of the Year.
"I started playing ultimate when I was 14 and have played every year since for the past 12 years. It has not always been easy to continue playing season after season. Self-doubt, mental health challenges, financial barriers, injuries, balancing priorities, the list goes on – these are common among young female and female-qualifying athletes, but they are not insurmountable obstacles. At the core of the matter, mental toughness is huge. If you love to play and you want to continue to grow, try to persevere and keep showing up to the field – it's okay if ultimate needs to take a backseat sometimes.
TL;DR: Don't stop playing! I hear female players peak in their late 20's ;)" – Kimura on her advice to young female Ultimate athletes.
Trisha Roberson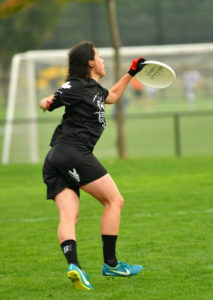 Roberson is a captain for the mixed team Fable in Vancouver, BC, and an advocate for Gender Equity in our sport.
"[On social media] when advertising or posting photos, include equal or more female-matching players in the photos.
[As a player] when a woman is talking, shut up. Show support through body language (nodding, lean in). Don't. Add. Anything. Don't repeat her point, don't add onto the idea. Let her words stand for themselves.
[For men] figure out if you're actually fun for women to be on the field with. If you're not, fix it. If you have a male teammate who you know isn't fun for women to play with, inform him. Don't make women have all those difficult conversations.
[For teams] select a gender-balanced roster and play male-matching and female-matching lines the same amount.
Bonus! Discussion topic: is white supremacy and patriarchy emergent or designed? Does it matter?" – Roberson on things we can do to increase female representation in Ultimate.