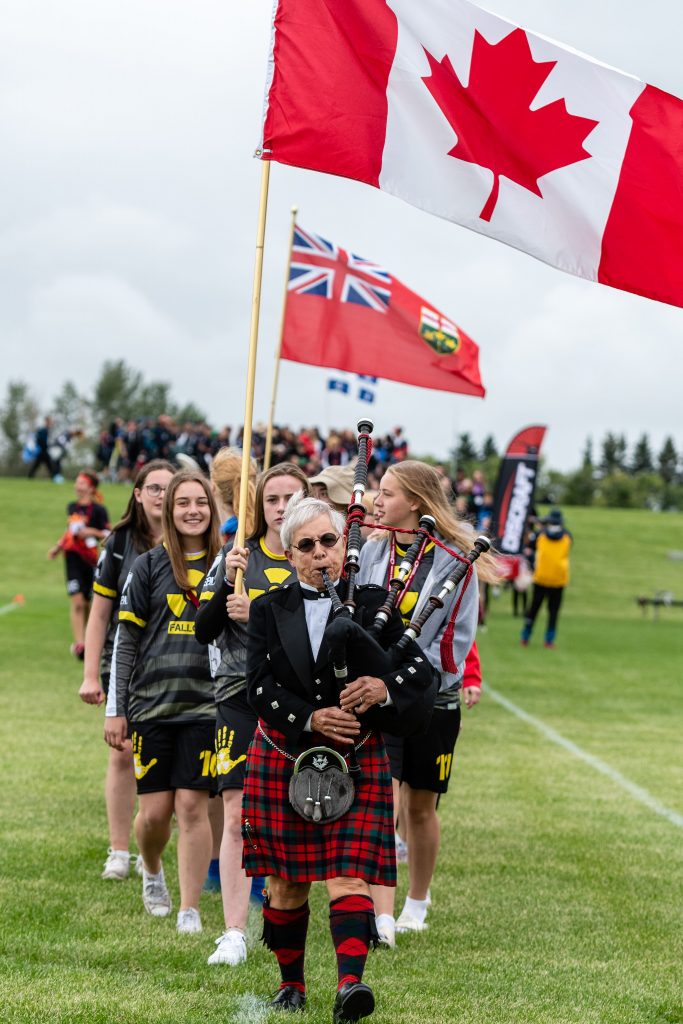 Ultimate Canada Magazine – August 28
The 2019 Canadian Ultimate Championships (CUC) officially kicked off Sunday, August 11 at Ivor Dent Sports Park in Edmonton, Alberta, featuring a procession of nearly 1,000 athletes and coaches accompanying their provincial flags around the VC showcase field. Following the ceremonies, the competition officially started with the Junior Open Showcase Game featuring Mischief (BC) vs. Titane (QC).
Junior Open Divison [Presented by CLIF]
The Junior Open division saw 20 teams represent seven provinces. Toro (ON), entered the tournament as reigning national champions, winning Gold at CUC 2018 over Eclipse (BC). All teams came into the championships with one goal in mind – bringing home Gold.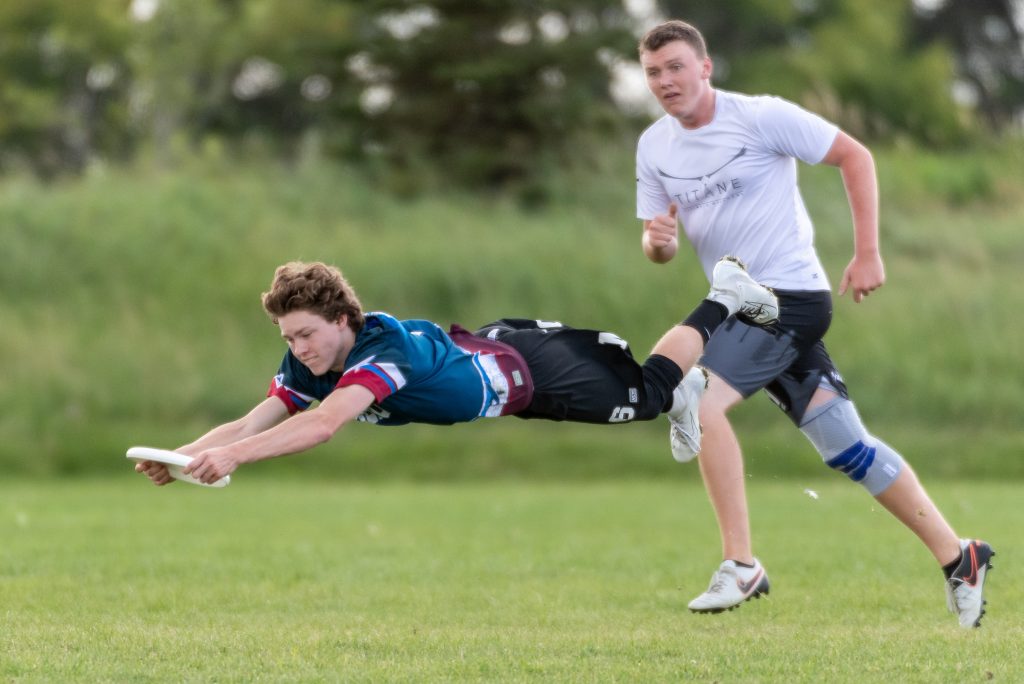 By the end of Day 1, Toro was the only team that went 3-0 in the top eight teams defeating MOFO (MB) 12-8, Bonfire (BC) 15-9, and Vortex (BC) 15-7. Unfortunately, Toro lost one of their top players, Jesse Watt, to injury at the end of Day 1 forcing them to reallocate resources. On the other side of the bracket, Stud (ON) and Reign (BC) also went into Day 2 with a 3-0 record.
Toro and Eclipse didn't meet until Day 2 in the crossovers, where Toro remained undefeated, and took the game 15-9. It became evident that Eclipse was on a mission.
Moving into the quarter-finals that afternoon, all teams were fired up. The first quarter saw Toro defeat Mischief (BC) 15-8, earning a spot in the semis. The second quarter-final saw Ignite (ON) and Vortex. Vortex took half 8-7. Ignite got 3 breaks and took the lead 10-8. Ignite maintained their lead and won with a final score of 11-10. MOFO and Titane saw each other in the third quarter-final. Titane took half 8-7. The game ended 12-11 on universe point with a goal by Justin Kelly, and assisted by Cameron Tramley, earning MOFO a spot in the semi-finals. The last quarter-final saw two BC teams, Eclipse and Reign. Eclipse took the win, 15-8.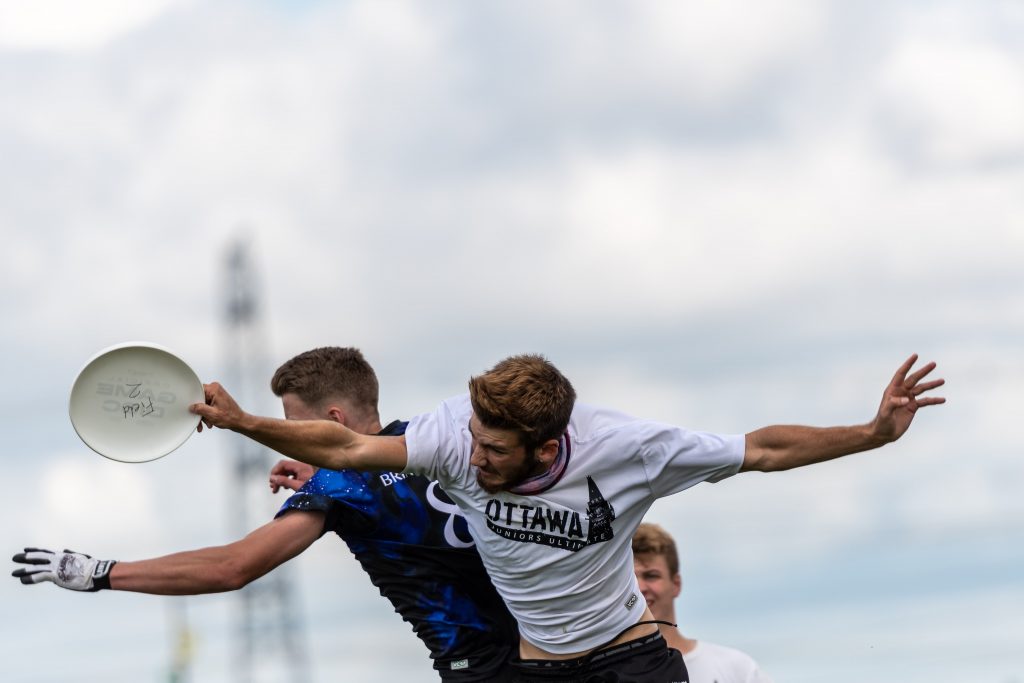 Day three kicked off with semi-finals first thing; Toro vs. Ignite, and MOFO vs. Eclipse. Right off the horn, Ignite came out ready to play claiming the first four points of the game. Toro put up a fight and scored the next three, making it 4-3, Ignite. Ignite maintained their lead and took half, 8-5, and eventually claimed the win, 11-10, putting Toro into the bronze medal match, and themselves into the gold medal match. Eclipse continued their streak and went on to capture the win over MOFO (MB), 11-8. The only thing that stood between Eclipse and a gold medal was Ignite out of Ottawa, ON.
Going into the Gold medal game that afternoon, Ignite and Eclipse had already seen each other on day one. The game started off strong and evenly matched, however after halftime Eclipse was able to pull away with the lead and win 15-8. Watch the Gold medal game here.
On the other side of the bracket, Bonfire (BC), went 3-0 in the ninals, finishing 9th place, followed by Stud (ON), who finished 10th and went 2-1. Coming out of Quebec, Titane showed well over the weekend and impressed the competition on their way to taking home the 2019 Spirit title.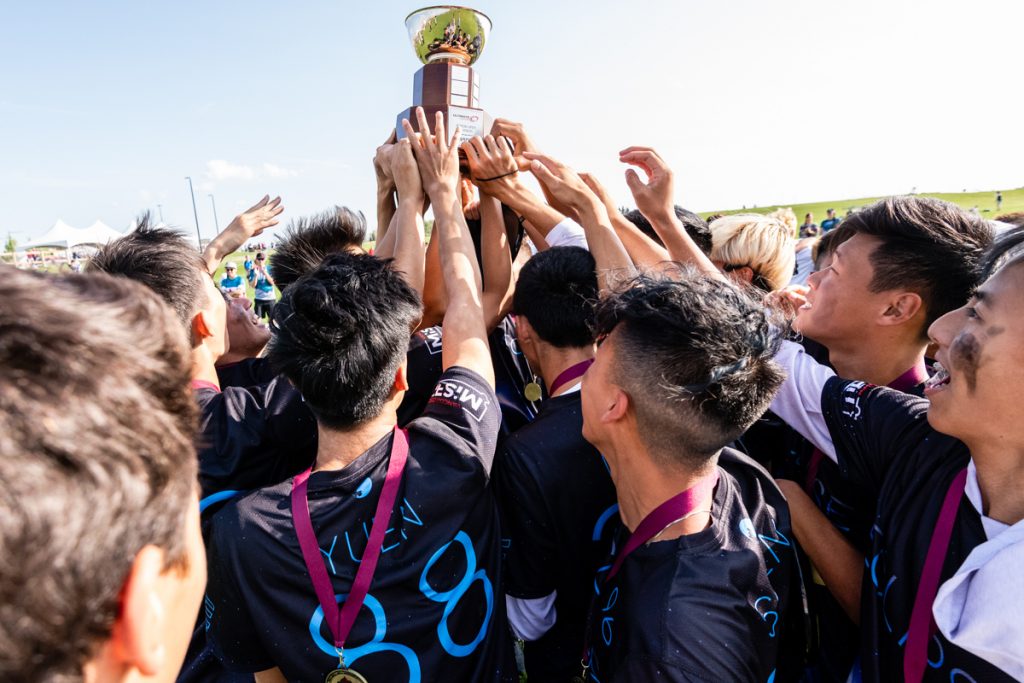 Gold – Eclipse (BC)
Silver – Ignite (ON)
Bronze – Toro (ON)
Spirit – Titane (QC)
MVP – Neo Debroux

Junior Women Division [Presented by VC]
The Junior Women Division saw 16 teams represent seven provinces. Wicked West entered seeded first out of Ontario, Vortex first out of BC, and Masters of Flying Objects (MOFO), 2018 champions, first out of Manitoba.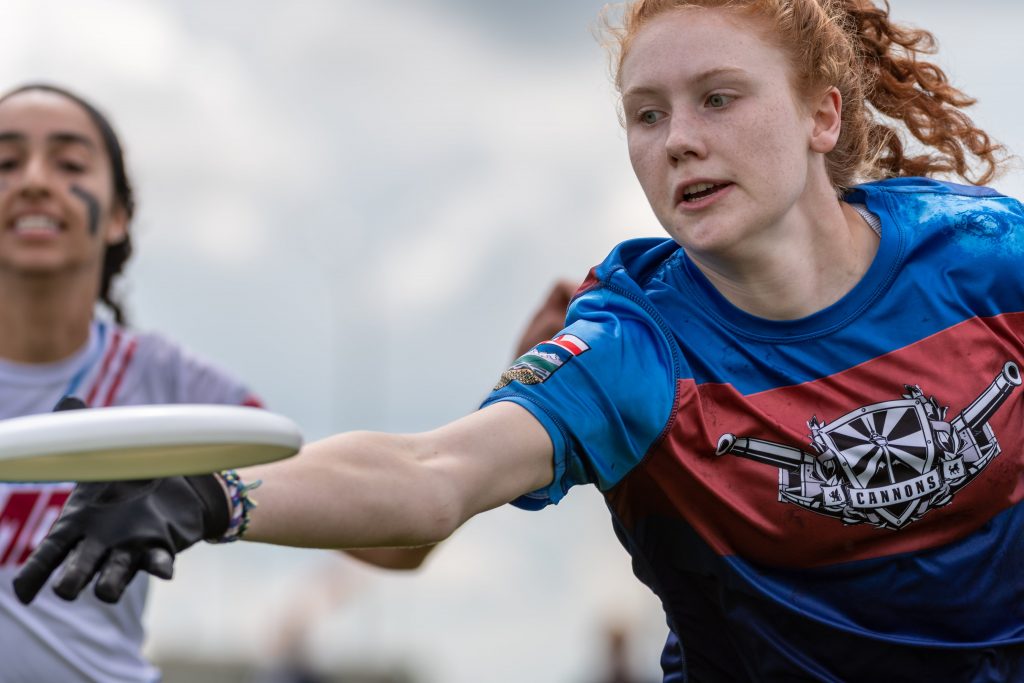 Pool play kicked off on Monday, and the point differential was huge in Pool A, with MOFO winning their first two games 12-3 and 15-3. Wicked West gave them a run and tightened the gap between the score. MOFO prevailed and won 14-11. In Pool B, two games ended with a one-point difference; Toro, 11 vs. Eclipse, 10 and Eclipse, 11 vs. Vortex, 10. Amongst the four pools, MOFO, Toro, and Mischief all headed into Day two of competition with a 3-0 record.
Toro coaches, Vikki and Krystal, discuss Toro's energy: "The one thing we had lacked all season was energy. People played hard, but they also got frustrated easily. So before CUCs we decided that we needed to do something about that. We talked to the captains and asked them to come up with new cheers. The focus at CUCs was insane. Every game was intense. The sideline was, for the first time all season, completely and wonderfully alive"
Day two featured crossovers and kicked off with MOFO, 2018 CUC gold medalists, playing Toro, the 2018 bronze medalists. The game was within a 3 point difference with Toro leading the entire game. Toro won 10-8 earning a spot in quarter-finals.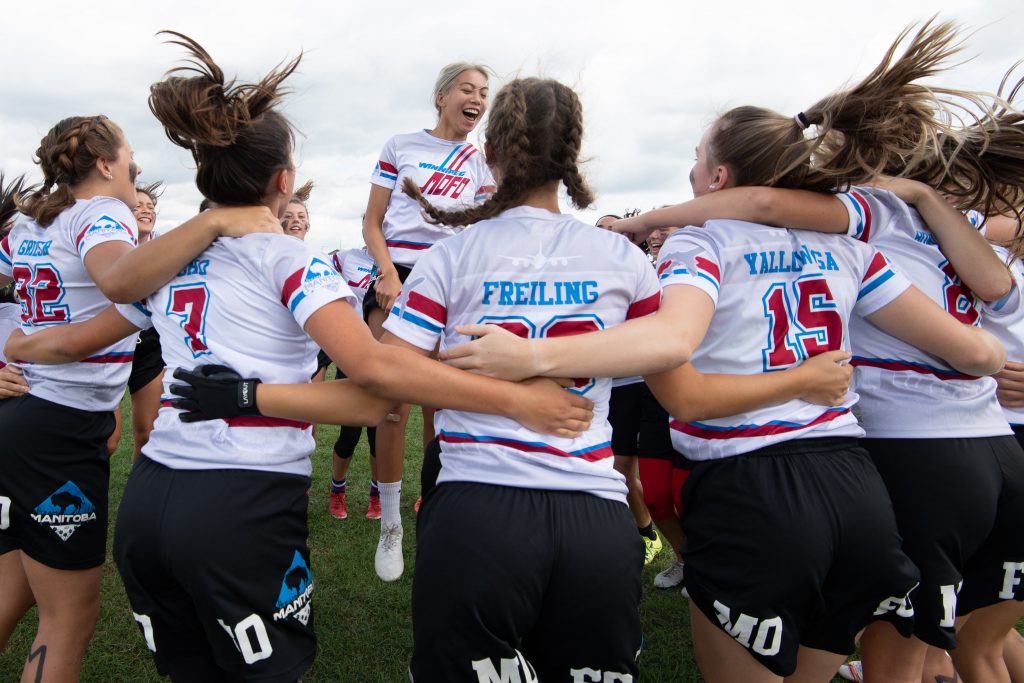 Quarterfinals kicked off later that afternoon with Toro vs. Mischief, Wicked West vs. Bonfire, Eclipse vs. Vortex, and MOFO vs. Cannons. Only one game was close, two rival BC programs – Eclipse vs. Vortex. Eclipse maintained the lead throughout the game. Whenever Vortex scored to tie it up, Eclipse kept pulling away. That is until #9 Mandy Li from Vortex scored near the end of the game, making it 11-9 with Eclipse still in the lead. #99, Dyane Tolentino followed with another goal, followed by #22, Sheia Ursua, to tie the game at 11s. Horn blows. Next goal would send either Eclipse or Vortex to semis. #99 Dyane Tolentino sent a throw to #4, Jenny Medina for the final goal. Vortex would now face MOFO in the semifinal game Wednesday morning.
The other semi-final featured a rematch of the Ontario Junior Ultimate Championships final game, Toro from Toronto against Wicked West from Ottawa. Both teams stepped onto the field with high energy and focus. Wicked West was unable to pull off another victory over Toro and lost with a final score of 9-7, sending Toro into the Gold medal game against MOFO.
The Junior Women Gold medal game was the final game of the junior divisions and saw numerous supporters on the sidelines. Toro entered the final undefeated with a 6-0 record and MOFO with a 5-1 record. Toro took the lead early on and maintained it until MOFO caught up to tie it at 5s. Toro got the next three breaks and took half 8-5. Toro dominated the second half maintaining at least a two-point lead over MOFO and went on to win the Gold medal 15-10. You can watch the Gold medal game here.
The Bronze medal was awarded to Vortex after defeating Wicked West 11-6. Cannons (AB) took home the Spirit Title.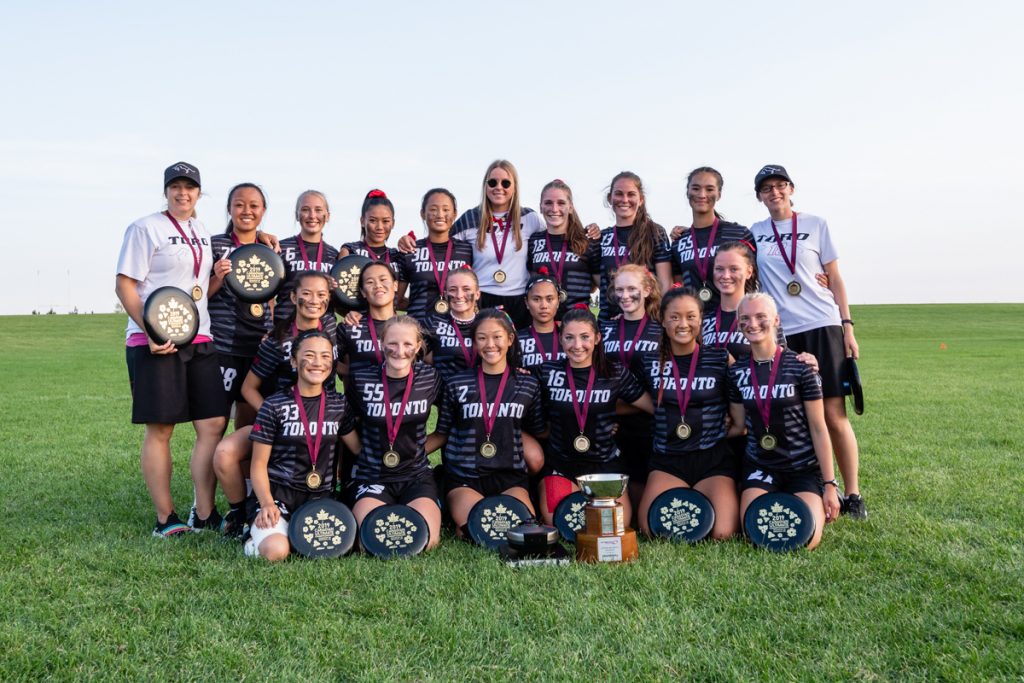 Gold – Toro (ON)
Silver – MOFO (MB)
Bronze – Vortex (BC)
Spirit – Cannons (AB)
MVP – Rachel Cooc