Ultimate Canada Magazine – August 29
Written by: Etienne Fournier
** English version follows **
Résumé Mixte Maître [Presénté par The City of Brampton]
La division mixte master gagne en popularité. Les années précédentes, elle présentait 8 équipes. En 2019, elle en a compté une douzaine. Toutes les régions du pays y étaient représentées. Flux de l'Alberta ouvrait le classement pour l'Ouest au premier rang du tournoi. Qold du Québec ouvrait le classement de l'Est du pays occupant la deuxième place au classement préliminaire.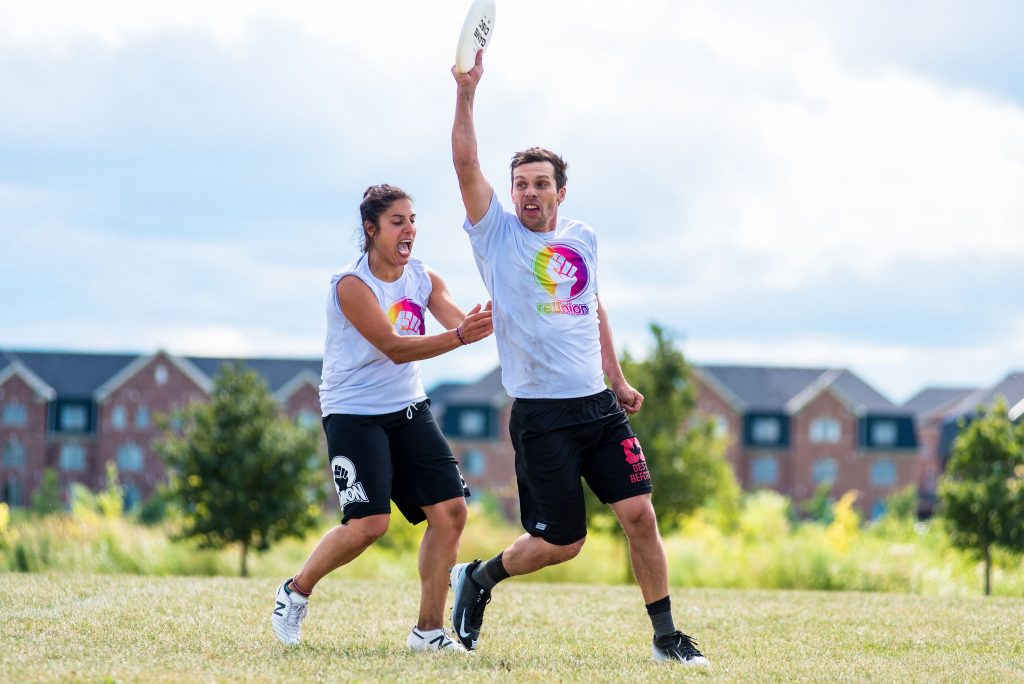 Le classement initial des CUC est toujours un exercice périlleux compte tenu des changements de joueuses et joueurs dans chacune des équipes ainsi que du roulement élevé des équipes mêmes. Évidemment, les matchs de pool sont là pour confirmer ou corriger les classements. En bout de ligne, la logique s'est imposé pour les des deux équipes qui se sont battues pour l'or.
Des douze équipes, 3 des formations classées au bas de la liste ne devaient finalement pas être en mesure de percer le top 8. Avec une fiche de 4-1, Gaia Sale (Winnipeg) classée #9 s'est méritée une place en quart de final, reléguant 1778 (Atlantique) classée #8 dans les 4 dernières positions. Kitchen Party (Atlantique, #12), BoD (Québec, #10) et Firefly (Prairies, #11) devaient aussi ne pas se qualifier pour les quarts.
Les deux quarts de finale ont vu les deux équipes de la Colombie-Britanniques perdent leur espoir de remporter l'Or par 1 seul point. Flux a battu 12-11 Happy Campers (C-B, #3) pendant que Notorious KWG (Ontario, #6) l'emportait 9-8 sur Mastadon (BC, #5).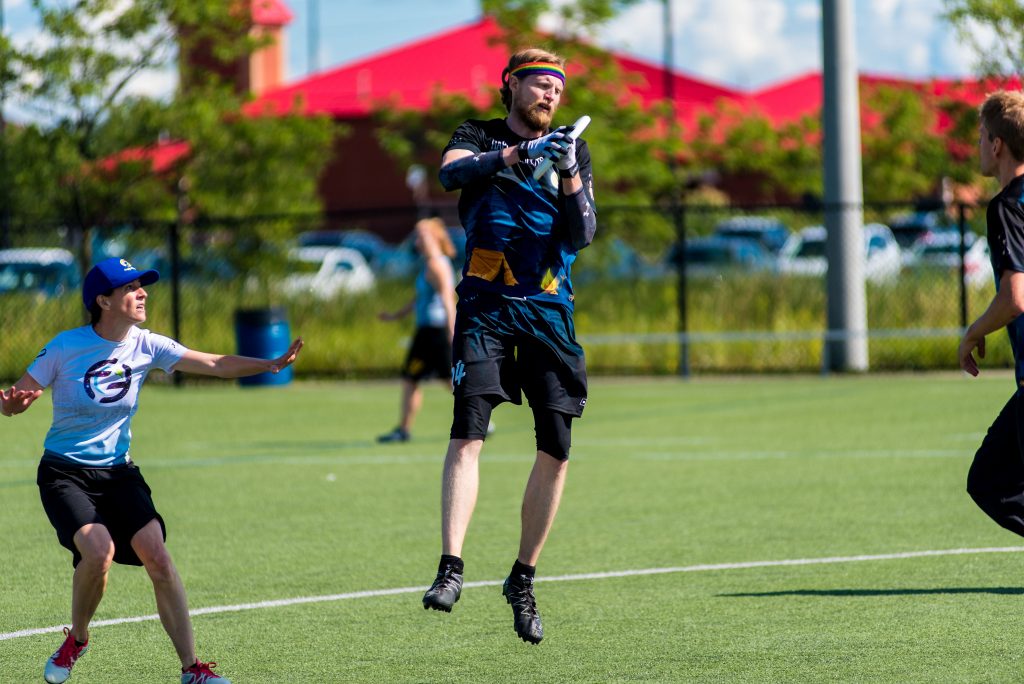 Les deux autres quarts de finale se sont terminées par des marges plus significatives. Les deux équipes avec les noms les plus originaux du tournoi se sont affrontées; Gaia Sale l'a emporté 15-8 sur Penguin Village (Saskatchewan, #7). L'autre quart s'est terminé en la faveur de Qold qui a défait ReUnion (Ontario, #4) par le plus bas pointage cumulé des quarts; 9-6.
Les demies finales ont donc présentées l'équipe classée #1 Flux contre les # 6 Notorious tandis que les #2 Qold devait affronter les #9 Gaia Sale. La logique s'imposa, Flux méritant son accès à la finale par 15-7 tandis que Qold faisait de même en l'emportant 12-6.
La finale s'est tenue par une très belle fin de journée ensoleillée avec toutefois un vent soutenu et quelques bourrasques. La première mi-temps a été chaudement bataillée, les deux équipes s'échangeant les points. Flux devait malheureusement perdre deux des ses principaux passeurs par suite de blessures, forçant les Albertains à réallouer leurs ressources.
La finale mixte Master a offert, aux quatres observateurs en services, le match le plus occupé du tournoi. D'innombrables appels ont été faits des deux côtés, ralentissant le rythme du jeu et contraignant à tenir la mi-temps à 7 points plutôt qu'à 8 points, et ce malgré que la finale se déroulait sur 120 minutes plutôt que les 90 minutes pour les autres matchs du tournoi.
Le match était à égalité alors que la #2 Jessica Beck de Flux s'est démarquée dans le coin de la zone de point pour donner la mi-temps à son équipe. Toutefois, un appel d'obstruction de sa défendresse #19 Hélène Paradis devait renverser ce point. Qold devait répliquer quelques minutes plus tard pour remporter la mi-temps 7-6.
Les observateurs et les deux équipes ont convenu d'ajouter à la pause de la mi-temps 2 minutes supplémentaires en tant que temps d'arrêt d'esprit sportif. La première mi-temps a vue les deux équipes recevoir des cartons bleus d'inconduite d'équipes suite à des contacts qui auraient pu être évités. Sans aucun doute, la tension ne faisait que s'accentuer et tous avaient besoin de se ressaisir.
La deuxième mi-temps a été celle de Qold; l'équipe québécoise a inscrit 6 points bris sans réplique pour mettre la finale hors de portée. Ils devaient l'emporter 14-7, se méritant l'Or mais aussi le droit de prendre en charge l'équipe canadienne mixte master qui prendra part aux championnats de monde qui auront lieu au Pays-Bas en septembre 2020.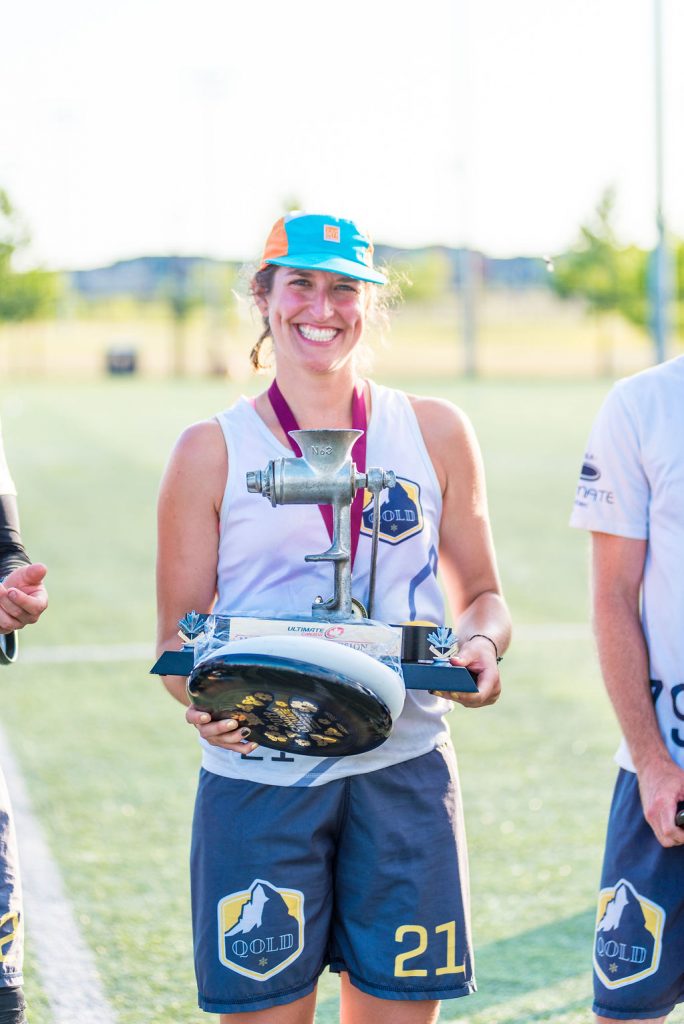 La capitaine de Qold #21 Marianne Pilon a été nommée la joueuse la plus utile de la finale. Elle a été la joueuse la plus productive du tournoi cumulant 6 points et 22 passes pour le point. Max Guy #36, joueur de Qold basé à Montréal, a connu une finale exceptionnelle exécutant de superbes plongeons défensifs à plusieurs occasions. Le #61 de Flux Justin Wilkes a quant à lui inscrit 3 des 7 points de son équipe en finale.
Notorious KWG a remporté le bronze 15-11 contre Gaia Sale. Les gagnants de l'esprit sportif de la division ont été Firefly, suivi des demies-finaliste Notorious. Les 3 autres demis-finalistes de la division devaient malheureusement terminer en queue de peloton du classement de l'esprit sportif.
Mixed Master Recap [Presented by The City of Brampton]
The mixed master division has steadily gained popularity. Previous years have welcomed 8 teams; 2019 hosted a dozen. All regions were well represented; Flux from Alberta was initially seeded first, leading the West. Qold from Quebec, would be seeded second, leading the East.
Seeding for CUC is always a very tricky exercise considering the variation amongst teams rosters from one year to another and the teams turn over. Indeed, some upset occurs during pool plays. But down the stretch, the logic would prevail for the teams that would be fighting for Gold.
Out of the dozen teams, three of the last four initial seeds would not make the cut for the top 8. With a 4-1 record, Gaia Sale (Winnipeg, seeded #9) earned their spot in the quarter-final, pushing 1778 (Atlantic, seeded #8) out of the top 8. Kitchen Party (Atlantic, #12), BoD (Quebec, #10) and Firefly (Prairies, #11) were also denied from the quarter-finals.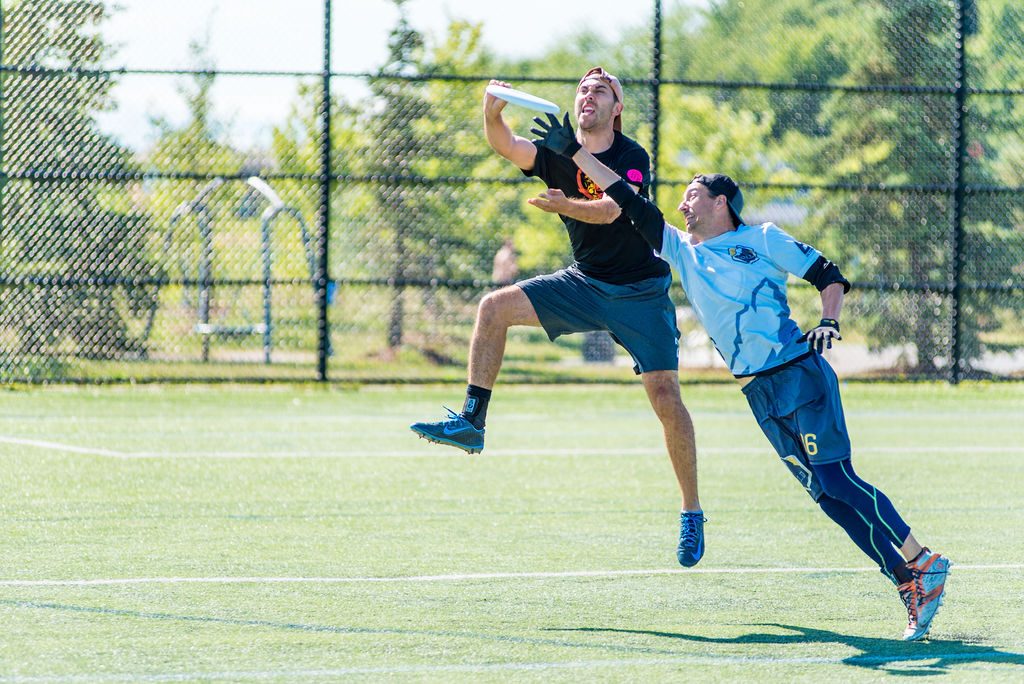 The 2 top brackets saw the 2 BC teams journey to a Gold end by a short one-point difference. Flux won 12-11 over Happy Campers (BC, #3) while Notorious KWG (Ontario, #6) took over 9-8 Mastadon (BC, #5).
The 2 bottom quarter brackets displayed greater points differential. The teams with the coolest names of the tournament faced off in the first one with Gaia Sale taking over Penguin Village (Saskatchewan, #7) 15-8. The other quarter resumed with the lowest cumulative score of the quarters, Qold taking over ReUnion (Ontario, #4) 9-6.
The semis featured #1 seeded Flux against #6 seed Notorious while #2 seed Qold faced off against #9 Gaia Sale. Logic prevailed with Flux earning their spot in the final winning 15-7 while Qold earned theirs winning 12-6.
The final was held on a beautiful sunny end of the day with some gusty conditions. The first half of the final was tight with the two teams exchanging points. Flux, unfortunately, lost two of their main handlers to injury, forcing the Alberta squad to re-allocate their handlers resources.
The Mixed Master final would give the four observers on duty their busiest game of all the tournament. A countless number of calls on both sides would slow the pace down, making the half point of this 120 minutes game (instead of 90 minutes for all the others) at 7 instead of the usual 8. The game was tied at 6 when #2 Jessica Beck from Flux opened herself free in the corner of the end zone for the lead to the half. A pick call from her defender, #19 Paradis, would void the point. Qold punched back a few minutes later to win the half 7-6.
Observers and teams agreed to extend the half with a two minutes spirit time out in hopes of settling the spirits of both teams. The first half saw observers granting both teams a TMF for physical contact that could have been avoided. Clearly, tensions were only climbing up and everyone needed to come down.
The second half was all about Qold; they scored six consecutive breakpoints to put the game out of reach and went on to earn the Gold medal and the rights to lead Team Canada Mixed Master at the World Championships in September of next year in Australia.
The captain of Qold #21 Marianne Pilon was named the final MVP. Pilon topped the women of the division with her 6 goals and 22 assists in the tournament. Max Guy, Montreal pick-up on Quebec City-based Qold, also had a great final going horizontal many times on defence. On Flux, #61 Justin Wilkes scored 3 of his team 7 points in the final.
The bronze medal was taken over by Notorious KWG, defeating Gaia Sale 15-11. Firelfy won spirit, followed by semi-finalist Notorious. Unfortunately, the other 3 semi-finalists landed at the bottom end of the spirit final rankings.