Ultimate Canada Magazine – October 21, 2020.
Written by: Elizabeth Corey
It is no secret that the Ultimate community is still quite small when compared to major sports like hockey, football, and baseball, for example. It is still a developing sport despite growing each and every year. Luckily, we have amazing, passionate people who put in countless hours to help develop and grow the sport to its full potential. Through a series of articles, we continue to showcase leaders and their amazing work for the sport!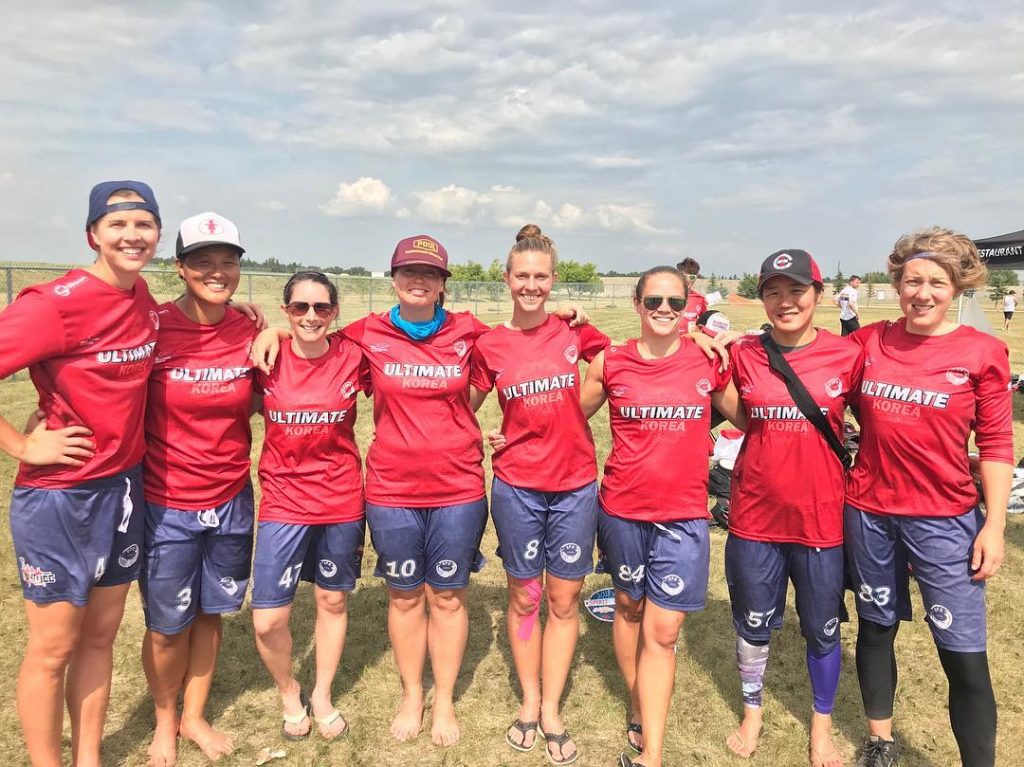 Next up, from Saskatchewan, we are shining the spotlight on Georgina (Gee) Lee. Gee was first introduced to Ultimate in her first year of university in 2003. "I was asked by a friend to sub for her on her UBC intramurals rec team," she explains. "Ever since then I've been playing recreationally and in the more recent years competitively. I started to get more interested in Ultimate after working in South Korea in 2009 where I was able to meet and play with a great group of people from all over the world, including many faces in our own Ultimate Canada community."
Gee moved to Regina in 2011, and in 2013 she became very involved with Ultimate organizations. She has been coaching in Regina for approximately six years, including the High School League, Saskatchewan's Junior Provincial team who have participated in the last three nationals, the University of Regina Cougars Ultimate Club women's team who have attended the last five CUUCs, and for the past two years, Gee has been coaching alongside coaches in Edmonton where the two junior programs have merged.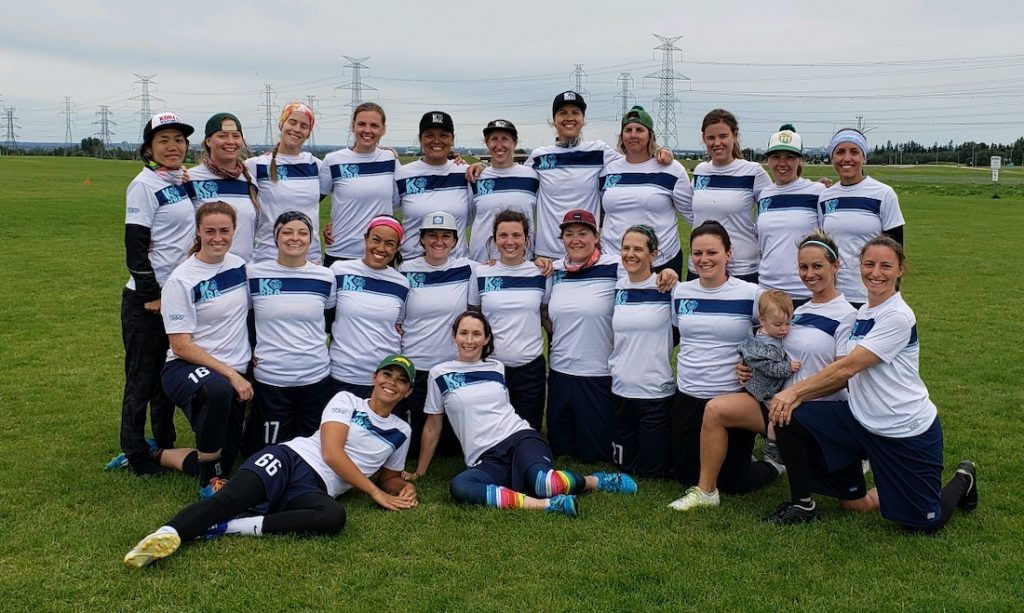 Additionally, Gee, along with a number of other amazing people founded Korra, a women's touring team from Saskatchewan, where she is a player-coach. "Our goal was to build a consistent and sustainable program for women in Regina (and Saskatoon) to help foster and develop skills and also create a team that can compete at Nationals," she explains. "We also strive to provide a safe and fun environment for women to gain confidence in their skills and hopefully they will want to play even more". This year, Gee volunteered to work alongside some of her teammates and friends to be a part of the Regina Ultimate Junior Committee to help further develop the junior program in Regina. This past summer she ran a Regina Ultimate Juniors camp and was able to train a few coaches. "I'm spearheading a committee to help create a Provincial wide coaching resource for our coaches and coaches-in-training in hopes that it will grow the sport in more communities and provide leaders with a good framework to teach Ultimate." Lastly, Gee is in her third year on the Ultimate Canada Competitions Committee where she represents the prairies and provides other committee members insight as to what is happening in Saskatchewan.
When asked about her greatest achievement thus far within the Ultimate community, Gee believes that it has to do with the development of sustainable programs in Regina. She has helped to build a stronger community of leaders and coaches who wish to give back and teach younger generations about Ultimate. On a personal level, Gee believes that her biggest accomplishment has been the development of the Regina Women's club. "I feel like this kick-started a lot of the competitive programs that you see in Regina and it has brought more exposure to our sport in Regina," she says. "We are starting to see some younger faces in our leagues and on our competitive teams. What's also great is seeing that people do want to give back and want to share their knowledge and experience to help promote Ultimate and that we can provide resources and opportunities for them to do this!"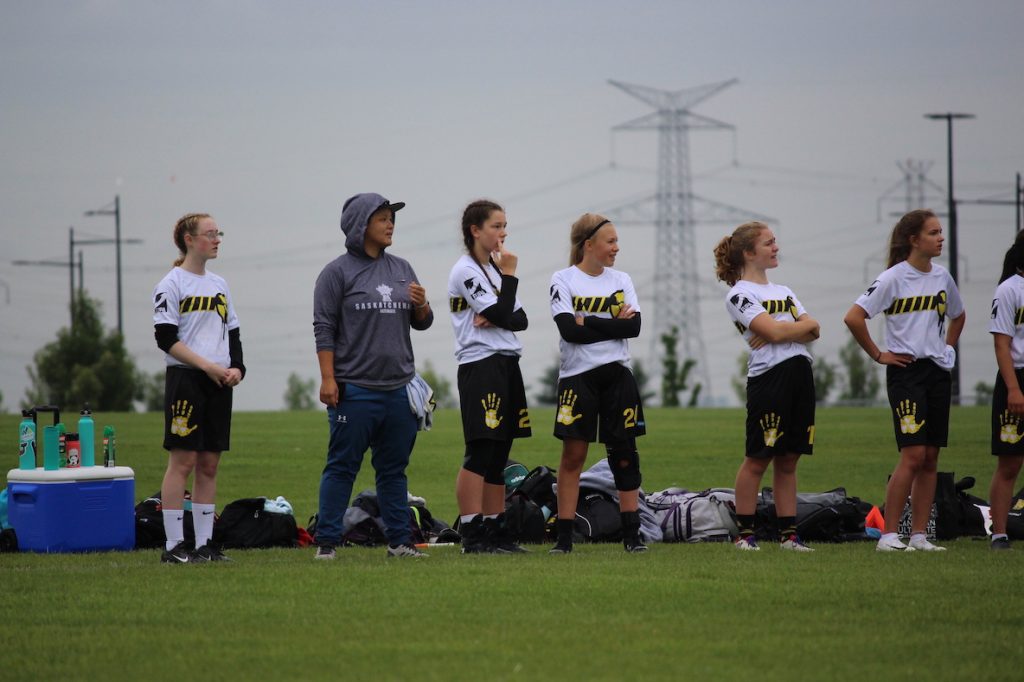 Gee also coaches Ultimate clinics for Girls in the Game (GITG), a program that provides young girls with an opportunity to build their sport skills, and uses sport as a tool to build friendships, improve self-esteem, and teach important life long lessons. GITG was founded by Dr. June Zimmer in 2008 and was passed on to two of Gee's teammates, Raynelle Fisher and Kaylan Gazda, in 2017. "I can't say enough great things about what these ladies have done to build this program and how important it is to get girls playing sports at a young age," says Gee.
Similar to all other sports programs, 2020 brought about new challenges for GITG. "When things were starting up again we decided to plan a free clinic for girls and their caregivers so that we could introduce the kids to Ultimate and SOTG," Gee explains. "With support from Sask Ultimate, we provided the families with discs and had about 30 participants and their caregivers out! It was a great success and they've been able to run more clinics this fall. The hope was that if more people get a disc in their hands the more exposure our sport can get before they reach high school!"
In terms of promoting and developing a lesser-known sport like Ultimate, Gee recognizes the importance of using the resources and people around you to build a program. "I am part of a great community of athletes who are also coaches and teachers and this has helped me learn and grow as a leader," she explains. "I've also learned to take it one step at a time to promote ultimate. Get a disc in their hands first, let them try out different throws on their own, give them the basics, and let them try new things." Lastly, she notes the importance of finding the leaders on teams and in leagues, acknowledging them, and getting them involved.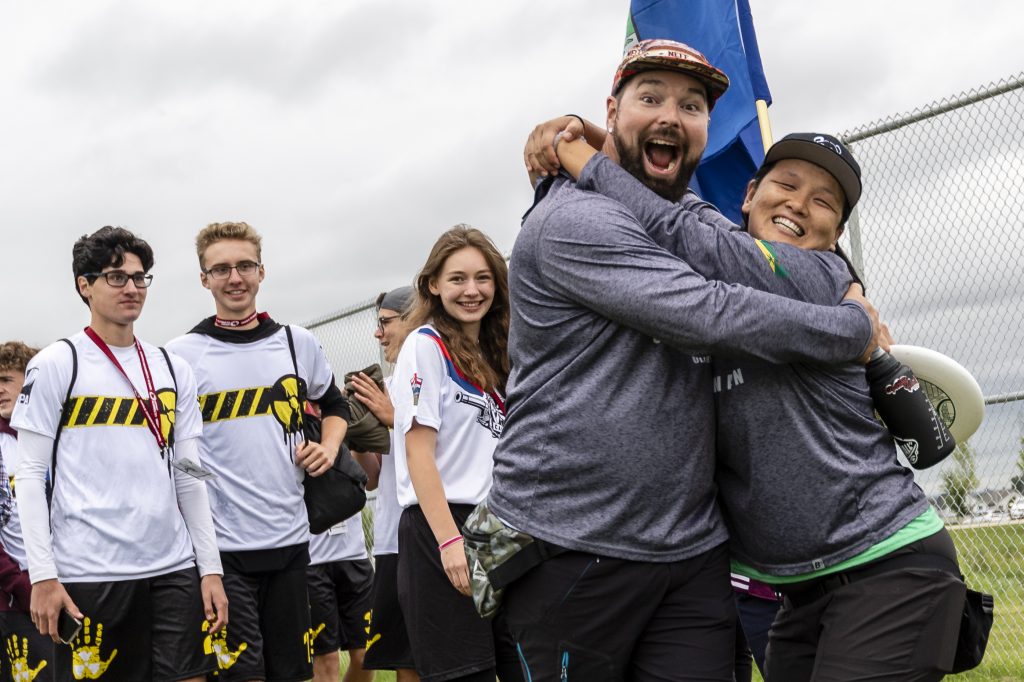 "I love this sport. I love the community and I love watching it develop (even if it's slow). There's no better feeling than when you see a kid you gave a disc to five years ago show up on a high school or university team. I don't think I would be this passionate if I didn't have such great people around me that also want to grow the game. I'm proud to be part of a community of leaders that have a larger vision of Ultimate in our province."
Ultimate Canada would like to thank Gee for dedicating so much of her time and effort to growing our sport in Saskatchewan!
—
If you would like to nominate someone for the UCM Spotlight Series, please contact info@canadianultimate.com.