Written By: Rebecca Thompson
UCM Archive: August 2016 Issue
The all-star tour launched a two-week journey across North America last summer with one goal; to promote women in ultimate. After a successful inaugural year, it's no surprise that it's back and better than ever this year.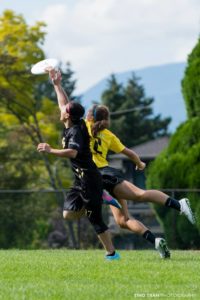 The all-star tour is made up of 17 college-aged women's ultimate players. Although the roster consists of mostly American women who play in the USAU college series, this year, there is a distinct international influence. In addition to the one returning Canadian, Kate Scarth, the tour has added two more Canadians, an Australian and a Japanese woman to help showcase the best of women in ultimate.
The three Canadians on the team are Mira Donaldson, Ellen Au-Yeung and Kate Scarth who play together for the University of British Columbia, competing against many of their all-star teammates in the United States college series.
"This tour offers the opportunity to put some of the top college players, from all across the continent and even the world, on the same field together," said Donaldson. "Many of these players have been rivals over the past four years, and players who I have truly grown to respect. Being able to play on the same side as them will be an experience I will never forget."
The all-star tour is dedicated to promoting women in ultimate and by doing so, gaining more media coverage dedicated to women. However, there is still a long way to go for equity in the sport.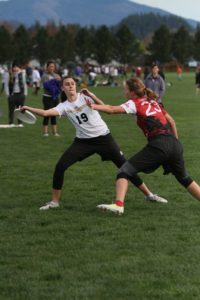 "The increased exposure that the tour generates seems to be a 'once a year' thing, and we need to find a way to keep women's ultimate on an equal stage as the men's game without having to do so in the format of a women's showcase tour," added Donaldson.
"I think this tour is really big in pushing for more emphasis on women in ultimate and putting a positive note on playing like a girl," said Au-Yeung. "There's not a lot of coverage of women's ultimate, when this started last year there was nothing for women. Now we're building and hopefully that will encourage more coverage of women in ultimate."
The all-star tour made a few alterations to their schedule this year, changing a few of the cities they are visiting and adding two clinics for girls in San Francisco C.A. and Washington, D.C. The tour partnered up with Girls Ultimate Movement to bring two clinics that they will be coaching with the women's club team in the two respective cities. The clinics will be focused on young women and giving them a context for what their future in ultimate can look like.
Returner Kate Scarth is looking forward to the clinics, as well as having a better idea of what the tour will be like in its second year. "The clinics are going to be a really neat way to expand what we are doing and it supports the purpose and the cause in a different way," said Scarth. "Last year, it was such a new experience for me personally. This year I think I can put some of that energy into thinking more, and being more aware of why we are doing it, and doing my best along the way to be thoughtful about that."
Scarth also spoke about her involvement on the star-studded team, being the only Canadian last year. "It was a cool experience to go there knowing no one and to come out of it knowing 15 of the greatest people that I know now. It was kind of nerve-racking going in because there was so much of an unknown factor, but once I got there it was immediately clear that it was just going to be really fun."
"This is a truly unique experience and I am so thankful to be able to meet them and play with them."
According to Qxhna Titcomb, founder of the All Star Ultimate Tour, it's important to ask the hard questions within the ultimate community.
"I think often times individuals, whether that's men or women, think that their voice doesn't matter," Titcomb said. "Our sport is really young and it's really small. Individuals can have a lot of impact and create a lot of change. It's critical to have everybody involved in the process."
Titcomb's work creating the tour, and the collaboration of members in the ultimate community will continue to grow women's ultimate. Canadian athletes Scarth, Donaldson and Au-Yeung are helping to build the blocks for the future of women in ultimate on the tour this year.