Written By: Naomi Redmond
UCM: August 2016 Issue
As one of the players coming out of Toronto's ever-present juniors program, Bretton Tan is going to be a force at the World Juniors Ultimate Championships in Wroclaw, Poland. A crafty cutter with big lefty throws, Tan has burst onto Toronto's junior, professional, and club scene all in recent years, and is ready to make his first appearance on the world stage this week.
Surprisingly, Tan only started playing Ultimate in 2013, where he began at York Mills High School. Crediting his junior success to opportunities encouraged by Derek Fan and Daniel Wong, these two coaches pushed him to start picking up at league games and to try out for Toro, the Toronto junior's team, where he met coaches Evan Phillips and Todd Melville.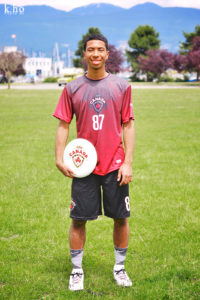 Unlike many young athletes who fall into Ultimate, Tan didn't have an extensive competitive team sport background. Aside from playing hockey and the sports offered at school, he instead grew up practicing martial arts, which he says has taught him body control, balance, and symmetry. Perhaps most relevant to the sport he excels in now, it taught him respect and how to conduct Spirit of the Game. Eventually, he made the decision to stop practicing and teaching martial arts in order to focus on Ultimate.
Tan has been shouldering impressively different roles this summer. Beginning with his debut on the Toronto Rush, he will have to adjust from the American Ultimate Disc League's field dimensions to the considerably smaller USA Ultimate and World Flying Disc Federation's sizes for the rest of the season. Across these leagues, there are also notably different rules and methods of officiating. Tan broke onto Toronto GOAT's roster this spring as well, with whom he has already won his first tournament; the Triple Crown Tour's Elite-Select Flight Tournament. Here, he boasted an impressive nine goals and one assist–claiming the third highest goals scored on GOAT behind stalwarts, Andrew Carroll and Mark Lloyd. On the Rush and GOAT, Tan is mainly cutting on the defensive lines, looking to cause turns and then using his explosive speed to strike to the end zone. Playing with the poise of a veteran, he will be faced with a very different role when he joins U20 Team Canada.
Tan will go from being one of the newest faces on Toronto's rosters to being one of the most veteran players on Team Canada. Instead of taking his spot on the defensive line, he'll be playing offense at Worlds.
When asked whether he found there would be more pressure playing for Canada's offensive attack, he put it simply: "No. I'm used to playing defense on some of the best players in the world. I know if we turn it over, I can get it back".
He's been working on his defensive instinct by studying field anticipation with some of Toronto's greats, notably Toly Vasilyev. In Poland, however, expect to see Tan doing much more than just striking, where he might spend more time in the initiator's lane to set up deep options with those wily throws he has in his arsenal.
With grounded confidence and an air of hard work and determination, Bretton Tan will undoubtedly help bring Canada success at WJUC 2016, as well as with the rest of GOAT's season in the American circuit. To put it lightly, it is unlikely that this is the last we will see of him. His youth, composure, and humility are all only building blocks for an already impressive player on his way to greatness.
Kat Britten/Feature Photo