Written By: Kevin Underhill
UCM Archives: December 2016 Issue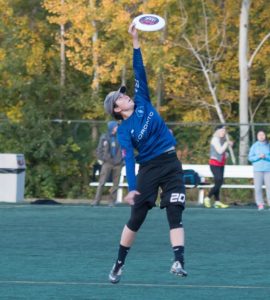 LAUREN KIMURA (University of Toronto)
Kimura was hands-down the most dominant thrower at CUUC. Kimura has unmatched vision and the ability to hit the difficult shots as well. In the early rounds, we had the pleasure to watch Kimura work with her Toronto O-line to pick apart any zones. She fearlessly went over the top even in tricky weather conditions. And if a team was foolish enough to try person-on-person coverage, it allowed free reign for Kimura to get off her deadly deep hucks. Kimura wound up leading her team to a silver medal finish.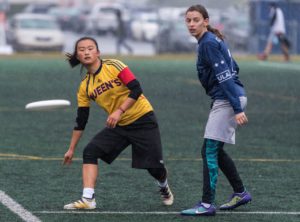 LAURA KINOSHITA (Queen's University)
If there ever was an answer to Kimura, Queen's found it in the energetic Kinoshita. She was the centerpiece of a very effective 'taxi-cab' zone in the title match. Kinoshita shadowed Kimura while the rest of her team played a loose zone. The two superstars exchanged amazing plays and Kinoshita came out on top at the end of the day. Kinoshita was calm and collected with the disc and absolutely deadly going deep. The Queen's handling corps never hesitated when she struck and were often rewarded. Kinoshita is a complete player and is a big part of Paperbag's national title run.
CHRISTINE JURYCHUK (Western)
There may not have been a more physically dominant player at CUUC this season. Jurychuk was featured as the primary cutter on a deep but relatively inexperienced Mustangs squad. Western made an impressive run through Friday's qualifier and wound up winning the bronze medal. Jurychuk was a big part of their success. She was first to every hanging disc on offense and defense and was never shy to layout to gain the extra advantage. Jurychuk's speed, physicality and sticky fingers made her so deadly in all situations. Number 22 for Western was a huge contributor to Western's third-place finish.
DANIELLE CANTAL (Carleton University)
Holy speed! Not only was Cantal the fastest player at CUUC, she knew how to use it. Carleton battled through Friday's qualifying action heavily relying on Cantal's absurd quickness. This is speed and awareness that just can't be taught. Despite being small in stature, Cantal was still able to spring up and match anyone in a sky-battle. Whether Cantal was on O or D, she was the do-all for this gritty Carleton bunch. Cantal is my next pick to make a huge splash on the national or even international stage. She won't be 'under-the-radar' much longer.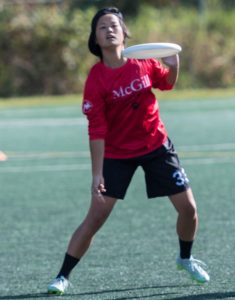 DAISY LIN (McGill University)
If you want flash and energy, look no further. Daisy Lin was very exciting to watch all tournament long. The McGill handler led her team to a fourth place finish after needing to play through the Friday qualifier. Adding an extra day can take its toll on teams, especially when they rely on a few players to make most of the plays. McGill's Daisy Lin, however looked equally as deadly on Sunday afternoon as she did on Friday morning. That is an often-overlooked ability. Lin is a classic 'push-the-pace' handler with all the skill in the world. As McGill progresses, it'll be interesting to see if they can formulate a structure around Lin's strengths.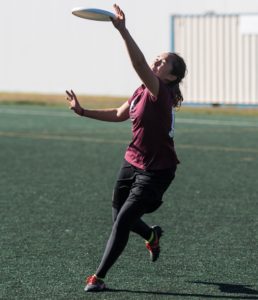 SARAH MAR (McMaster University)
They say consistency kills and Sarah Mar proves the point. Mar played a huge role in Mac's upset of Ottawa on Saturday. She is very difficult to cover in the lanes. With impeccable timing and the throws to boot, she's knocking on the door of becoming one of the most dangerous players in the university division. What makes Mar so dominant is she refuses to make mistakes. She makes good decisions and provides a release valve for any teammates in trouble. That can be very deflating for a defensive unit to play against. Watch out for the McMaster second-year to elevate her game further next season.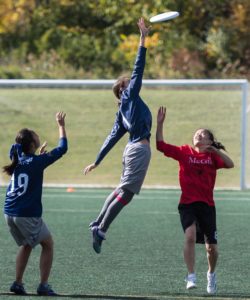 KRYSTAL DOS SANTOS (University of Toronto)
It would be a crime to leave one of the division's most dangerous players off this list. Dos Santos probably played more points on the weekend than any other player. The Toronto workhorse was all over the field. She has the versatility that is needed from any top player. When Tula needed her in the backfield, she was steady and when they needed her to attack the deep space, she did so with pleasure. The one-two punch of Kimura hucking to Dos Santos is virtually unstoppable. With Kimura's eligibility coming to a close, Toronto will no doubt look to Dos Santos to become the centerpiece of the team.
HONOURABLE MENTIONS
Helen Thompson (McGill), Julia Peden (Western), Becky Thompson (Guelph), Izzy Bedard (Western).