Written By: Miriam Tingle
UCM: April 2016 Issue
I have had the pleasure of playing with Laura since she first started playing Ultimate. I remember her getting the disc an absurd amount for someone who clearly was just learning how to throw. Over the years she's done nothing but improve. Time and time again, she proves she's not just athletic (in every sense of the word), but she's also a bright, shining spark that Toronto is proud to have representing Canada…for the third time, and she's only 18. Carla DiFilippo has coached Laura since the beginning and has played a major role in helping her reach her potential and grow as a player.
"It was always a pleasure to coach Laura. She has a very competitive nature and a deep determination to improve. This helped shape the hard-working mentality of TORO in the early years. When one of your best players is also one of your hardest working athletes it inspires everyone on the team to follow suit. What was beautiful about Laura is that she was very welcoming and kind to everyone on the team, regardless of their skill level. She never made anyone feel bad for trying something new or for failing. I feel she brought out the best in her teammates."
I caught up with Laura and asked her a couple questions to get an inside view of how what Ultimate means to her.
Miriam Tingle: How did you get your start playing Ultimate?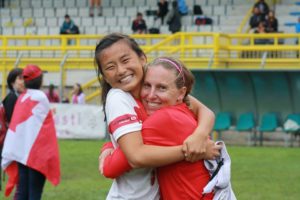 Laura Kinoshita: I began playing ultimate in my first year of high school. My friend from the basketball team persuaded me to try out and I immediately loved it. My high school, Northern Secondary School, had and still has an amazing ultimate program. It does an excellent job of developing individuals with athletic backgrounds who have never played ultimate before. From there I began to play on the local junior team Overdrive and continued to increase my love for the game.
How did your past experience with other sports compare with playing Ultimate?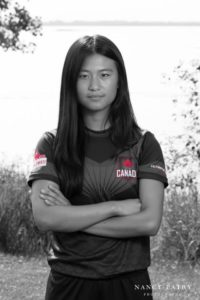 Before I began playing ultimate, I played basketball, hockey and soccer. I started all three at a very young age and loved the competitive nature of each sport. Although I have had the opportunity to travel throughout Canada and the United States playing basketball and hockey, they do not compare to the experiences I have had with Ultimate. This is because Ultimate Frisbee has a sense of community and an accepting and inviting player atmosphere.
Name one or two of your most influential players?
When I first started playing for Overdrive, my coaches were Carla DiFilippo and Erica Tucker. They have been the most influential for me because they helped me develop from the start.
Can you tell me about your experience playing on the mixed national team (U24) and junior women's national team (U20)?
In 2014, I was able to make the U19 Women's Team Canada and had to opportunity to compete at the World Championships in Lecco, Italy. This was my first experience playing at an international level and I was excited to get the chance to play with girls from across Canada. It was amazing to play with such talented players, and I learned a lot from the experience. One moment I will never forget is our semi-final game against Colombia. At half time, we were down 6-9 and felt deflated, until we heard the booming cheers from the U19 men's team entering the stadium, cheering C-A-N-A-D-A. We were able to elevate our game, and ended up winning on a universe point.
Last summer, I was given the chance to play for the U23 Mixed Team Canada. Although I played U19 the year before, this was a completely new experience. It was my first time playing competitive mixed ultimate and I had to adjust my game to match the team. I loved playing with all my teammates and learned a lot from the highly experienced players like the Hatch sisters. The best part about this national team was the team dynamic; always dancing, joking around and motivating each other, the team was a lot of fun to be a part of.
Any ultimate goals?
My most prominent goal currently is to win a gold medal with this year's U20 Women's Team Canada at the World Championships in Poland!