By: Kevin Underhill
UCM: December 2016 Issue
For the first time in what feels like ages, the weather was not the leading headline at the Canadian University Ultimate Championships this fall. Instead, we got to see three days of amazing ultimate capped off with double gold for a very disciplined Queen's University program.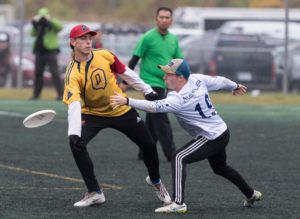 The story of the tournament was the utter dominance of Queen's University. Combined the open and women's team only had one loss (the women's team lost to Ottawa in pool play on Saturday). The two teams ran deeper than any other teams at the tournament and that depth paid off huge. At the university level, the top two-three players on each team often balance out; it's the next ten that win titles. In both the open and women's division, Queen's had the next ten.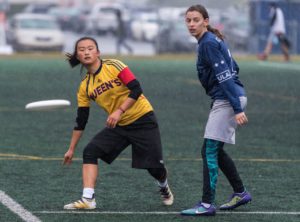 On the open side we saw traditionally strong programs Toronto and Manitoba threaten for the title and we saw an exciting upstart program in Laval make a name for itself. According to Laval's head coach, Felix Marceau, this has been a long time coming. He, alongside some friends and teammates have been working to combine players coming out of high school, CEGEP and other universities into a legitimate University of Laval squad. The first time team turned heads winning the bronze medal. Marceau said this year isn't the goal; it's about development to consistently have a strong team.
In the women's division, Queen's and Toronto were the clear one-two respectively but a number of other teams made big strides this season. The Western Mustangs are a team that looks poised to make a run soon and depending on player retention, it would surprise no one if Carleton surged into the top four and potentially battled for a podium spot next season.
Check out our starting seven from the Women's Division and Open Division
Featured Photo: Ed Kung