Written by Kevin Underhill
August 14 – Ultimate Canada Magazine
According to Laura Hatch, the goal is clear for the returning national champions: reach the podium and qualify for the 2018 World Ultimate Club Championships.
Simple words don't always have a simple path though and this year's path looks a little different. Vancouver's Traffic, Toronto's 6ixers and Montreal's Iris are just three teams in an elite field standing in the way of Hatch's Winnipeg squad this week in Ottawa.
Despite the stronger field, Hatch has confidence in her team to get back into championship contention.
"I think the pressure we're feeling right now is pressure we've put on ourselves," she said. "We've improved all season long and we hope to play our best ultimate as a team [at CUC]."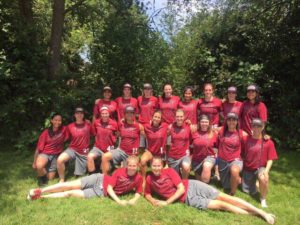 Fusion won their first national title last season in Edmonton vaulting them from semifinal specialists into the real deal. This growth is something Hatch attributes partially to the strong connection between Fusion and the Winnipeg junior team, MOFO.
"We have coaches involved in the MOFO program and we scrimmage them regularly. This helps a lot when the girls move up and start playing Fusion," She said. "We're young again this year, but I think we're very fast."
We'll see if the youth connection, speed and experience from last season's title run will be enough for Fusion to meet their end goal.
Perennial west-coast powerhouse, Vancouver Traffic, will attend their first CUC since winning in 2015. The team returns a group well rounded top-end talent and added a harvest of young, motivated rookies.
The team also added new coach, Mike Caldwell. Caldwell has many years of playing experience with Seattle-based open team, Sockeye. According to Caldwell, who lives in Seattle, the team has been very open with the idea of having an out-town-coach.
"Despite the long distance relationship, the team has really embraced me. I owe a lot of credit to the leadership group for taking that leap of faith," he said.
Heading into CUC, Caldwell doesn't want his team to feel any extra pressure of winning a title. He is looking for them to keep the course and focus on the process.
"Carrying that kind of outcome expectations is a burden." – Mike Caldwell
"We know we're all in it to win it, but we're focusing more on the process and path."
Traffic's main tune-up heading into this week's national competition came in the form of the USA Ultimate event, US Open. Despite finishing with a sub .500 record, Caldwell was pleased with what the team accomplished.
He said, "the US Open was hugely successful for us. Of course it would have been nice to get one or two of those wins. But it really allowed us to grow. Now it's all about maintaining that level we grew to."
Traffic returns to CUC as favourites to challenge for a title. Last time Traffic made it to the finals, they defeated Montreal's Iris in the finals. On that note, despite considerable roster turnover, Iris still looks to be in position to push deep into the weekend.
The French contingent lost national team players Jessie Grignon-Tomàs and Audrey St-Arnaud this season leaving openings for younger veterans to step into bigger roles. St-Arnaud is taking on a coaching role this season, joining head coach Alison Fisher as a defensive coach. She said the transition from player to coach went smoother than she thought.
"I'm mainly coaching defense so the transition was pretty natural," St-Arnaud said. "The girls are already used to hearing my voice so it wasn't a big change."
Being a WUCC qualifying, there is more pressure on making moves on Saturday. One poor game can put a team out of contention for one of the coveted worlds bids. St-Arnaud said Iris is gunning for a bid and has it in them to do it.
"Our main objective is to qualify for worlds," she said. "We've really grown from the beginning of the year until now."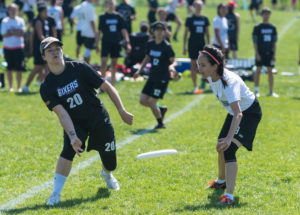 One of the biggest question marks heading into CUC has to be Toronto 6ixers. The second-year team formed out of the ashes of the revered Ontario team, Capitals and has been growing in strength ever since. This will be the first CUC for the young team.
Don't let the rebrand fool you though. This is a team with veteran players such as Jordan Meron, Sarah Bobak and Lauren Kimura leading the way. The 6ixers are also stocked with a youthful but experienced sophomore class including Laura Kinoshita, Miriam Tingle, Naomi Redmond and Cindy Truong among others. Throw in all-Canadian junior star, Anouchka Beaudry and this team, all of a sudden, becomes something to fear.
National-team coaches, Carla DiFilippo and Evan Phillips are behind the bench adding that touch of experience that may be lacking. DiFilippo said the team is looking forward to competing for a national title against the best teams in the country.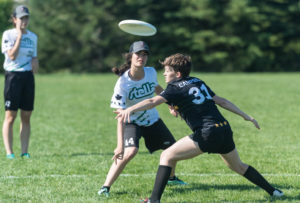 "Playing talented teams such as Traffic, Iris and Fusion make us better players," she said. "We feel we are talented and capable of competing with all of these teams."
Like Fusion, one of the strengths of the 6ixers is their connection to the youth program, TORO. As a coach and leader for both programs, DiFilippo said she notices one major similarity.
"…the players' work ethic, their desire to win and their willingness to sacrifice/work hard to improve their game and achieve their goals."
The World Flying Disc Federation hasn't released the bid allocation for WUCC yet, so the tension is perhaps even more palpable as bid-questions loom. There isn't enough room on the podium for all the elite teams at this event. Traffic, Fusion, 6ixers and Iris appear to be in their own class but being a WUCC qualification year, it's hard to count anyone out. Teams lurking in the background, waiting to pounce, include last season's silver medalists, SHHippos, Ottawa's Stella and Alberta's Flurry.
The women's division at the 2017 Canadian Ultimate Championships starts on Thursday, August 17. Tune in to watch live all week at ultimatecanada.tv