Written By: Rebecca Thompson
Ultimate Canada Magazine – September 13, 2017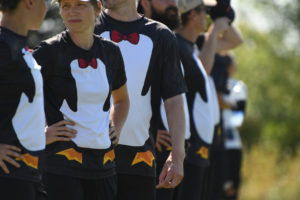 Over the last few years, there has been rumour-mill buzz that a mixed masters division would get added to the Canadian Ultimate Championships.
For the men and women of the Saskatoon ultimate community, the addition of mixed masters division was an exciting prospect, especially with CUC taking place in town.
Saskatoon has a growing ultimate community with most people playing in the mixed divisions in local leagues, or touring teams, Bunny Thugs and Sting. A women's masters team, Aurora, has also successfully run for several years.
Ultimate Canada decided to add the division this year and six teams entered from across Canada in the inaugural competition, kicking off what looks to be a long-term successful division.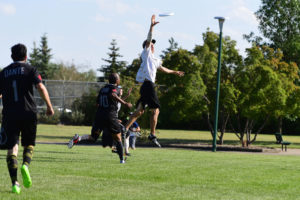 The tournament was full of excitement and it came down to the fourth-seeded Penguin Village from Saskatoon taking on the two-seed Mastadon out of Vancouver in the battle for the maiden title.
The thrilling back and forth game saw Mastadon leading 14-11 and poised for the title. The Penguins never backed down however and stormed back to tie it up 14-14 and force a universe point. Starting on defense, Penguin Village finished their epic comeback to win the first ever mixed masters division and a first-ever title for a team from Saskatoon.
Penguin Village was primarily formed out of a friend group and league teams that had played together for years in Saskatoon recreation league. Their chemistry was evident as they went undefeated throughout the entire tournament.
Allan Stonhouse, spirit captain and a founding member of the team, explained that having three members of the team (Stonhouse, Aaron Chubb, and Marcus Storey) on the local organizing committee for CUC helped motivate them to form Penguin Village.
"One advantage of playing in a smaller community is that most of us have played with each other in some capacity," said Stonhouse. "We all know each other, our playing styles, and have good sense of our strengths and weaknesses."
Penguin Village's success in their first year as a team has motivated them to continue through the World Masters Club Championships next year in Winnipeg and hopefully to defend their title at many more CUCs to come.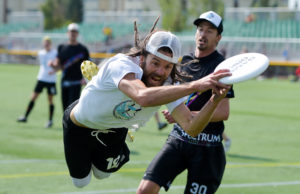 In the forming of their team Marcus Storey, who was awarded division MVP after a stellar final performance, explained how the team was named.
"The name comes from an old outdoor water slide park that used to be outside of Saskatoon called Penguin Park and then Penguin Village in its later years. The only people who really remember it are of masters age so it's quite fitting!"
Storey was a vital force on the field, but credits his success to his teammates who played a balanced game involving everyone say it was an honour to be named MVP.
"We all know this game is never about one person, we had some incredible play from everyone."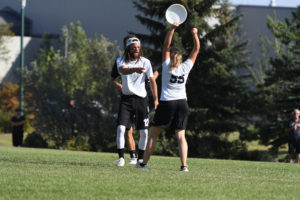 "If you watch the final again, our first or second point is a straight up drop from me that Ali Turnquist somehow snatches up before it hits the ground. I'm just glad we were able to come together over the summer and do what we all love to do, and that's compete at the highest level possible," Storey said.
Stonhouse explained that the team is now focused on improving to a level of competition that will be featured on the world stage in Winnipeg.
"We have identified some very talented individuals who we hope to recruit and to quote a VC shirt: 'The future is female.'"
According to Stonhouse, Penguin Village is determined to continue to grow as a team that is successful and sustainable by addressing team goals and philosophies, and by working with other teams in Saskatoon to build a long-enduring program.