Ultimate Canada Magazine – December 4, 2017
Written By: Alison Fischer
In honour of International Spirit of the Game Day, Ultimate Canada is shining the spotlight on three competitive teams: Traffic, GOAT and Union.
In 2017, these teams were not only successful on the field, but also in the spirit rankings at elite tournaments including the Canadian National Championships (CUC) and the USA Ultimate National Championships.
Want to find out how they did it? Read on!
TEAM NAME: UNION
DIVISION: MIXED
RANKING: 5th CUC 2017
SOTG RANKING: 1st CUC 2017
Alison Fischer: Does your team have a SOTG philosophy? If so, can you please tell us a little about it?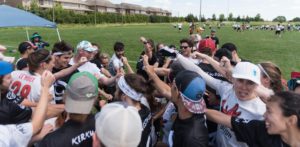 Eric Blanchard, Captain: Our philosophy starts with team selection. We don't consider attitude and spirit a 'nice to have', it's part of the selection process. Ideally, you're picking not just teammates for the field, but people you're going to spend long amounts of time with in cars, at hotels, practices, etc.
Our leadership talked a lot about what characteristics we wanted Union to embody, and what those values would look like in players at the start of the season and tried to hold those going forward. Things like team dedication and hard work are easy to see at the end of the season, but when you're at tryouts trying to figure out who displays those attributes, we needed to find indicators. So things like showing up late, not fully reading communication emails, and following steps incorrectly without reaching out for help or clarification, were some things we'd look at as indicators. Obviously some things are a little more obvious, like how people react when fouls are called, what their process is for figuring out situations on the field when disagreements occur, and we roll that all into it.
Another thing we do is look at it retroactively and hold each other accountable. At the end of games, practices, tournaments if there was something we were unhappy with, we would try and address it quickly. This is a key part of our belief that no one should be cut without a clear explanation of why, and for veterans without being given the opportunity to change.
AF: How has your team's approach to SOTG evolved over the past few years?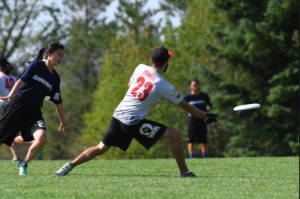 EB: We were lucky to have an incredibly spirited leader over most (maybe all?) of Union's history. Warren Tang has always been someone that embodied the spirit of the game and is often found helping out in the ultimate community. He's always led by example, and in our first year without him we've tried to ensure that we continue to do the same, both with Union and in the community. This year, Union gave up our practice field five times through the season and ran Union-funded skills clinics for the Toronto Ultimate community geared towards recreational/intermediate players. This allows us to give back to the community and gives our players a chance to develop leadership skills and really spread their wings.  
AF: How does SOTG come into play in tight games?
EB: Elite level sports innately draw competitive people and I think it can be really hard for some people to think of situations objectively. It can be easy to think of the game as an US vs. THEM competition instead of two teams playing together pushing each other as far as they can in the sport they both love. Every call that's made and contested in a tight game is going to lead to someone who is unhappy with the result. It's important to remember that we can only control our actions and not our opponents.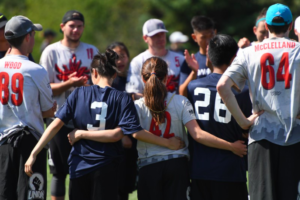 There was one instance in particular where Union did a poor job of that, at the start of our season, at the Boston Invite. We were playing against The Feminists, and we were up by a large margin. They made a huge comeback, and eventually won the game, but as that comeback happened, our team as a whole seemed to be making more calls. The opposing team did an incredible job of keeping calm and respectful during that game, and it led to us eventually writing them an email apologizing for the game. That game made us re-evaluate how we don't play well in 'chippy' games as we try and pick players and build a culture away from that behaviour.
AF: Is there any player or team you admire for their approach to SOTG?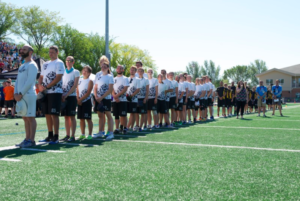 EB: Besides the example above, Canadian team, Crash, has always been incredibly spirited when we've played against them. I wish I remembered who it was, but during a 1-point game at Sectionals, there was a call made by Crash about one of our players being out. Another player on our team mentioned they had better perspective and thought our player was in, and the Crash player agreed the Union player had better perspective and rescinded the call. It's so rare that we see those situations, and not just be the classic "CONTEST" and go back to thrower. Over a season of playing Crash I think five times, I've always felt they embodied that in a great way and it's always a pleasure to play them.
AF: Do you have any tips for teams looking to improve their SOTG scores?
EB: Ultimate is a sport that requires two teams to play, and everyone is there for the same reason – to push themselves, their team and their opponents to be their absolute best. There inevitably is going to be a winner and a loser. Each individual point, each particular play, throw and catch has winners and losers. If all you care about is winning, you're not going to see value in losing, and chances are you're going to make excuses for why the particular loss happened. Change the paradigm of how you're thinking; each individual match up between players and teams is an opportunity to learn. Be thankful that you had the chance to play against a better opponent and learn.