Ultimate Canada Magazine – December 7, 2017
Written By: Claire McIntyre
Disc Nova Scotia finished another successful and busy season offering the DISCover program to schools and camps around the province.
With funding from various sources, including Ultimate Canada's Outreach Grant, two employees worked full time from May through July introducing groups of children to disc skills and Ultimate.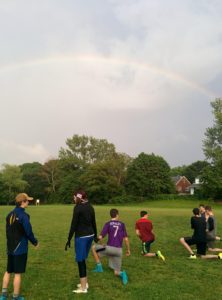 The program is offered to schools and camps at a low cost and instructors lead the participants through skill building games, drills and exercises that build on each other to eventually permit a game of Ultimate.
The goals of the program are to expose as many schools to disc sports as possible so that they may adopt it as a regular activity, engage as many kids as possible and build interest in regular youth programming in our communities.
Ultimate is still very much on the fringes as a youth sport in Nova Scotia, and this program provides much needed outreach in this area of high potential.
There were a few examples of the DISCover program recruiting new-found Ultimate players to our weekly youth drop-in day which was great, but we still have a long way to go to reach critical mass.
Future plans include to have a more expansive reach on summer camps and having longer periods of time with participants in order to take play to the next level, as well as build on Disc Golf participation.