Ultimate Canada Magazine – Wednesday, August 15
Written by: Scott Lewis
There are two major factors shaping the makeup of the Open division at this year's CUC; geography, and the fact that this is an 'off year'.
It's an off year because in 2019, as happens every second year, there will be no WFDF World Championships. This makes CUC into an end in itself rather than it functioning as a qualifier for international competition. As a result, the two top Open teams in the country, GOAT from Toronto and Furious George out of Vancouver, will not be competing at CUC, instead concentrating on the USAU competition south of the border.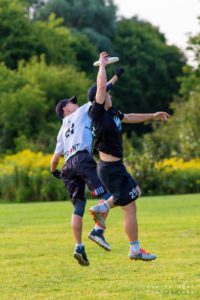 A as result, Vancouver will be represented by their second and third ranked Open club teams, Blackfish and Whitefish. Blackfish did make the CUC finals in 2014, but otherwise have been hampered by tough local competition with Furious George and have picked up reputation for bending the rules along the way.
According to captain Lucas Main, the team is intent on repairing that bad reputation; "The current iteration of Blackfish is working hard to shake this stigma and prove that we can belong in the top group without using aggression. We want to make sure that our spirit stays positive. With that said, we won't be taking our foot off the pedal and we will be charging hard towards our goal of making it to the finals again this year."
Blackfish have picked up a standout player in veteran Gagan Chatha, which will help with Blackfish's skill level and the team also hopes his always spirited attitude rubs off. Look for Eric Teng and long time Fish Levi Jeske cutting for Chatha's passes, while Eddison Ng and Aaron Chan will anchor the defense.
Geography, in particular the location of this year's CUC in the east, is reflected in the field, which includes six teams from Ontario, four from Quebec, two from the Atlantic provinces and only four from west of Ontario.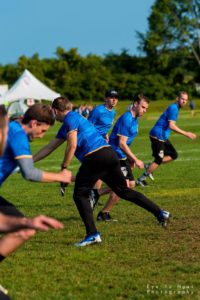 Geography also affects the makeup of individual teams, as we can see when we examine Alberta Flatball Club, ostensibly representing their home province. Since there are no other Open teams from the Prairies this year, AFC is drawing players from Regina, Saskatoon, and Calgary in augment their usual core from Edmonton, where the team was founded three years ago.
Captain Dave Hochhalter aims for his team to finish strong by holding their seed to make the finals. He suggests we keep our eye on several AFC players, including: Jordan Vogel, an  explosive player recruited from high level basketball who Dave think could challenge for CUC MVP; Nigel Lendsay, who spent the winter honing his game in Australia; and Matt Hoehne, who commands the deep area on both sides of the disc.
Although Phoenix, seeded first, is obviously the favourite to win the division, there is a general consensus that they will battle it out with three other teams, Blackfish, AFC and Montreal's Manic for podium finishes. That said, Grand Trunk from Ontario seems to be the consensus dark horse this year in spite of their 8th place ranking going in.