Ultimate Canada Magazine – Wednesday, August 15
Written by: Kevin Underhill
In 2010, Storm from Montreal won the gold medal in the women's division. That championship team remains the only Quebec-based women's squad to win a CUC title. Eight years later, Quebec's Iris is looking to change that statistic with a gold medal of their own.
It's no secret that this year's CUC features a lighter field than last season. Notable absences from the division include Toronto 6ixers, Vancouver's Traffic and Winnipeg's Fusion. With three of Canada's top five teams not in attendance this year, the door swings open for a team to step into the spotlight. The favourite has to be last year's bronze medallists, Iris from Quebec. According to head coach, Alison Fischer, playing as a favourite is something they have worked to improve on during this season.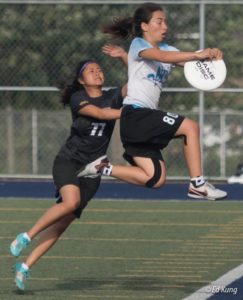 "After playing so well at the New York Invite, we came in as the one-seed in Boston earlier this season. It was a very mentally challenging tournament for us," Fischer said. "We struggled on the offensive side in Boston and had some tough losses."
Iris has had a busy schedule this season, committing to playing the USA Ultimate series as well as competing at the World Ultimate Club Championships in Cincinnati, Ohio. According to Fischer, the worlds experience was especially valuable for the younger players on the team who were experiencing their first major international event. Iris lost a tight game to Denver's Molly Brown in the pre-quarters resulting in a tenth-place finish at worlds.
"Overall, I'm really happy with our performance at worlds," she said. "Probably about half our team has never been before. I think we proved to ourselves that we really could have been in the top eight."
Coming in as the number-one seed, Iris is the clear favourite, but like sharks circling in the water, there are a number of teams hoping to upset the Quebec powerhouse and nab top spot.
When it comes to the province of Ontario, you may as well flip a coin. With Toronto 6ixers not in the fold this year, PPF from Kitchener/Waterloo and Stella from Ontario are the provincial favourites to threaten the podium. PPF suffered a loss to Stella on day one at regionals but bounced back to win the tournament securing the number-two seed at nationals. More recently, Stella won No Borders, setting up a tantalizing potential rematch in the CUC semifinals if all goes to seed.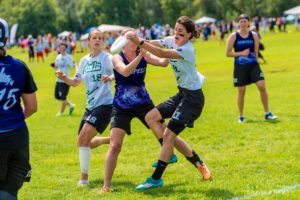 Hannah Dawson, one of Stella's captain said the team is a relatively new unit. They have a roster that is almost half-composed of rookies. One positive she notes from that is how much the team has learned and grown during the season. She said she is confident that the team can continue to learn and grow and fight for more than just a podium spot.
"From our first tournament in New York to No Borders, we were a completely different team," Dawson said. "The team has been having a lot of fun this year. We are really excited to have a shot at the Canadian title. Our goal is to come out hard every game; when we are playing hard, we are unstoppable."
The number four seed, Halifax's Salty, is an emerging team that has steadily improved their performance over the past four seasons and will look to get on the podium for the first time in province history. Meggie McMichael, captain of Salty, said the team admittedly goes through cycles of how competitive they are but right now, the team is at a high point and wants to show their best ultimate at nationals.
"I think our steady improvement shows the increase in depth of women ultimate players in Halifax," McMichael said. "This year we have a nice mix of veteran players and rookies. Our goal at every tournament so far has been to break seed. We've succeeded every time so far."
According to McMichael, fielding their full team has been an issue for their regular season events but that will change come nationals. Salty went down to Boston for an event and put up some quality performances against good opponents despite having a small squad. At No Borders, they took down PPF on day one and wound up losing in the semis to Stella. If they intend on breaking seed at CUC this year, they'll need to upset one of the top three teams.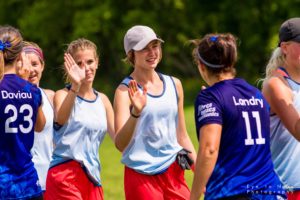 Traditionally, teams from the Maritimes bare an underdog mentality but over the past few years, Halifax has shown success at major Canadian events. Just last year, Anchor won the mixed division and Brunch Money won gold at the national 4v4 event in 2017. McMichael said Salty is coming into CUC attempting to shake that underdog mentality.
"We want to have a winning mentality," she said. "We know we can win and we know if we deliver on the things we have been working on this season, we can have a lot of success. We want to play in those big games. We've lost close games in the past and I think we have a bit of a grudge to settle."
Salty headlines the peloton that's chasing the top three ranked teams. Also featured in the chase group this season is QUB and Venus from Quebec and Foxx, the third team out of Ontario. Can one of them make the jump to the podium or will Iris, Stella and PPF stave off the lurkers?
The Canadian Ultimate Championships is taking place August 16-19 in Brampton Ontario. Follow the results on the CUC Website and WATCH LIVE at ultimatecanada.tv