Ultimate Canada Magazine – Wednesday, August 15
Written by: Scott Lewis
The Open Masters Division is really up against it this year.
Besides the 'off year' and geographical issues affecting the other divisions, there are several other factors taking a toll on this year's Open Masters field.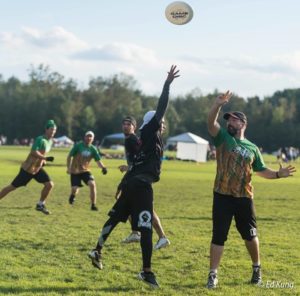 Last year was the first time there was a Mixed Masters division at CUC, but the number of teams was small. This year, a number of teams, especially in Western Canada, have opted to compete in Surrey and the number of Mixed Masters teams competing in Surrey has grown from six to eight. As a result Open Masters this year will feature only six teams, and only one from Western Canada; the Queen City Kings from Regina.  
But perhaps the biggest factor diverting Masters age players from attending CUC this year was the first ever WFDF World Masters Ultimate Club Championships which was held recently in Winnipeg.  
This tournament featured many Canadian teams, including five Mixed Masters, seven Open Masters, seven Women's Masters and five open Grand Masters teams. Some of these teams, as well as individual players from other teams that competed in Winnipeg are also competing at CUC. But, given that some players tend to have less free time to devote to ultimate, cost of multiple large events in one summer and not to mention the stress that major tournaments back to back can have on one's body, WMUCC has certainly has had an effect on the number of teams in both Masters Divisions at CUC.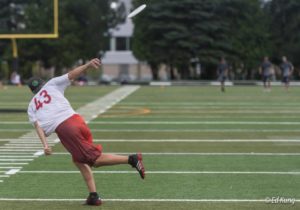 The definite favourite going into the tournament this year is Montreal's NSOM. NSOM have made the podium in this division at CUC for the last five years, including winning it all last year in Ottawa. Captain Pierre-Paul Champagne clues us in about this year's edition of NSOM.
"This year we are a fast paced team, featuring quick handling movement. Defensively we feature a strong man to man approach," Champagne explained."Some of the players to watch from our team include Ryan Jerema, Dave Habak and Hicham Lanouaan."
Maybe not a favourite to beat NSOM on the scoreboard, but a strong candidate to compete with them is the number one seed Borderline who are representing the Atlantic provinces. Most of their players are from Nova Scotia, but the team also draw from other Maritime provinces and, of course, former residents now living elsewhere.
A team like Borderline, located away from the main centres of ultimate play, is of course happy just to have a chance to play quality opponents in their division, but don't think they will be pushovers. The have competed at a number of USAU tournaments down south, and indeed won this very division at the 2014 CUCs in Waterloo, beating a field that included this year's favourites NSOM, who came third that year.
Team stalwart Greg Dennis is certainly thinking big.
"Our goal for this tournament is to show the rest of the tournament the style of the game that we play, and to win it!"