Ultimate Canada Magazine – August 12, 2018
Over the next three days, 24 teams will compete in Brampton, ON, in the Junior Open division. Of those teams, only one can bring home the coveted title.
With the tiered pool system, the top eight teams are grouped into two pools.
In pool A, the reigning champions MOFO are faced with Ignite, Eclipse and Savage. In pool B, 2017 runners up TORO will battle Titane, Vortex and Mischief.
MOFO returns to this tournament with a strong contingent of players. The Winnipeg team is a clear favourite going into this week having won in Edmonton in 2016 and in Ottawa in 2017. They will be looking to complete the three-peat as they take on the 2018 competition.
For a number of these top teams, they face a unique challenge of having the World Junior Ultimate Championships taking place in Waterloo, ON, next week. This means that many top players will be picking and choosing their moments on the field and moments to rest.  That means that teams who can deliver the most depth, rather than relying on their stars, have the strongest shot at winning the championship.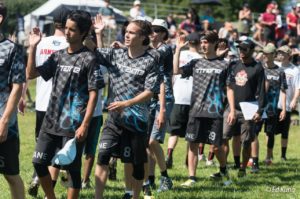 A dark horse to win the title this year is Titane, out of Quebec. The fourth seeded team are coming in to only their second CUCs as a program. But after a fourth place finish in their inaugural year, there is no question they will be pushing to be back in a semi-final position.
"We expect to do better than last year," said coach Yohan Baril. "We had 9 players graduate this year, but the new guys are awesome."
Also a major story line vying for the title is the junior open team out of Toronto: TORO.
The TORO team has battled against MOFO in the final for the last two years straight and both times failed to come out on top. This year they are back with another deep roster and coach Evan Phillips believes they will fight for that title again.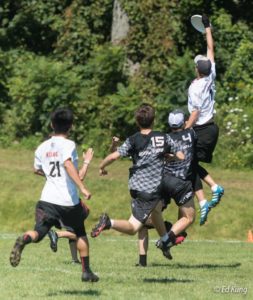 "We have had a good season so far and our results have been similar to TORO teams of the past," Phillips explained. "We have a lot of turnover from last year and have a nice new crew for 2018 with just enough returners. We are just having fun with it, and enjoying one game at a time."
With MOFO standing strong on top, teams like TORO and Titane will continue to climb the ladder towards them throughout the course of the week.
Time will tell, but there is no question that Wednesday's junior finals will make history regardless of the outcome.