Ultimate Canada Magazine – Tuesday, Sept 4
Competing with MOFO in the Junior Women's division at the 2018 Canadian Ultimate Championships, Amanda Froese from Winnipeg, MB, is the first openly transgender athlete to participate at CUC.
Froese, who graduated high school from Daniel McIntyre Collegiate Institute (DMCI) this past spring, started playing Ultimate in grade 10. When she was 16, Froese came out as transgender and started transitioning around the age of 17.
Competing at CUC in August marked about 10 months of Hormone Replacement Therapy (HRT) for Froese.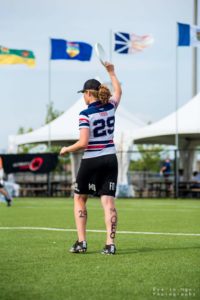 "It's kind of unreal because at the beginning I wanted changes to happen but it's all about being patient," explained Froese. "That whole journey has helped with Ultimate and my transition and vice versa. Just the patience of knowing when I want something to happen, I now know there's a right time for it. As soon as changes started to happen that's when I started to feel great"
"I came out last year just before the tryouts for MOFO, thought about trying out but didn't feel confident enough to go out there. I didn't feel comfortable playing with the guys so I took that year off. But that's when I first started playing as female," Froese continued.
From that point on, Froese played in the Winnipeg summer league, attended hat tournaments for various clubs and the Team Canada U20 tryouts to get her name out there and work on becoming the best athlete she could be.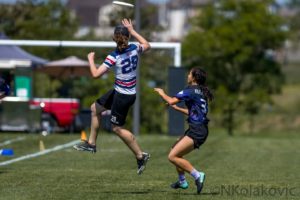 Having tried out for U20s last year, Froese said she spent a lot of time worrying about what other people were thinking. She wanted to go to show that she is a competent player, but felt afraid and didn't feel confident enough to play at that level. One of the reasons sharing her story is important to Froese, is so that other athletes in her position don't feel like that in similar situations.
Before Ultimate Canada's inclusion policy came out last fall, Froese had to talk to the other team's coaches and captains before each game she played for DMCI.
"My coach and I came to an agreement that before every game I would talk to the opposing coach and captains and tell 'I am a transgender, I am playing as a female.'" Said Froese. "To me this was hard, because I didn't feel like I should have to declare it but it's a decision we both came to."
"So, when the inclusion policy came out, I went to him and said this is the new policy, I'm not going to do it – if you want to do it that's okay, but I'm not going to personally do it because to me that feels off. And he said okay, 100%, it's what's in the policy. From that point on its just been pretty smooth."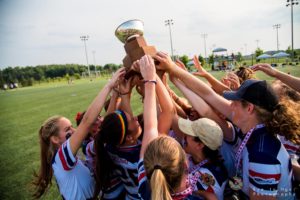 When it came to the new year and the start of 2018, Froese set a goal to kill it at CUC. The journey to accomplishing that began when she made the MOFO Junior Women's team and in the first two weeks of playing for them, Froese already knew this was her favourite team she had ever played for.
After playing for two years at DMCI, where her first year was spent mostly on the bench and her second year she was heavily relied on as a star player, playing on MOFO took some adapting.
"Being on a team where I wasn't relied on, it took an adjustment," said Froese. "But it also just helped me realize that for Ultimate you need to have a good team, you need to be able to trust them and you need to be able to love your teammates."
For Froese, finding a group who accepted her instantly was incredibly special.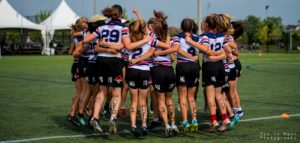 "My first thing when I get to know someone is to ask them, do you have any questions about me being transgender? Because I know people do, people are curious because they don't usually have someone that they can ask."
Froese continued to explain that her teammates on MOFO didn't ask questions when she asked this time; "They said, 'I'm glad your open about this, but you do whatever you want, whatever you're comfortable with doing, you do', that was another moment where I realized this team is really special."
With a background in competitive sports, mostly centered in Football, Basketball and Volleyball, Froese says there is nothing like Ultimate, citing the accepting community and Spirit of the Game as two of the main reasons she loves this sport so much.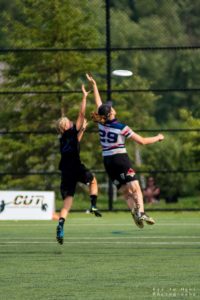 Froese acknowledge that while their might be questions about her playing at CUC, from all the players she talked to at the tournament she felt amazing. Froese won her first ever spirit awards at the tournament and said it seemed that the different teams she competed against fully accepted it.
"It seemed to make them want to push more; they're like okay, this is how athletic you are, this is how you're playing? I want to be at that level," said Froese of her CUC experience. "So, it just seems like it's a great thing – not just for the trans community but also the Ultimate community, pushing each other to become better."
Froese is continuing to build off her success winning the national title with MOFO at CUC this year as she starts at the University of Winnipeg this fall and plans on trying out for Team Canada U24 next spring.
For Froese, this summer will always be remembered as a special one; "I haven't just been able to represent Winnipeg and do a great job, I've been able to represent trans athletes."
This article was updated March 15th, 2019.