Ultimate Canada Magazine – April 4
The Canadian 4v4 Ultimate Championships (C4UC) kick off tomorrow and the competition is shaping up to be one of the best yet.
Between the top 16 teams, it is hard to call who will make it into the quarter-finals. The level of play is sure to be fast paced and exciting, and the opportunity for upsets is ready for the taking. Here are the hot takes for pool play:
Pool A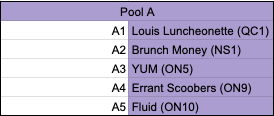 This pool will likely fall to seed. However, the biggest chance for upset is in the A1 v A2 matchup—a game that will be the most exciting game of day one. Louis Luncheonette is the number one seed in the entire tournament and the top team out of Quebec, a province that dominates the 4v4 scene. However, Brunch Money, the number one seed from Nova Scotia, is back after a year hiatus and will have their sights set on taking the first spot in pool A. Brunch Money has previously finished 2nd in 2015, 3rd in 2016 and took the gold medal in 2017. They didn't attend 2018 due to financial restrictions due to competing at the World Ultimate Club Championships with Anchor. That game could go either way, but there is no doubt that it will be one to watch.
Pool B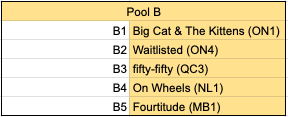 Pool B features the top team out of Ontario, Big Cat & The Kittens. Despite this being their first year at C4UC, they are deserving of their seed and should keep the top spot in their pool. Waitlisted poses the biggest threat to that spot, with a deep roster and great chemistry—something they have built over the last few years despite their roster being geographically split between Ottawa and Toronto. The placement to watch will be who comes out third in this pool. The third place spot will clinch a pre-quarter game on Sunday morning and between the next three teams it could go either way. Fifty-fifty has a strong roster and good 4v4 experience, having competed at tournaments in the Quebec series since November, which will surely give them an advantage. On Wheels is coming out of the ever-growing ultimate scene in Newfoundland, with a lot of skill and athleticism in their team, and will be looking to shake things up. Fourtitude, while a new team out of Manitoba, is bringing a strong roster that features four players from the national title winning team Pretty Boys & Handsome Girls from CUC 2018. They have the talent and chemistry to pose a threat to the standings, however their minimal experience playing 4v4 could be a downfall for this team. It is likely that Fifty-fifty will close out the third place spot, but the next two teams will have their number in their pockets.
Pool C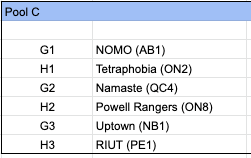 With 22 teams competing in the tournament, pool C and D both feature six teams and an incomplete round robin format. Teams will play four out of five opponents and there could be tiebreakers that come into play if needed. That being said, NOMO from Alberta should take the first place from the pool and a bye to quarterfinals relatively easily. The biggest challenge will come in the cross-over against the "pool H" teams, where they could face either Tetraphobia or Powell Rangers. Tetraphobia is most likely to be their opponent, with more mixed experience than Powell Rangers. However, with a roster of all GOAT or 6ixers athletes, Powell Rangers is a team that should be feared and can shake things up. In the end, NOMO, Tetraphobia and Powell Rangers should make up the top three teams from pool C.
Pool D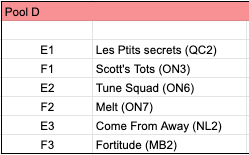 Pool D features the same format as mentioned above, and predicting the outcomes of this pool is difficult to say the least. Fortitude has finished near the bottom of C4UC each year and likely will not challenge for a top three spot in their pool here. Come From Away is a new team out of Newfoundland and are excited to be here but are unlikely to match the caliber of the teams ahead of them. Out of the top four teams in this pool however, it is anyones game. Melt surprised one day one at Ontario regionals, crushing their pool and beating Tune Squad in the process. However, they proceeded to lose all their games on day two to Big Cat, Tetraphobia, YUM and Tune Squad, leaving them in seventh place. Tune Squad didn't have their strongest tournament at Ontario Regionals, which has left them seeded lower than where their skill level would dictate. Tune Squad has finished 4th, 3rd, and 2nd respectively at C4UC in the last three years and is looking to continue the upward trend this year. Scott's Tots were ranked 14th at regionals and finished third with only three guys and four girls on the Sunday. Their roster is made up of young, athletic stars with nine out of 11 of them having competed for a junior Team Canada (either u20 or u24). Les Ptits Secrets rounds out this pool with the top spot. Secrets finished fourth last year after a universe point loss to NOMO, and is bringing a similar roster with a lot of talent and 4v4 experience this year. It is impossible to call who will finish where between the top four teams in pool D.
Follow along with score updates on the schedule, HERE. 
Watch our six live streamed games from the weekend on our YouTube page, HERE.