Ultimate Canada Magazine – April 9
The 2019 Canadian 4v4 Ultimate Championships wrapped up over the weekend in exciting fashion.
The overall level of teams at the event was arguably the highest it has ever been. The tension throughout bracket play was palpable as teams were only separated by a couple points.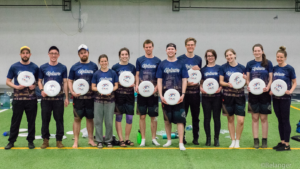 The spirit of the game at the tournament was also high overall, and Uptown from New Brunswick took home the Spirit title.
Pre-quarters went mostly as expected with Big Cat & The Kittens (ON) taking down Scott's Tots (ON), Tetraphobia (ON) defeating YUM (ON), Ptits Secrets (QC) closing out their game against Fifty-fifty (QC) and Brunch Money (NS) winning their match up against Powell Rangers (ON) in an exciting universe point.
Moving into the quarter-finals, the top eight teams turned it up into another gear. The first quarter saw the top two seeds in the entire tournament face off against each other. Number one seed Louis Luncheonette (QC) played a tight game against Big Cat & The Kittens. Near half time, Louis managed to pull away to a four-point lead. After that, the teams traded out the game but Big Cat could not close the gap.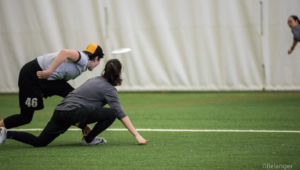 Waitlisted (ON) had a perfect day one but unfortunately could not get their momentum going until too late in their quarter-final. Their opponent, Brunch Money, came out fired up after their pre-quarter and stormed to a 19-11 win. NOMO (AB) also had a great day one and carried their energy through, even with a small roster due to injuries, to defeat Ptits Secrets and move onto the semis for back to back years. The last quarter saw a tight match up between Tune Squad (ON) and Tetraphobia. This game was chippy and back and forth. In the end, Tetraphobia was able to close it out with a one point victory to secure their first ever top-four appearance at C4UC.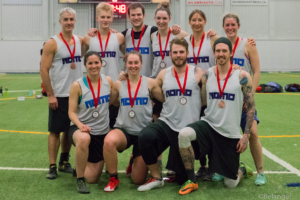 The semi-finals were almost mirror images of each other. Both games started out close and evenly matched. However, Louis Luncheonette was able to pull away from Tetraphobia just before half-time as did Brunch Money over NOMO. Both games were intense and spirited, and you could tell how badly each team wanted to earn a bid to the championship game. In the end, Louis was a step above as they defeated Tetraphobia 19-14. Brunch Money was clinical on offense, making almost zero unforced errors to take down NOMO 19-15. NOMO played an excellent tournament with a small roster as they went on to take the bronze medal in a universe point win over Tetraphobia 23-22. Tetraphobia finished with their highest placement at the event yet and will undoubtedly continue to improve, and be in this conversation in the years to come.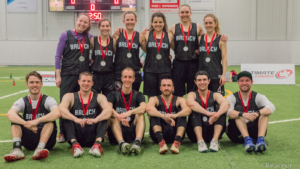 In the final, Louis Luncheonette and Brunch Money could not have been more equally matched. In a game that was a rematch of pool play, which Louis took 16-14, both teams seemed to know each others style inside and out. Brunch Money took an early lead in the game at 4-1, again showing off their textbook offense. The two teams traded points until 7-4, when Louis Luncheonette turned it up into another gear and went on a three point run to make it 7-7. Brunch recomposed themselves and took half 9-7. Even with a two point gap, the game had fans on the edge of their seat and soon after half-time, Louis was firing on all cylinders. They tied it back up and the two teams began to trade offensive holds until 15-15 when the team from Sherbrooke, QC, found a much needed break and their first lead of the game at 16-15. Again they traded points until 18-18. With time running out, Louis took a timeout to regroup before what was about to be a universe point in the gold medal game. On universe, Louis, starting on offense, threw the disc into coverage which allowed a run through D for Brunch Money. Unfortunately, Brunch could not hang on and Louis was given another opportunity. This time, they made no mistake and threw a perfectly placed hammer into the end zone to win their first ever C4UC title.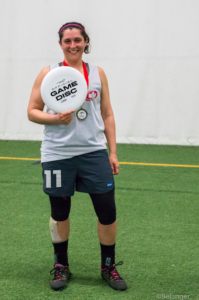 Julie Landry was unbelievable throughout the weekend for Louis Luncheonette and she turned it up to another gear in the finals putting the team on her back. Landry was deservedly voted the finals Most Valuable Player.
Captain of Louis Luncheonette, Héléna Skrotzky-Boisvert, spoke highly of the competition: "All the games were so exciting, we had a lot of pretty tight games and I felt like it could have gone from one way to another. The spirit was really great, we were able to have good discussions and work through the calls throughout the tournament."
"In the first half of the finals I felt like they were stronger, but we never gave up. We had some lows throughout the tournament but we always kept our positive attitude and I think that's one of the great things about Louis Luncheonette." Skrotzky-Boisvert continued. "We were only eight throughout the weekend, but it gave us the opportunity to create a lot of chemistry between lines which I think helped us to get the win today."

You can re-watch all the archived games from the weekend on our YouTube channel, HERE.
You can also watch the universe point between Brunch Money and Powell Rangers on our Facebook page, HERE.
Find the full results from the weekend on the schedule, HERE.