Ultimate Canada Magazine – May 3, 2019

The 2019 Canadian High School Ultimate Championships (CHSUC) are taking place this weekend at Carleton University in Ottawa, ON. Sixteen high school's from across the country will vying for the title and will face some big challenges to get there.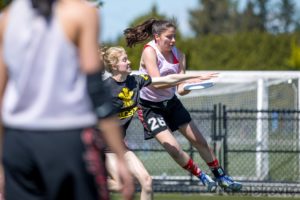 Returning champions, Kelvin High School of Winnipeg, MB, are sure to be the toughest of challenges for the rest of the competition. The program at Kelvin has taken this team to new heights as they reached first place in 2018 and took home the spirit title as well. With a core group of players returning this year, and stars like Meagan Gillis and Cassidy Knockaert leading the way, there are little doubts that Kelvin will return to the top four and challenge to repeat as champions.
Kelvin also has the 2018 Ultimate Canada coach of the year, Willem Konrad, on their side, who was also recently named as the head coach for the Team Canada U20 women's team heading to the World Junior Ultimate Championships in 2020.
The Bowmanville Talons (ON) finished second at CHSUC 2018 and will certainly be looking to improve on that. However, having graduated some of their top talent, that task will be much harder this year. Bowmanville has finished on the podium the last couple years at this event, with a bronze in 2017 and silver last year, so there is no doubt they know how to win the games that count. That being said, 2019 will mark the first ever CHSUC for more than half of their athletes—time will tell if they have enough depth for a podium finish this year.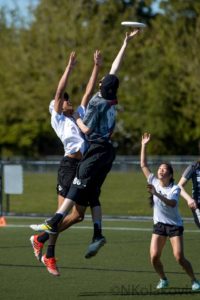 Coming out from the west coast, St. Georges/York House Tight will look to shake things up this year as well. Tight has been a staple in the BC high school ultimate scene for 25 years. This will be their fifth national appearance and they certainly have the experience to do something special this year. A large group of players on this team have been playing together since grade eight and nine. With them all in grade 11 and 12 now, their chemistry will undoubtedly be one of their biggest weapons.
Tight will face a big test on day one as they face the Marshall McLuhan Rebels in pool play. The Rebels have won the Toronto District College Athletic Association title the last four years in a row and have a habit of producing national team level athletes. Most notably, team captain, and Team Canada U20 2018 athlete, Tracey Dao will pose a major threat and Tight will have to find a solution for her on defence to win this match up. You can watch this game on the Ultimate Canada YouTube page, livestreamed on Saturday, May 4th, at 4:30pm EDT.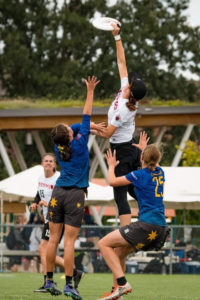 Rounding out the top-four seeded teams is the Etobicoke Collegiate Institute Rams. The reigning 2018 Ontario Provincial champions will look to make waves on the national stage. The Rams have been to CHSUC twice, but have finished seventh in both appearances. They face a tough match up in pool play against Winnipeg's Gray Academy. While this may be the Raiders first high school national appearance, they are a group of students who have been playing together since grade five and six, and have the 2018 Junior Female Athlete of the Year, Sarah Jacobsohn. If we had to pick one player who has the ability to make the single biggest impact at CHSUC 2019, it would have to be Jacobsohn.
This year's event is sure to be exciting, with the level of talent increasing at the high school level every single year.
You can follow along with the results on the schedule HERE.
Watch the action live HERE.