Ultimate Canada Magazine – April 6, 2019
Day one of the 2019 Canadian 4v4 Ultimate Championships are in the books and it was a day filled with close games, but only a few notable upsets.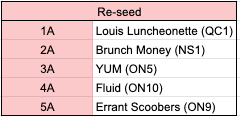 Pool A saw the top three teams in their group keep their seeding, with the only upset coming with the fifth seeded team Fluid (ON) beating the fourth seeded team Errant Scoobers (ON). The number one seed in the tournament, Louis Luncheonette (QC), took first place in their pool and gained themselves a buy to the quarter-finals. They faced some close games but managed to close out one and two point games. Brunch Money (NS) held the second position to move onto a pre-quarter, as did YUM (ON) as they finished third in the pool.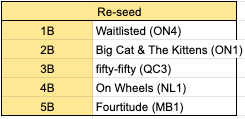 In pool B, the day saw one upset with Waitlisted (ON), who were originally seeded second in the pool, beating Big Cat & the Kittens (ON)—the number two seed in the entire tournament—in a close game 17-15. The rest of pool B fell to seed, with Fifty-Fifty going 2-2 in their round robin match ups and taking the third spot in the pool.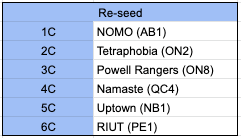 Pool C was done on an incomplete round robin format with six teams in the pool. Cross-over action saw the number one seed in the pool, NOMO (AB), take down the pools number two seed, Tetraphobia (ON), 24-19. Tetraphobia was still able to easily take the second place out of the pool after that game, while Powell Rangers (ON) managed to beat Namasté (QC) 17-16 after digging themselves out of a seven point deficit to take the final pre-quarter spot out of their pool.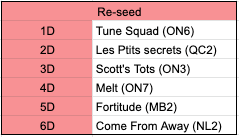 Pool D was done in the same format as pool C due to the 22 team tournament schedule. This was the pool with the most changes. However, the top three teams stayed the top three just in a different order. Melt (ON) put up some good games, but fell short ending up in fourth place and missing out on bracket play. Tune Squad (ON) came away with some close one-point wins over Ptits Secrets (QC) and Scott's Tots (ON) to get the buy to quarters. Meanwhile, Ptits Secrets managed a one point win of their own over Scott's Tots 18-17 and finished strong to take second in the pool. Scott's Tots two wins earlier in the day against Come From Away (NL) and Fortitude (MB) were enough to keep them in third and into the pre-quarters Sunday morning.
Pre-quarters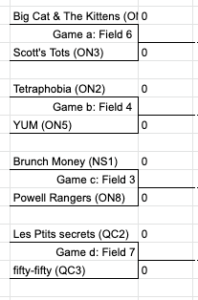 Due to Scott's Tots losing those close games in pool play, we will see a rematch of the Ontario regionals final in the pre-quarters first thing tomorrow. Big Cat & the Kittens took that game and will likely close this one out as well. Scott's Tots has the talent to shake things up here but Big Cat's experience should triumph. The winner of this game will move on to face the number one seed, Louis Luncheonette, in the quarters.
Tetraphobia had a tough game against NOMO on day one, but other than that game they looked strong and should have no problem beating YUM in the pre-quarters. YUM was starting to look tired at the end of day one and will need to make some technical adjustments if they hope to move on to face Tune Squad in the next round.
Brunch Money vs. Powell Rangers is a hard game to call. Brunch Money showed a lot of great skill on day one with just the one narrow loss to Louis Luncheonette. Powell Rangers took a long time to get going, however looked good once they found their stride. The edge here should go to Brunch Money with more 4v4 experience in their team, however you can't count out the Rangers. The winner will move on to face Waitlisted in Quarters.
The final pre-quarter match up is between two good Quebec 4v4 teams. Ptits Secrets and Fifty-fifty will duke it out for the last quarter-final spot. Both teams boast quick, athletic plays and a huge variety of creative throws in their arsenals which makes these two teams very evenly matched. It could come down to which team is more ready to go for the 8:15am start time. NOMO awaits the winner here.
Quarter-Finals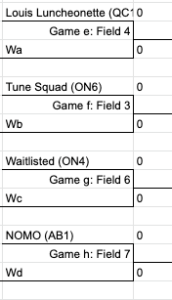 Louis Luncheonette proved today why they are number one seed in the tournament. Even with some closer games they kept their cool and closed their games out. They will not be worried about their opponent and do a good job of focusing on their own game. Louis is also a team with much more 4v4 experience than either Big Cat & The Kittens or Scott's Tots and will use that to their advantage to carry themselves into the semi-finals.
Tune Squad awaits the winner of Tetraphobia and YUM. Tune Squad had some close games on day one, however they have historically been able to come out on day two and get the job done. Having finished second last year at C4UC, they are looking to improve on that. Their chemistry and speed will be an advantage over their likely match-up in Tetraphobia, and we should see a semi-final of Louis Luncheonette vs. Tune Squad.
Waitlisted had a great day one. However, this team has a history of losing their first game on Sunday morning in most tournaments. They lost in the quarter-finals the last two years in a row—a fact they are trying not to turn into a three-peat. With that said, whoever comes out of Brunch Money vs. Powell Rangers will likely have some momentum on their side to help them take the victory.
NOMO also had an excellent first day. However, they did have one close game—a universe point win against Namasté out of Quebec. Namasté plays a lot of 4v4 in the Quebec series and has a distinctive style similar to both Fifty-fifty and Ptits Secrets, something that NOMO will have to figure out if they hope to beat one of those teams in the Quarter-final. These last two quarter-finals could be anyones game.
Semis and Finals
The semis are truly wide open. The teams making up the top 12 are separated by only a few points in most games.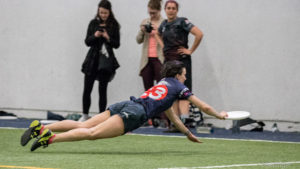 That being said, the first semi-final match up will still likely be between Louis Luncheonette and Tune Squad. If Tune Squad make it to the semis, there is little doubt that they will hold anything back with their eyes set on returning to the finals for a second year straight. Louis Luncheonette will have to keep throws perfect to win this one and not start slow as they did in some of their pool play games on Saturday.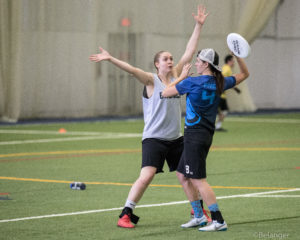 The second semi-final is much harder to call, but I am going to take a stab at it anyways. This game will see Brunch Money make it back into the top four after a year hiatus from the tournament. They will face NOMO who will continue to use their smart play and quick movement to dominate teams.
As for who makes the final? This one is too close to call. Louis Luncheonette (QC), Tune Squad (ON), Brunch Money (NS) and NOMO (AB) will round out the top four at C4UC 2019. But in what order, time will tell.
Follow along with score updates on the schedule, HERE. 
Watch one of the Quarters (10:05am ET), Semis (12:05pm ET) and the Final (1:55pm ET) streamed on our YouTube page on Sunday, HERE.