Ultimate Canada Magazine – August 29
Women Division [Presented by VC]
The 2019 Women Division saw 16 teams from six provinces all competing for Gold, and the opportunity to select the team to represent Canada at the 2020 World Ultimate and Guts Championships in the Netherlands. In 2018, Iris (QC) claimed Gold, Stella (ON) Silver, and PPF (ON) Bronze. CUC 2019 welcomed back Traffic (BC) and 6ixers (ON) as it is a Worlds qualifying year.
By the end of Day One, 6ixers, Traffic Iris, and Stella were undefeated with a 3-0 record. Stella, seeded second in their pool behind Fusion (MB), earned their 3-0 record after an exciting 11-10 victory over Fusion on universe point.
Friday afternoon saw two cross-over games; Luna (ON) vs. Flurry (AB) and PPF vs. Korra (SK). Luna and Korra prevailed, pushing Flurry and PPF out of the top eight. 6ixers, Traffic, Fusion, Iris, Stella, and Sneaky House Hippos had already earned a spot in the quarter-finals.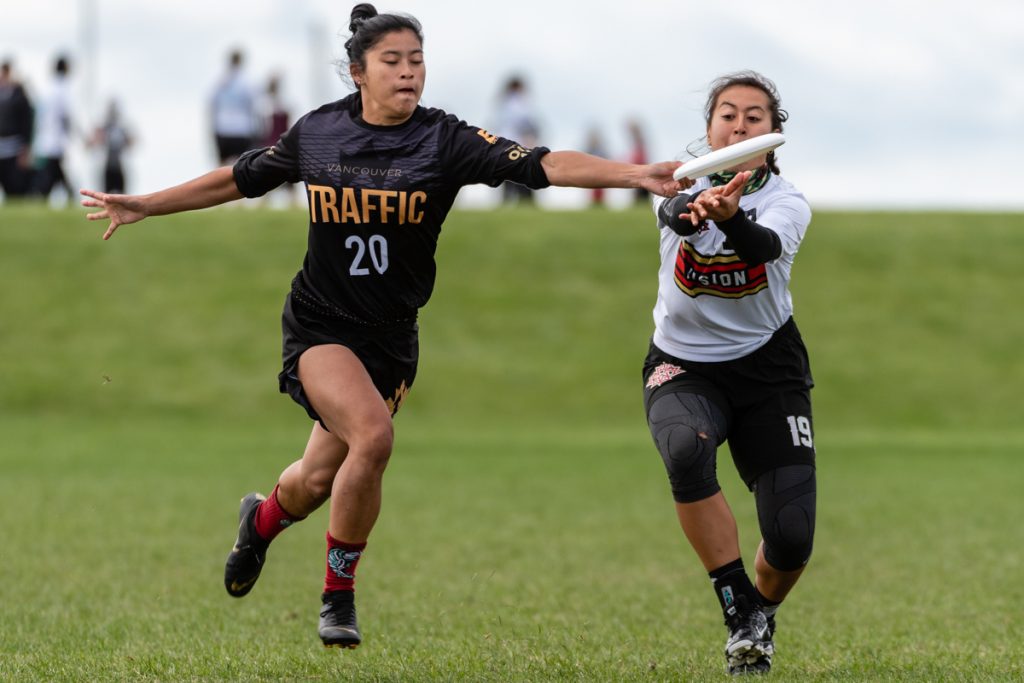 The top two quarter brackets saw a 15-0 sweep by 6ixers over Luna, and a 12-9 win by Traffic over Fusion. This semi-final matchup became one of the most anticipated games of the week, with many people requesting score updates during the streamed Open Master Final as the semi-final was on the field beside the VC showcase field. 6ixers showed up to the game ready to go, and won 15-10, sending Traffic into the Bronze medal game, and giving themselves a spot in the Gold medal game.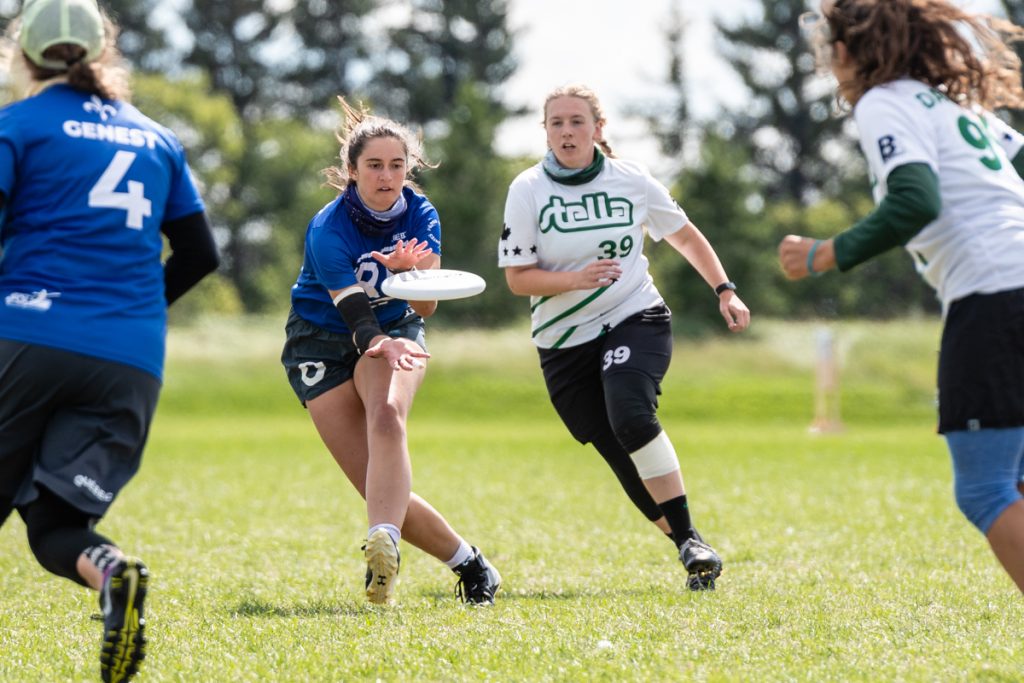 The bottom two quarter brackets saw Iris take over Korra with a 15-8 victory. Stella also defeated Sneaky House Hippos with a 13-7 win sending Iris and Stella into the second semi-final. This sem-final displayed a greater point differential. Iris won the first half 8-3, and went on to the take the game 15-7.
The Gold medal game was the last game of CUC Edmonton and the stands were overflowing with people! The 2018 CUC Champions was set to play the number one seed of 2019, both teams hungry for Gold. 6ixers put the first goal on the board. Every time Iris would come back to tie up the score, 6ixers would pull ahead. That is until the teams were tied up at 7s. 66 minutes into the game, Iris' #16 Marie-Ève Beauchemin threw to #25 Corine Massé who was deep in the endzone giving Iris a break and forcing the game to go to half with Iris leading 8-7. 6ixers were not letting up, showing their energy on the field, and on the sideline. 6ixers tied up the game at 8s. They were able to pull away with another lead and eventually win 15-11, claiming the title of the 2019 CUC Women Division Champions.
Brittney Dos Santos on her winning Gold, being named the final MVP, and her overall CUC experience: "Well I just want to start by saying I finally broke my curse of never winning a championship! I'm so overjoyed at finally getting a Gold medal, and on top of that getting the MVP. I try not to be much of a crier but I couldn't help myself, I was so happy I just started to ball my eyes out! Winning that award and hearing all my teammates cheer for me when I did just meant the world to me. To be completely honest, my favourite day at CUC's was when it was cold, raining and 60km winds, because I honestly think it brought our team so close together. There were so many jokes and laughs about silly plays because there wasn't much to do with the wind. It was so hard to not just accept that it was a tough day and laugh about it, and although it wasn't exactly high-quality frisbee it was so fun because of all the laughter and closeness from cuddling for warmth. Definitely a CUC I will never forget." 
Fusion demonstrated their spirit throughout the tournament not only on the field but on Instagram too, having a back and forth dance battle with BC's Traffic. Fusion claimed the 2019 Spirit Title, and prior to the accepting their discs, they had a battle with Traffic, who were there to receive their bronze medal.
Gold – 6ixers (ON)
Silver – Iris (QC)
Bronze – Traffic (BC)
Spirit – Fusion (MB)
MVP – Brittney Dos Santos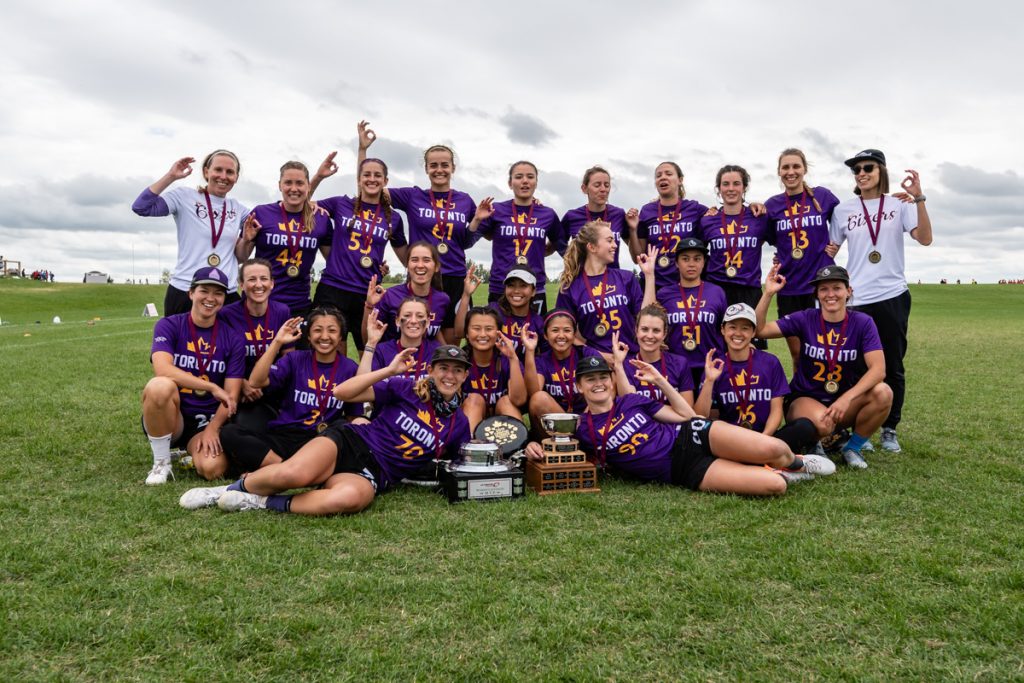 Women Master Division Recap [Presented by VC]
In order to support continued participation and development, the Women's Masters division expanded from eight to ten teams. This is four more teams than in 2018, and four more than the Open Master division. CUC 2019 welcomed many new and returning teams from previous years. Nebula (ON), who finished 6th in 2018, was the only returning team from 2018. Vintage (QC) entered as the number one seed, followed by PNW Basic (BC) seeded second, and lowercase (ON) seeded third.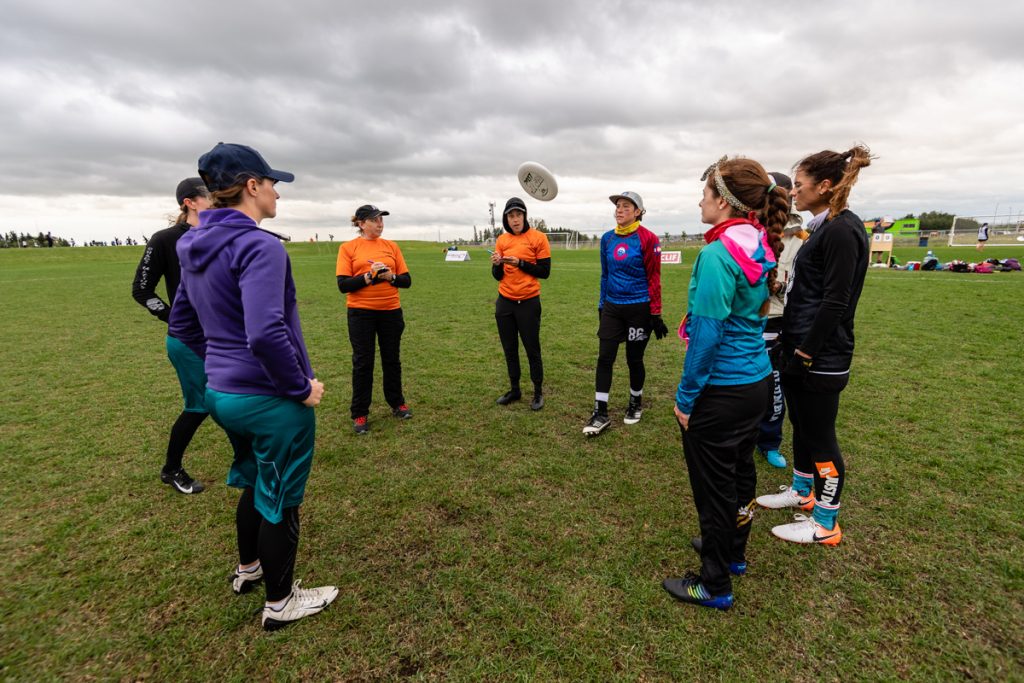 Due to the irregular format of a 10 team bracket, teams only played two games on Day One. By the middle of Day Two, both 'Berta and lowercase were undefeated with a 4-0 record, followed by Vintage and Nebula with a 3-1 record. After the teams were reranked, they saw rain and crazy high wind speeds, peaking at 60km/hour in the late afternoon. Not a single game made it to 15 points that day. The peak of the storm happened just in time for the two pre-semis games; Nebula vs. Quasar and Vintage vs. PNW Basic. 'Berta and lowercase had already secured their spots in the semi-finals. Both Quasar and PNW Basic prevailed, pushing Nebula and Vintage to play for 5th place.
Day Three kicked off with the semi-finals games, and both saw large point differentials with 'Berta winning 12-6 over Quasar, and lowercase 13-5 over PNW Basic. 'Berta and lowercase were set to play for Gold at 4:45 pm that afternoon. With their coach dressed in a cow costume, 'Berta was ready to represent CUC host province, Alberta, in this Gold medal game. Both teams' rosters comprised of a number of experienced players, it was sure to be a great game.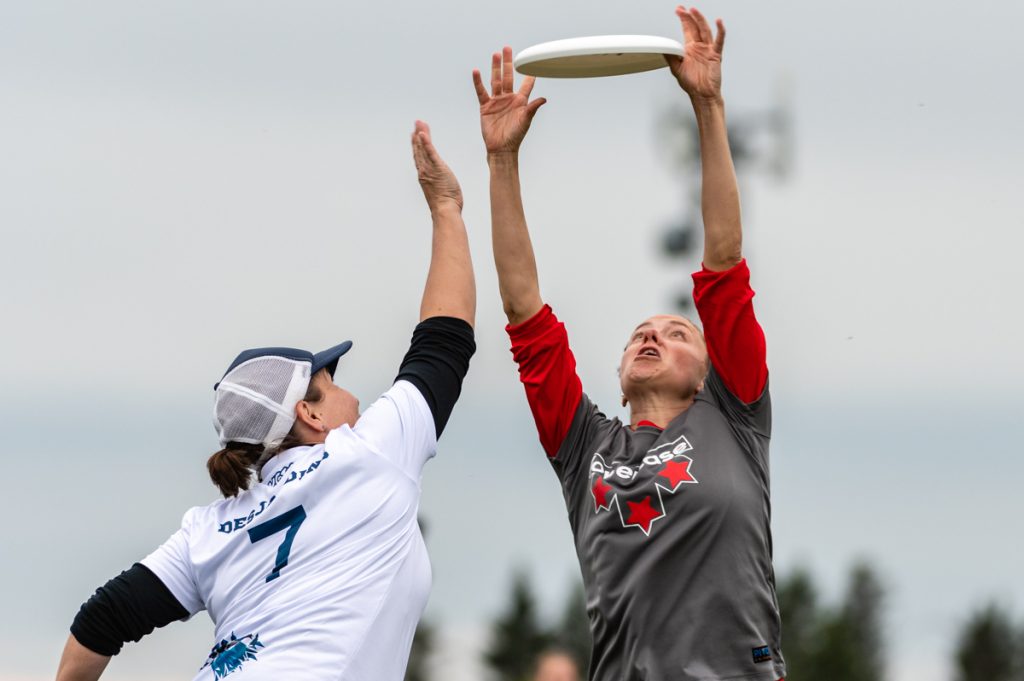 lowercase secured the first point of the game off a break with a huge toss down the sideline, deep into the endzone from #3 Rebecca Macpherson to #23 Marie-Christine Jacques. 43 minutes into the game, lowercase took half 8-3 .
'Berta showed resiliency by scoring the first goal of the second half. The teams went on to exchange the next six points. However, lowercase was too strong and pulled away with four straight points to win the game 15-8. Assisted by #89 Brianna Jaffray, #15 Courtney Benvenuti scored the final point of the game and was named final MVP. Watch the Gold medal game here.
Gold – lowercase (ON)
Silver – 'Berta (AB)
Bronze – PNW Basic (BC)
Spirit – Throwback (AB)
MVP – Courtney Benvenuti