Written By Kevin Underhill
August 16, 2017
The junior women's semifinals are set. MOFO will take on TORO on one side of the bracket and Misfit will take on Vortex on the other side.
One thing is certain: BC will have a team in the finals again as they have every year since the gender split. One other thing is certain: tomorrow is going to be an amazing day of junior women's action.
Misfit coach, Victoria Lam, says the experience playing out of province team has been great for developing the team even further.
"The girls have developed some great chemistry and it's really pretty to watch. Our offense shows outstanding composure and we grind like crazy on D."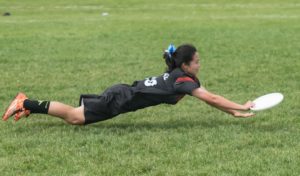 Coming in reigning champs and being undefeated here at CUC make Misfit the mid-tournament favourite to repeat. But according to Lam, the team has never focused too hard on the end result.
"As coaches we treat each year as if it's a new team so even if we win it wouldn't really be a repeat," Lam said. "We set out to be the best team possible and help the girls reach their potential."
Lam and Misfit will first have to fight through a tough Vortex squad tomorrow morning. Misfit and Vortex went to universe point at the BC regional finals so we're certainly in store for an amazing all-BC semi. Watch it live HERE at 10:15 local time.
The other semifinal today features two athletic power house teams: TORO and MOFO. TORO, from Toronto, stumbled a bit in quarters against a plucky Aera squad but capped off the game with four straight goals for the win. Carla DiFilippo, coach of TORO said Aera's pressure and a touch of complacency is what caused the game to be tighter than it could have been.
"Coming out of half, we got a little complacent," the veteran coach said. "We needed to focus on being in the moment. We needed to get back to gritty D and calm O."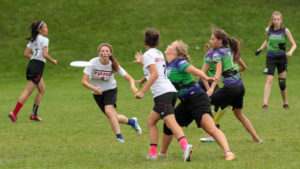 And when things fell back in to place for TORO, they surged to a 13-10 victory over their Quebec opponents. DiFilippo expects another tough battle in the semis against a MOFO team who upset Vortex on day one.
"We play a similar style to MOFO. I actually think we match up quite well against them," she said. "We need to remember our systems and stick to our game plan and I think we have it in us."
Karen Hatch's MOFO squad also fought through a tough quarterfinal with hometown Wicked West. Hatch, a second-year coach of MOFO said that Wicked shocked them at the beginning before they could get settled.
"The liked to look deep right away. They really caught us off guard," Hatch said. "We made some defensive adjustments and started getting Ds."
Hatch said that TORO and MOFO play a similar style that's quite different to that of out west. She predicted a very entertaining semifinal against DiFilippo's TORO squad. She said this year, more than past year's, the coaches have been emphasizing off-field chemistry and that has led to stronger team connection.
"The girls are really cohesive," she said. "The love singing, they have such great off-field chemistry and team spirit. They are all about the team."
The big bad battle of the east and the heavyweight BC rematch will take place at 1015 local time at UPI in Ottawa.
Stay up to date on scores and results from around the event at cuc.canadianultimate.com
tune in for live coverage of the Misfit/Vortex game at ultimatecanada.tv