Written by Naomi Redmond
August 16, 2017
Regardless of the year, the stakes at the Canadian Ultimate Championships are always high. 2017 being a World Ultimate Club Championships qualifying year, the stakes are even higher.
But for the open and women's masters division, the stakes raise an extra level, as the World Masters Ultimate Club Championships will be held right in our own Winnipeg, Manitoba. Expect some exciting match ups as these teams fight for a chance to represent Canada on home turf.
Although there are 12 teams in the women's masters field this week, there are really only a handful that have sincere gold medal hopes. Vintage and Quasar from Quebec and the two Ontario squads, Eclipse and Lowercase, are all looking strong heading into Thursday.
The women's masters division debuted in Vancouver in 2013 and has since been growing ever since. This year's 12 squads marks the biggest field in the division.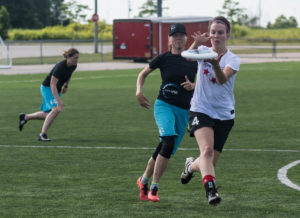 Last year's finals pitted the local Edmonton squad, Throwback, against perennial medalist, Eclipse. The hometown team upset Eclipse and ended their undefeated tournament. Back-to-back silver medals must have Eclipse hungry for that coveted gold medal.
Vintage, already with two CUC gold medals and a WUCC gold medal in 2014 will look to climb back into the top spot. Quasar, Lowercase, DYNA and The Collective round out the top six seeds at this year's tournament. Thursday is always a huge indicator
Leading the pack in the open division, we have tournament favourites and last year's champions NSOM. This team from Quebec is bringing back many of the squad that took the title in 2016, but will they be able to do it again?

According to NSOM's leadership, "the 2017 squad added some new old retired players from the Royale [Montreal's professional ultimate team], adding some depth to our team. That helped attract other good Montreal masters players to join the club, making it possible to have and put forward a second team at Nationals."
Returning from last year's championship run is captain and one of the scoreboard leaders Luc Drouin. Wracking up an impressive 28 assists and 8 goals last year, Drouin will be the driving engine that teams will have to put the brakes on at this tournament. He'll be flanked by a breadth of Team Canada compatriots returning from WCBU in France, like Mark Zimmerl, Hugo Lefrancois, and Mathieu Bordeleau.
Right now, NSOM is feeling "privileged to count on so many good masters players in Montreal to give a competitive option to our community of Ultimate players."
But they might be saying something different if they have to face the third-seed and Quebecois counterparts Quantum. Rostering many of the players that went on the title run last summer, Quantum–along with NSOM 2–will surely match NSOM in playing style and know-how, so don't be surprised if we see them go far in the tournament.
Set in the middle, we'll see Ontario-based Best Before. Loaded with seasoned talent, the second seed has drawn players from the established open and mixed streams in Toronto.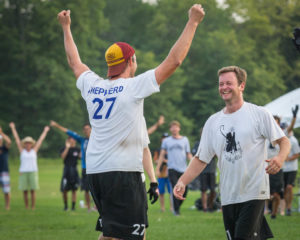 Looking at their roster, you cannot ignore their threat to go to the finals. Teams that face Best Before will have to shut down concrete-solid distributor's like Warren Tang, impossibly quick players like Shawn Chua and David Shimoda in the short field, while still trying to control skyward resident Kirk Nylen.
There is an undeniable excitement around qualifying for WMUCC. Many teams are shuffled rosters of who we saw last year, but expect fierce competition and likely upsets to shake up the division before the finals.
Both masters divisions at the 2017 Canadian Ultimate Championships starts on Thursday August 17. Tune in to watch live at ultimatecanada.tv.