Written By Kevin Underhill
August 17, 2017 – Ultimate Canada Magazine 
The atmosphere was electric at MNP Park at Carleton University last night as the 2017 CUC junior division wrapped up by showcasing the junior open and junior women's gold medal games.
Over 1,000 fans were in attendance to see the opening pull in the junior open division. The game was a repeat final from 2016 with a repeat result. In what was truly a team performance, Winnipeg's MOFO defeated TORO from Toronto 15-10.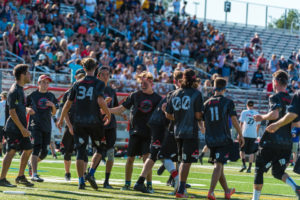 MOFO's Ryan Eisbrenner and Sean Bennett led the charge combining for a total of 11 points (goals & assists) but this was far from a two-man show. The disciplined disc distribution of Bassam Abdullah, Jeff Boris and Jordan Steele kept the MOFO offensive line in check. Noah Hoffman and Stephen Crew chipped in with three markers themselves.
Despite having some star performances of their own, TORO just couldn't answer MOFO's depth. The Toronto contingent relied heavily on handler, Owen Armstrong, to shoulder much of the load. Other returning players such as Carlos Zombrano and Barrett Wachholz were dangerous in the meat of the field but TORO suffered from end zone fever. Delete a few of those end zone turns and we could be looking at a whole different game.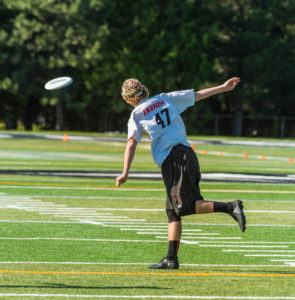 The exclamation point on the first half was an insane "greatest" by MOFO to take half. Junior Finals MVP, Ryan Eisbrenner, jumped from in-bounds, caught the disc, launched it over his head back into play. A tip and a bobble later, it landed in the sure hands of Sean Bennett.
MOFO rode the momentum of the huge play into the second half and never looked back. Winnipeg's clinical execution on offense and quick transition hucks set them a step above their Toronto opponents. The game remained close until MOFO went on a four-goal run to establish a 12-6 advantage. From there, it was all but done.
MOFO avenged their pool-play loss to TORO in emphatic fashion taking the finals 15-10 and repeating as national champions.
Junior Women's Final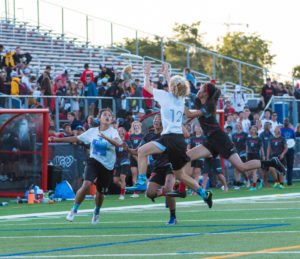 In the women's division, we saw another repeat champion as Misfit steamrolled TORO in front of a 1,500 person-crowd at MNP Park. Misfit stuck to their system and cruised through the entire tournament with an undefeated record.
Offensive discipline, scoring efficiency and tight defense set Misfit heads and shoulders above every other team in the tournament. Just from looking at the finals, they only spent 20 minutes on offense as apposed to TORO's 50 minutes. The defensive pressure was relentless and they struck quickly on transition.
For TORO, the bright spots shone through in Rebecca Mesburis, Brittany Dos Santos and Jazmin Ulanan. Despite strong top-end performances, TORO couldn't bring enough firepower to match Misfit.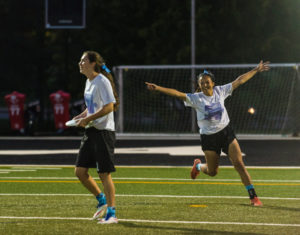 Misfit was a team by committee and had made their money all week long scoring big in second half. Statistically, Misfit had 15 players on the scoreboard at the end of the game. Compare that to Toronto's seven and you can see the major depth difference.
Junior finals MVP, Jasmine Chan, played a solid game on offensive and was a defensive menace. She represents what Misfit has been about all season: disciplined offense and intense, gritty D.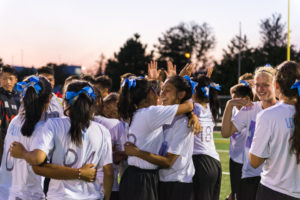 With the CUC junior divisions all wrapped up, we set the stage for the adults. Over the next four days, MNP Park and UPI will host the women's, open, women's masters and open masters divisions. FOLLOW THE ACTION.