Written By Kevin Underhill
August 23, 2017 – Ultimate Canada Magazine
The team was four-years-old when they first medalled at CUC.
Since 2015's bronze in Winnipeg, Saskatoon's Bunny Thugs have yet to step back onto the podium. A pattern captain Joelle Schaefer would like to see overcome this week at home.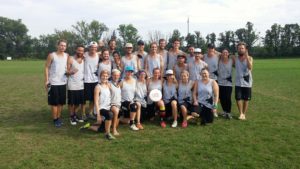 " As a team we have focused this season on goals that are process-based rather than outcome based. We have focused our team on staying positive and supportive, of teammates as well as ourselves," she said. "Achieving this goal will give us the best chance at an outcome based goal, which is placing in the top three at CUC and earning a bid to Worlds in 2018."
Although WFDF has yet to announce the bid allocation for WUCC next summer, it's safe to assume Canada will receive two bids, likely more. In any case, nothing can be left to chance at this week's CUC Mixed division tournament.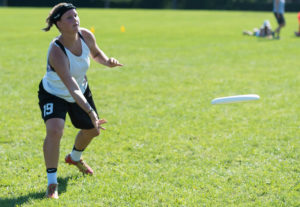 Schaefer said it's difficult to predict what the competition will be like this weekend. Her Bunny Thugs are undefeated on Canadian soil this year but haven't lined up against many of the teams in attendance this weekend.
"Not having a national circuit of tournaments prior to CUC means that we don't have a good idea of other team's strategies and strengths prior to Nationals," she said. "…And even year-to-year, teams that we play against can change significantly."
Some of the top teams challenging for those podium placements include Union (ON), Battleship (QC) and Banana Cutters (BC).
Banana Cutters originally started as a Vancouver Ultimate League team, participating in recreational ultimate competition but never anything more. Founded by Victoria and Alexander Lam, this team looked unstoppable at BC regionals and is stacked with a roster capable of doing serious damage this week.
Victoria Lam said the team has consistently been changing over the course of its eight years of existence and they are looking forward to the challenge of a Canadian Ultimate Championships.
"One of the reasons we wanted to come to CUC this year was to see if we could get a bid to club worlds," she said. "We know that it won't be easy and that each game has the potential to be a grinder."
Comprised primarily of players committed to also playing single gender ultimate or coaching, Lam said they really had to use regionals as a chance to mesh.
"It was our first chance to get some chemistry building and game time experience with each other. Since then we've had pod practices but because of all the coaching and other playing commitments it's been hard to get the full crew together," she said. "But that just makes us all the more excited to be here at nats."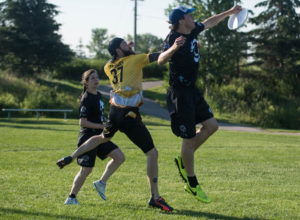 Union is back at CUC this year and is looking formidable once again. A team that has three podium finishes in their four times at nationals, it's easy to foresee them as a frontrunner at this event. This is a team bolstered by international experience (Lecco, 2014) and plenty of national level experience.
Despite all the experience, Union also recruited a class of 10 rookies this season. According to captain, Eric Blanchard, the new players will have no problem keeping up.
"I think people are going to be surprised at what some of our rookies have to offer this year, as they've definitely proven they deserve to be playing at this level," Blanchard said.
Blanchard indicated that most teams are a bit of mystery this season. Between teams stacking up in the single gender division and it being a WUCC qualification season, he said they really don't know a lot of their competition.
"We're really excited to see the out of province teams and how we stack up with them," he said. "Having only seen Battleship so far in Boston, we don't have a lot of experience outside of watching tape and looking at results with the other teams in Canada."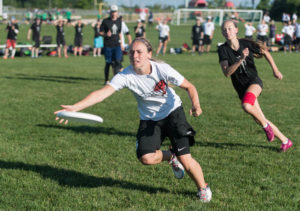 While Union may be the favourite by the rankings, it's really difficult to predict how the top 5-6 teams are going to shake down come championship bracket Saturday. All we know is it will be an amazing week of Ultimate in Saskatoon. Tune in to watch the live stream at 1230 local time at ultimatecanada.tv
Mixed Masters
2017 marks the first year that the Canadian Ultimate Championships has featured a Mixed Masters division. Needless to say, predicting a champion is no easy task. With little to draw on for past results, the early rounds of this tournament will answer a lot of questions. Surely the top ranked teams from Ontario and BC, Banana Cream Pie and Mastadon respectively, look to be early favourites.
Penguin Village, the Saskatoon-based contingent will certainly be looking to defend the homestead and Prairie rival, Firefly, will also look to cause an upset. With an unknown bid count for the World Masters Ultimate Club Championships—set for Winnipeg 2018—every game and every point will prove vital.