Written By: Kevin Underhill
Ultimate Canada Magazine – October 11 2017
According to Tawnya Gonzalez, earning an early spot at CUUC I has made a world of difference in how the Western Mustangs have approached their season.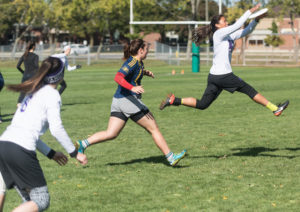 Western won Steeltown and as a result was locked into CUUC I in the middle of September. Without resting on an early championship, Gonzalez said it opened up the rest of the season to focus on development.
"Once you are in, we could basically treat Easterns as one big practice weekend," the veteran coach said. "Every year we get more players who know what they are doing and have the base skills. This year we have been able to introduce more plays, more strategies."
Despite Western losing veteran stars such as Christine Jurychuk and Agnes Chu, Gonzalez said that the Mustangs' roster is very deep. She also notes the addition of young talent in the form of experienced rookies.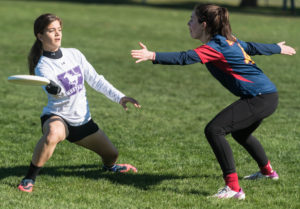 "Our team is about half returners and some returning after being gone for a season or two," she said. "…but we do have a boat load of rookies. We have at least 6 or 7 that have made an impact. It's so exciting to see their development."
We'll have to see if the extra time focused on bench management and development throughout the season will benefit the returning bronze medalists. Gonzalez knows there is tough competition throughout the division but is hoping Western can make a 2017 finals run this season.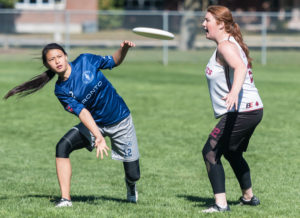 The Canadian Eastern University Ultimate Championship title went to the University of Toronto this season. According to team captain, Alyne Azucena, their success can be reflected in a significant cultural change.
"This team feels more like a family this year," she said. "We've put a huge emphasis on being a role player. I think it's really shown that we are all in this together."
Their season has been full of tight contests with the other major Ontario contenders. Azucena was very proud of how the team rose to the occasion in those close matchups.
"We looked really good, our depth was showing through," the fifth-year veteran said. "Everyone was running hard, getting Ds and shutting their person down. I'm excited to see us put it together again this weekend."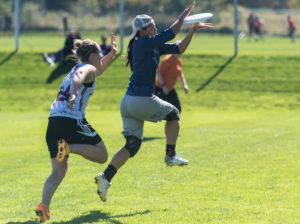 With the star power and club experience of Azucena, the Dos Santos sisters, Emily Tran and Nancy Yang leading by example, the younger players have a great deal to look up to. Azucena made mention of the youth movement on the team. She said the rookies have been playing a big role on and off the field.
"All of our rookies have been so enthusiastic and energetic. Not only on the field but as an excited sideline presence too," Azucena said.
Will Toronto's combination of exciting rookies, dynamic stars and commitment to a new team culture be enough to vault them to a national title? These questions will begin to answer themselves on Saturday morning.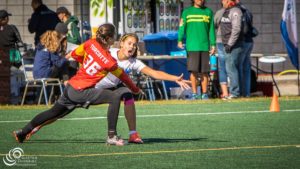 A team that the rest of the division can't overlook is the upstart program at the University of Laval. They have quietly been dominating the competition in Quebec and are really looking forward to testing themselves against some of these perennially podium-bound teams.
Audrey St-Arnaud, first year Laval coach and veteran club and national team player said she thinks the team is certainly up to the challenge.
"We have made really good progress in a short amount of time," Arnaud said. "I'm confident that we'll be ready to play with the best teams."
According to Arnaud, the team has a huge resume of experience from the club division. Between QUB, Qarma, mixed programs and junior club, almost every player on the team came into the university season with CUC experience under their belt. Not to mention how vital it is to have a stable veteran coach at the helm. Arnaud brings WJUC, WUGC, World Games and 10 years of club experience to the table when working with this ULaval squad. That can't be overlooked.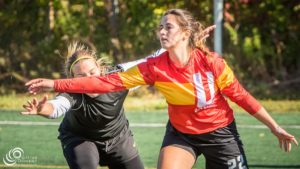 ULaval has been routing everyone east of the border and come into CUUC I with an undefeated record. Arnaud has been attempting to simulate tougher situations at practice in order to get her team firing for Saturday morning.
"They have played at CUC, they know what it means to play against tough competition," she said. "We've been trying to make it challenging at practice with specific 'universe point' type situations."
St-Arnaud acted as an assistant coach this year for the Quebec Club team, Iris. She said the experience she gained there has helped her be more prepared for practices and games. Despite Laval perhaps not boasting the same CUUC pedigree as some of the other programs, St-Arnaud has confident aspirations for the team.
"I think we have what it takes to make it into the top three. Of course, we'd love to be in the finals but I think we should be shooting for top three."
The outsiders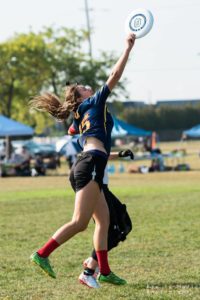 For the first time in what feels like forever, Queen's is on the outside looking in. The notorious powerhouse program and returning gold medalists will need to go through the Friday qualifier to earn their spot in tier one. Between Kiera Lee-Pii, Lana Ramic and Laura Kinoshita, Queen's certainly has the firepower to make a run. And although it does feel like a formality for them to qualify, one can't help but wonder if having to muck through the Friday grind will put them at a disadvantage heading into Saturday's action.
Ottawa has had an up and down season featuring some universe point losses and near misses. Make no mistake; this program has been so strong for so many years, just because they have to fight through Friday, doesn't mean we should count them out for a podium finish in the top tier.
The next set of teams on the list includes McMaster, Carleton, McGill, Guelph and Sherbrooke among other challengers. At this point, your guess is as good as mine. These programs have all made sojourns up and down the university rankings over the past five years. When it comes down to the final few spots on Friday afternoon, it's anyone's game!