Written By Kevin Underhill
Ultimate Canada Magazine – October 25, 2017
Another year, another Canadian University Ultimate Championships in the books.
CUUC is notorious for showcasing amazing university ultimate, heated rivalries, and awesome team and individual performances. It is also notorious for having challenging weather conditions. Once again, CUUC met all the criteria as the winds and rains whipped through, primarily on Sunday, challenging these student athletes.
Looking particularly at the individuals, I've taken the time to break down the starting seven from the tournament. Without further ado, take a look at your tournament top-performers in the open division.
Francis Vallée – Université Laval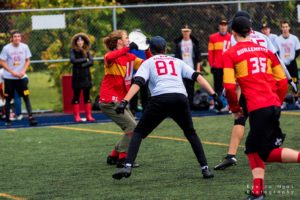 Perhaps the most dynamic player in the division, Frank Vallée followed up his breakout 2016 year with another great performance. He's the energetic leader of this energetic Laval bunch and has the skill to back it up. His big frame makes him a menace to deal with in the lanes or back behind the disc. Vallée will no doubt be a little disappointed coming out with his second bronze in as many years but can be proud of putting on a quality product every time he touches the turf.
Bretton Tan – University of Toronto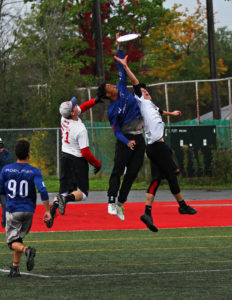 Bretton Tan was on this last year as a solid defender, with great top speed and good consistency. He's on the list this year as an all-out superstar. Tan is the most well rounded player in the division. His control over his throws, even in tricky conditions, made the left-handed third year impossible to deal with out or under. His defense has made another step forward, making him a near-impossible cover. The terrifying part for his opponents is that he's still young and can definitely still improve.
Kinley Gee – University of Guelph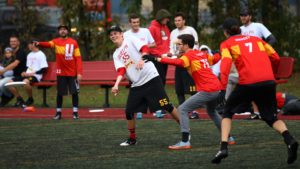 Gee and his group of plucky Guelph Gryphons made a "Cinderella" run to the finals this year. I use quotations because if you look up and down this roster, there's nothing surprising about their performance. They just hadn't been able to string it all together until this weekend. Gee is a large part of this success. His ability to get open anywhere on the field made him a top player at this event. His improved throwing consistency changed the game. He's the go-to guy on this Guelph unit and will look to take Guelph to the next level over the next two seasons.
Connor Armstrong – University of Guelph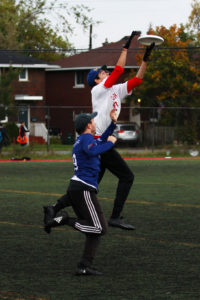 The other member of the two-headed beast that propelled Guelph to a finals birth. Connor Armstrong and Gee both sat on the honourable mention list last season. They emphatically made the jump this year as a terrific pair in the Guelph backfield. Armstrong's vast improvement in the past two seasons has made the Guelph O-line into the best in the division. He plays very creatively and offers a fast-paced look to opponents' defensive lines. Very few teams in the university division have an answer for Armstrong's quickness combined with his length. It's a nasty combination for a centre handler.
Nathan Hirst – University of Toronto


Nate Hirst plays the hybrid handler role as well as anyone in the game. His speed and quickness make him a menace behind the disc. He earns his money playing the give-go style but isn't afraid to look downfield for more dangerous throws. His 45-yard upside down backhand in the finals showed his ability to combat the weather conditions. The most impressive part of the Toronto veteran and GOAT stalwart is his newfound ability to release downfield and chew up big meters as a cutter. The combination of Hirst and Tan is what pushed Toronto to that next level and earning them CUUC gold.
Miguel Goderre – Université Laval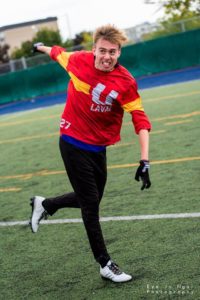 Goderre might be one of the friendliest players out there. He plays the game with a smile on his face. But he also brings an unparalleled amount of fire. He's a two-way player who is a terrific shut down defender and leads Laval once they generate the turn. His ability to hop seamlessly from O to D shows a level of mental focus that's difficult to achieve. Goderre is a good thrower, moves well and has terrific discipline. Combine that with his playmaking ability, Goderre stakes his place on this list as one of the most well rounded players in the division.
Jason Duiella – Queens University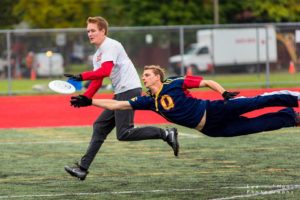 Duiella makes the jump from honourable mention to top seven. And jump he does. Duiella is an athletic force to be reckoned with. His size, speed and field awareness was on display this weekend and it helped Queens get through those tight games. With Mike Mackenzie sidelined last weekend, the door was open for other key players on Queens to make a difference. And although Queens missed out on the podium for the first time in four years, Duiella impressed all weekend long with his athleticism and defensive prowess.
Honourable mentions:
Stephen Snow (DKUT), Paul Tatulea (Toronto) Rhys Toogood (Queens), Cooper Toogood (DKUT), Thomas McAlear (McGill), Jean Guillemette (Laval).
Rookie Mentions:
Owen Armstrong (Guelph), Barrett Wachholz (Guelph), Scott Graham (Waterloo)