Written By Kevin Underhill
Ultimate Canada Magazine – October 24, 2017
Right from the get-go we could tell that this year's CUUC division one was wide open in the women's division.
Sure, Queen's and Toronto felt like early favourites and Western earned their spot at Steeltown. Laval was dominant in Quebec and University of Ottawa is ever present.
By the end of Sunday, we had our new champion in Université Laval. And, with so many amazing players across the teams, it's a shame to select just seven, but that's the game so here we go.
Laura Kinoshita – Queens University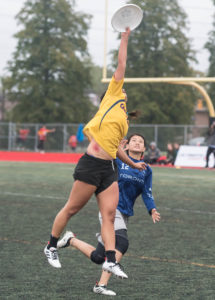 Despite suffering a hamstring injury, removing her from play on Sunday, Kinoshita was still among the most dominant players in the division on Friday and Saturday. Her experience in the club system as well at the national and international level has made her a force on the university scene. She moves at an elevated rate and makes challenging completions look routine. It wouldn't be a stretch to say that if Kinoshita was healthy, we could have seen a different outcome at this tournament. She's that much of a difference maker.
Audrey Clothier – Université Laval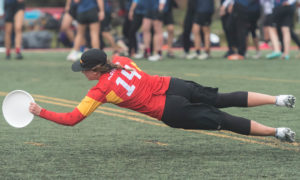 We very well could have included other Laval stars such as Florence Lanouette and Charlotte Latulippe in this list but it was really Clothier that held the whole squad together. She was the linchpin in the Laval offense that played at an elite level all weekend despite the windy conditions. Clothier was selected as the well-deserved finals MVP. Her performance on Sunday afternoon capped off an amazing Laval run to their first ever CUUC title. Clothier brought a level of discipline, throwing prowess and ultimate IQ rarely seen at the university level.
Krystal Dos Santos – University of Toronto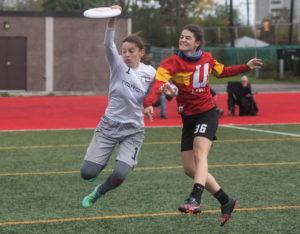 The wiry two-way veteran is a one-person wrecking crew. Dos Santos was on this list last year and jumps onto it again in emphatic fashion. All weekend, Dos Santos did it with her throws and her striking. She was one of the only players unafraid to attack up and down wind. She has great disc-reading abilities and put herself in the position to make big plays. Her long frame makes her an incredibly difficult cover whether she's handling or tearing deep. She also added an element of defensive ability to her game over the past season. She provides such a tricky mark to navigate around and patrolled the deep disc very well. For Dos Santos, it's another year, another silver, another starting-seven.
Kiera Lee-Pii – Queens University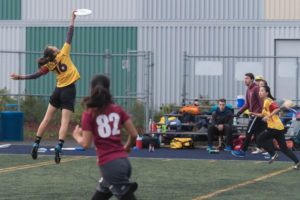 A breakout story this season in the club division and university division. The Vancouver transplant plays her university ultimate in Kingston for Queens. Her initial attributes are speed and height. This year she paired that with better timing in the lanes and a newfound aggression attacking discs. Lee-Pii has a height and speed mismatch against almost everyone and really delivered all weekend long. Just watching Queens play this weekend, you could really see teams struggle to mark up against the one-two punch of Lee-Pii and Kinoshita.
Karen Chan Lim – Toronto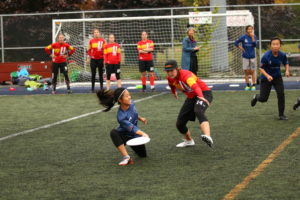 When watching the Toronto women fight their way to the gold-medal game, it was very clearly a team game. With the Dos Santos sisters, Reve Chan, Alyne Azucena and Emily Tran among others all getting their hands dirty, they did a good job sharing the load. Karen Chan might just be the glue that holds it all together on the field. She commanded the backfield very well, which allowed Dos Santos and Azucena to release up field. She was the only player that could really navigate the Laval zone in the finals. Despite falling in the finals, Toronto's Karen Chan showed a top-level of poise and distribution and is well deserved on this list.
Corrine Giorgetti – University of Ottawa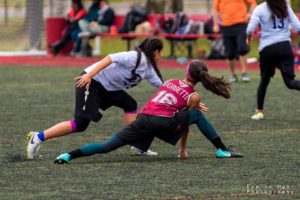 The Ottawa speedster blasts onto the starting–seven list with guns a blazing. Giorgetti was the fire behind the Ottawa Gee Gees last weekend on home soil. She was lightning fast and made terrific defensive plays look easy. All major up field motion on offence went through Giorgetti. Having to fight through the Friday qualifier might have been too much for Ottawa this year as they ran out of steam come quarterfinals. Though with that said, Corrine Giorgetti was a shining bright spot and lit the field up with her dynamic play all weekend long.
Lianne Campbell – McGill University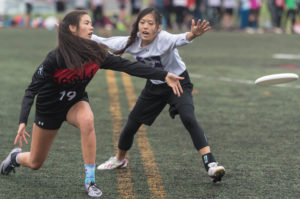 Although it was a tough showing in div. one for McGill, they have a shining star in Lianne Campbell. She highlights a cast of tall and fast McGill players including Julia Biris and Grace Longson. Campbell is the distributor of the bunch and was one of the only players in the division that could deal with the tricky throwing conditions. The offensive-minded Campbell was good at navigating zone defenses and had the best backhand deep huck we saw all weekend long. The rangy Campbell still has room to grow into her natural abilities but her dominance as a thrower snagged her a spot on this list.
Honourable Mentions:
Reve Chan (Toronto), Alyne Azucena (Toronto), Allison Collard (Queen's), Carla Rawson (Western), Camille Bédard (Ottawa)
Rookie Mentions:
Brittney Dos Santos (Toronto), Wynne Gee (Queen's), Emily Scott (Carleton), Tori Nielen (Carleton)