Ultimate Canada Magazine – May 4, 2018
Written by: Rebecca Thompson
Sixteen teams, one trophy.
The 2018 Canadian High School Ultimate Championships presented by CUT Camps will take place this weekend in Surrey, BC.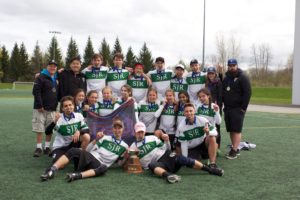 Of the 16 teams vying for the 2018 national title, St. John's-Ravenscourt (SJR) from Winnipeg, MB, has the most impressive history at CHSUC. Having attended the event since its inception in 2012, SJR have only missed finishing on the podium once.
While still being a contender this year, SJR is attending this tournament with a much younger roster after graduating a core of the team who won CHSUC in 2017.
In order to retain their title, they will have to battle top teams from across the country. Bowmanville High School, the two-time reigning Ontario champions, finished third at CHSUC in 2017 and will be looking to improve on that feat this year.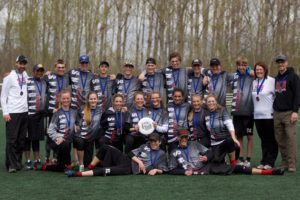 "We have no idea what to expect from the BC teams so it is hard to predict, but we expect to be extremely competitive," said Bowmanville head coach Kevin MacLeod. "we would be disappointed if we do not make the finals and finish 1st or 2nd."
Meanwhile, local BC schools will be looking to utilize their home turf advantage over the course of the weekend.
The greater Vancouver region boasts an extremely competitive, deep field of teams. Out of Churchill, Queen Elizabeth, Stratford Hall, Saint George's/Yorkhouse, Sutherland, Eric Hamber and Point Grey, picking out the best team from that group is difficult as best.
Queen Elizabeth, in the first year of their schools program, won the 2018 Saint's Invite in early April, taking out Churchill secondary in the final. QE may be new to the BC Ultimate scene but their players are not – U20 Team Canada stars Abeer Lamba and April Hortelano will be key this weekend.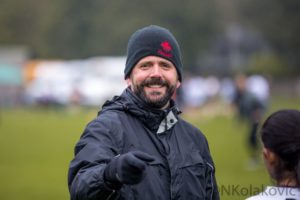 Head coach Chris Wakelin spoke about Queen Elizabeth's early success this year as a pleasant surprise for their team, as most of their players and coaches are new to the school.
"As for this weekend, we're in the thick of it with a pile of other teams," Wakelin continued. "The top BC teams are all extraordinarily close in terms of depth and skill, so I'm more excited to see the other teams from the other provinces and how we all match up."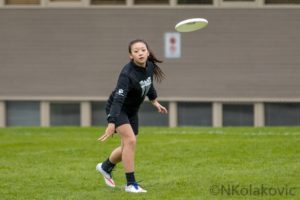 Saint Georges/York House, known as Tight, were the only BC school to attend CHSUC in 2017. The team last year was made up of mostly grade 11's, all of whom are back this year. Tight ended last year's tournament strong with a fourth place finish, but with the depth and experience that they bring back this year it would not be surprising to see them compete for the top spots again.
"I never look at success based on finish, I want our team to continue to play well and improve every game," explained Tight head coach Jon Hayduk. "If the team manages to do that, then I feel that we will be a contender come Sunday."
This weekend is going to be a good show regardless of outcomes, with top teams attending from all over the country. CHSUC 2018 will be one for the memory books.