Ultimate Canada Magazine – May 10, 2018
Written by: Rebecca Thompson
Over the weekend, high schools from across Canada competed at the 2018 Canadian High School Ultimate Championships (CHSUC) in Surrey, BC.
Kelvin High School, out of Winnipeg, Manitoba, stormed all the way to the finals undefeated to take on the also undefeated Bowmanville Talons, from Bowmanville, ON, in a two-hour showdown that saw Kelvin win the gold medal 15-11 over the Talons.
Bowmanville, who finished third at this event in 2017, improved on that result by making the finals. Their efforts to take the title were, however, halted by the agile Clippers who put their mark on the competition as they took home their first ever CHSUC title and Spirit title.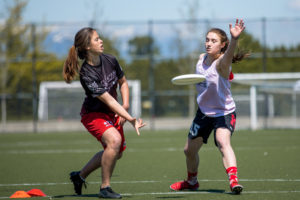 "We're very proud of our kids for being voted the most spirited team in the tournament and that speaks a lot about the kind of kids we have in our program," said Kelvin coach Willem Konrad. "They play incredibly hard for each other, and for them to step up and win a national championship was a very special moment for the entire program."
"We have a really young and talented team and we can't wait to get back to Nationals next year to try and defend our title."
Clippers star player Yasmin Bañares was awarded the Most Valuable Player award after her dominant performance in the finals.
"Being able to have the opportunity to participate in my first and only CHSUC during my last year of high school ultimate was truly and amazing and unforgettable experience," Bañares explained. "This could never have been possible without my very skilled and extremely passionate teammates and coaching staff."
Bañares will be competing at the 2018 World Junior Ultimate Championships for the under-20 national team in Waterloo in August.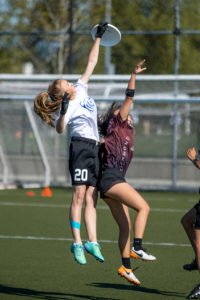 Stratford Hall, from Vancouver, BC, took home the bronze medal on home soil. The Sabres faced off against the Queen Elizabeth Royals from Surrey, BC, who had just come off a hard universe point loss in the semi-finals to Bowmanville. Despite a late run, the Royals couldn't regain control of the game as the Sabres took the victory 11-6.
The Sabres only posted two losses throughout the weekend, to out-of-town teams Bowmaville and Kelvin. Stratford Hall will be looking to continue their momentum at the BC provincial championships in Surrey in three weeks' time.