Ultimate Canada Magazine – August 12, 2018
Written by: Rebecca Thompson
One championship title to win, 20 teams vying to do it.
The junior women's division has expanded to 20 teams for the first time in it's history. New teams arrive this week from Saskatchewan and Newfoundland, adding junior women's teams from every province except PEI.
The tournament will follow a tiered system again this year, meaning the top eight teams will compete in two pools together – meaning every game is a great match up in all pools from day one.
The reigning 2016 and 2017 champions, Misfit, return this year as the rebranded team: Eclipse. Eclipse is coming into this week seeded in third, having lost to Vortex – the number one seed – at BC regionals in July.
Head coach Mike Fung acknowledges that their season has held challenges, but is still optimistic about the teams chances.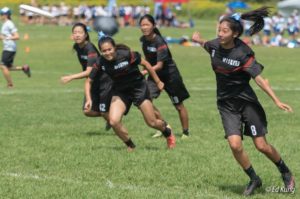 "Vancouver always has a huge depth of skill to draw from and the girls have been working hard all summer," said Fung. "That said we've had our challenges this season with a lot of injuries to work through. A large contingent of our team is also playing for team Canada so their attention is divided and we need to make sure they are healthy to play at worlds. It's been quite a journey and I'm excited to see the girls compete."
The World Junior Ultimate Championships take place in Waterloo, ON, next week which has brought some challenges for a few of the junior teams. Teams will have to decide between resting players in key moments and looking to win big games. That being said, the depth of many teams at CUC will start to show through some of these challenges.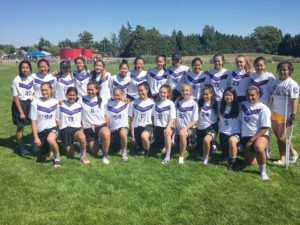 For Vortex, coach Chris Wakelin believes their depth can carry them through to the final stages of this tournament: "That game against Eclipse, we were able to roll through our lines and use our depth to win the game"
"If we go out there [at CUCs] and play our game, we will be alright. If we don't we will be in world of trouble," Wakelin smiled.
Focusing on playing their own game is a recurring theme for many teams at CUC. For the number-two seeded TORO, there is an emphasis on focusing on what they can control.
TORO lost to Misfit handily in the final last year and are back this year to start a new campaign towards a goal medal.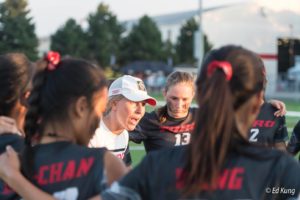 "We have a ton of vets this season so we are pretty excited for the tournament," explained head coach Carla Difilippo. "This team has posted some of the best results in season tournaments."
TORO is another team that will be affected by the upcoming WJUC tournament, with four players taking part in that event as well.
The winner of this year will come down to depth and drive to push through some of those challenges. With big names like Eclipse, Vortex and TORO facing up against MOFO, Bonfire, Mischief, Wicked West and Titane in the top eight it is hard to predict who will manage the challenges best.
One thing is for sure, this year's junior women's division is bound to be full of excitement and upsets.