Ultimate Canada Magazine – October 12, 2018-10-12
The 2018 Open division is going to be full of excitement.
Each team competing in the top eight brings a different asset to the pitch that is sure to shake things up. With a good amount of regional representation this year, there are many different styles and match ups that will be new to all the teams competing.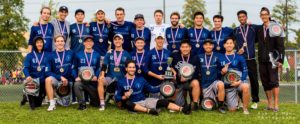 The returning champions and number one seed this year, Toronto, qualified for division 1 early in the season at Steeltown proving that they will be working hard to contend again this year.
"This year our team has had to focus on playing well as a team rather than focusing on superstar talent to carry us to victory," TULA captain Daniel Pepler explained. "Overall I think this is one of the most evenly matched CUUC's where any team has a good chance of winning and we are excited to play and see how well we can do."
Coming in strong with very little turnover is the Guelph Gryphons. Runners-up last year, the Gryphons are bringing a passionate team determined to get the job done.
Captained by Patrick Keenan and Noah VanDuzer, Guelph has a lot of young talent from U24 and U20 Team Canada's. Most recently three of their players – Aidan Hayter, Owen Armstrong and Barrett Wachholz – all competed at the World Junior Ultimate Championships in Waterloo finishing with a silver medal.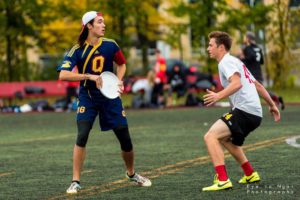 Keenan explained that although the season is short and fast, the team feels as though they have progressed well to this weekend. There is no doubt that they have the roster to go all the way, only time will tell if they will show up when needed.
The University of Queen's has been the powerhouse in the open division for many years. Champions in 2015 and 2016, they slipped off the podium last year with a fourth-place finish.
After having to face off against Toronto in the quarters at Steeltown where they lost on universe, the team pulled themselves together and worked harder at practices to fix any errors before regionals.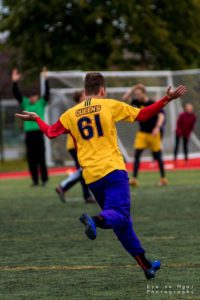 From there, captain Braedan Robinson said the team came firing into CEUUC with a match up against Guelph on the Sunday in mind and were able to execute to take home the tournament win.
"To sum it up we started of slow and unsure of our game plan, and ramped it up into a perfect game against a very good team," said Robinson. "All of us have gold in mind, and we're going leave it all out on the field to help make that happen."
Returning to the event after a hiatus last year, the University of Manitoba are coming in to this competition as a much different team from their last appearance in 2016.
"We consider this year to be the start off the next generation of our club as the University of Manitoba looks to progress through the standings and re-take our position as one of the top university programs in the country," explained captain Aaron Klymasz-Swartz. "We have pushed through the challenges of re-building our team from the ground up, and although we have a lot of new faces on our team we are prepared to take on the amazing competition that this tournament has to offer."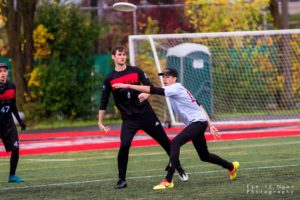 The biggest absence this year from the division is Laval. Bronze medalists the last two years, they were unable to qualify in a last-ditch effort on the Friday putting them down to division 2.
Coming in from the Quebec region for 2018 is McGill, who won the Coupe de Quebec in a tight final over UQAM. Head coach Kaitlyn Lovatt says that the team is a made up of a group of resilient and prideful players who compete well as a unit.
"I find it difficult to determine how we will stack against the other teams, the seasons are short and turnover in the college division is quick," Lovatt continued. "All I can say is this team continues to surprise the coaches, and I expect them to perform extremely well against the competition."
Dalhousie, earning their bid at the Atlantic qualifier, are coming into the event with a lot of rookies out of the Halifax junior program and a couple key veterans. Captain Stephen Snow says the goal is to improve on their finish last year (6th place) and win some of the close battles they had against top teams.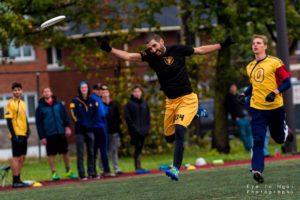 Rounding out the division by qualifying on the Friday were the Carleton Ravens and the Waterloo Warriors who will look to build off the momentum gained from their big wins and bring that fire into the weekend.
With so much depth in the top eight, it could be anyone's game this year.