Ultimate Canada Magazine – October 12, 2018
The women's division is set and ready to kick off in division 1 action on Saturday. Eight teams make up the field and all of them will have their eyes set on the Sunday finals.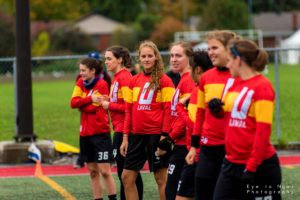 The Université Laval is returning to the competition as the defending champions and coach Audrey St-Arnaud is confident that they can repeat to win the title.
"Our team this year is composed of a majority of players that have played in competitive ultimate clubs (QUB, QUARMA, QUEST) in the summer or returnees from last years university season. Therefore, we have a pretty much even team," St-Arnaud explained. "Audrey Clothier will be leading the team again this year as captain, she surely will be one to watch."
Trying to take the title back this year is the university of Queen's who took home gold in 2016 but fell short with the bronze last year. Coming off a victory at CEUUC this year, they are riding momentum and a deep roster into the weekend.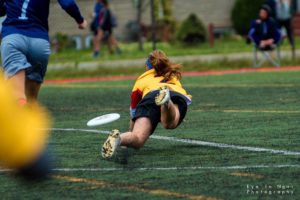 While the team is made up of several U24 and U20 Team Canada players from 2018, coach Paul Renaud is confident that every player is one to watch out for; "All players have been working incredibly hard and are an integral part of the team's success."
This weekend, Queen's are looking forward to rematches against Laval, Waterloo and Carleton.
The Waterloo women have been the biggest surprise of this season so far. After winning Steeltown on a come from behind universe point victory over Queen's, the Warriors have qualified for their first division 1 championships since 2014.
At Easterns, the two teams faced off again in the finals with Queen's coming out on that time. These contenders will match up against each other in pool play in a game that is sure to dictate the tone for Sunday.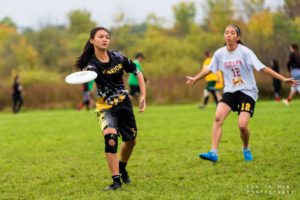 Waterloo has a solid group of veterans who have built a chemistry together over the years. They are joined this year by "rookies" Jessie Tsang and Alyssa Mason. Having played for the Laurier open team the last few years, they crossed town to join the budding Warriors program. Despite being new players on this team, they have a wealth of experience between the two.
"Jessie Tsang is the heart of the team. In team huddles she's always ready with the inspiring words we need to pump us up, and her play on the field is equally inspiring," said coach Greg Taylor.
Couple that with the experienced vets and the explosive defense of Mason, and there is no doubt that we will be seeing Waterloo in the top four teams on day two.
Most notably missing from this year's top eight is last year's silver medalists, the University of Toronto (TULA), who missed qualifying for the first time since the creation of the two divisions.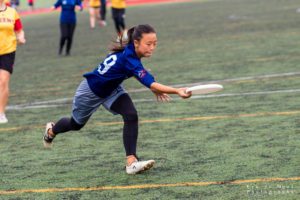 After graduating a lot of vets and an injury that left captain Reve Chan sidelined this weekend, they were unable to overcome a deeper McMaster squad who defeated them 10-6 in the game to go in the Friday Qualifier.
Rounding out the top this year is Carleton (qualified at Easterns), Ottawa (qualified at Easterns), Western and McGill – who both won their pools on the Friday to make it to division 1.
The tournament is sure to be set with drama as the University championship always is. With all teams making it to quarter-finals on Sunday morning, anything could happen.