Ultimate Canada Magazine – July 9, 2019.
Written by: Taylor Chung, Optician & Manager at Kodak Lens Vision Centres
The 2019 World Under-24 Ultimate Championships kicks off this Saturday and takes place until July 20 in Heidelberg, Germany. After months of training camps, practices, and tournaments, the U24 Team Canada athletes have been working hard to get the opportunity to compete at the World Championships in Germany. The journey to gold is not an easy one, but after interviewing athletes from the women's, men's and mixed teams, it is clear they're prepared and up for the challenge. Taylor Chung from Kodak Lens Vision Centres (KLVC), met up with Brittney Dos Santos (women's team), Mike MacKenzie (men's team) and Reve Chan (mixed team) to discuss their Team Canada and Ultimate experiences.
KLVC: What made you start playing Ultimate, and why try out for Team Canada U24?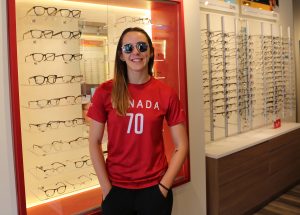 BD: I started playing Ultimate when I was in grade 8, it was actually my sister who got me into it. I've always been a very active person, I played every sport and one day my sister came home and told me that she learned a new one and that I had to try it. I immediately said yes, and that year I was lucky enough that my school had a grade 8 Ultimate team. I got to really get a grasp of what it was like and fell in love with the sport. I tried out for Team Canada because ever since I was about 5 years old, I've always dreamed of being an Olympic athlete or representing Team Canada somehow and this was my chance to finally reach that goal.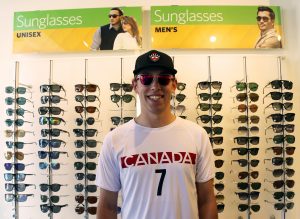 MM: I began playing Ultimate in high school because of my brother and through the Toronto system (Toro then GOAT), I discovered competitive Ultimate. Playing at a world stage with Team Canada elevates the level of competition and is an opportunity that rarely comes hence trying out to play this year was a must.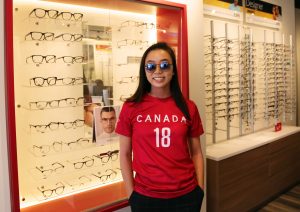 RC: In high school, I was trying to find a spring sport to play since the volleyball and basketball seasons were over and stumbled upon Ultimate and instantly fell in love. I tried out for U24 because it's been a life long goal of mine to represent Canada. It's an amazing experience to get coached by the best in the country and being in an elite company teaches you a lot about yourself as a player. I actually didn't make it the first two times I tried out (once for U20 and another for U24), but I learned a lot and improved significantly! I highly recommend everyone to go to prospect camps and tryouts.
KLVC: How has the Team Canada U24 experience helped you develop as an Ultimate athlete?
BD: Playing with other athletes from across the country has allowed me to see different styles of play, learn from them and add to my repertoire of skills. It has also helped me develop as a person. Being on this team, you have to be respectful of others and their differences. I hope to be a role model for those who will one day be on this team.
MM: I was lucky enough to also represent Canada at the U24 level in 2018 (Perth) and it was one of the most challenging tournaments I've played in. Playing in a weeklong tournament in 30+ degree weather can be quite taxing, but also rewarding.  The intense atmosphere allowed me to learn how to maintain my body over a long tournament, which I can now apply to other tournaments.
RC: It has for sure helped me build more confidence in my abilities as an athlete. I attribute all the successes to Carla Difilipo (coach of the women's team) who coached me throughout my junior years on TORO and made me the amazing player that I am today. It has also taught me so much about how to be better both on a physical and mental level.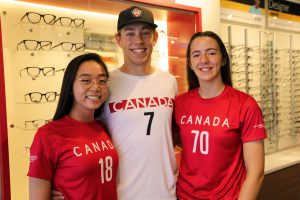 KLVC: The tournament is coming up, how excited are you, and what preparations have you and your team have made?
BD: I'm so excited for this tournament! As a team, we've trained so hard, we've all kept each other accountable for working out on our own time, eating healthy, and being mentally prepared. We've had sessions with Guylaine Girard, a mental strengthening coach, and we've also had many bonding moments, which I think is so important to really gain team chemistry. I think just learning our plays and trusting each other as well as our coaches' decisions is the best prep we can do.
MM: I am incredibly excited for the upcoming tournament! Our team is incredibly cohesive this year, and being a close team off the field can be incredibly important for on-field performance. As a team, we have had two training camps together, which has allowed us to build our chemistry.
RC: I am extremely excited to be representing Canada at worlds! I have been training a lot at the gym as well as practicing with Tox6ix this season. As for mixed, we have been in constant communication trying to build more team chemistry. Davis made it a point to have us work on our mental game by giving us exercises to do at home. We have also done a ton of video analysis and conference calls to go over plays.
KLVC: Being an athlete takes a lot from your body, how do you manage your physical and mental health?
BD: This has been my biggest struggle so far. Lately, I've been getting sick because of not maintaining a good diet. After speaking to a dietician, she has helped me a lot with getting my diet back on track. I've also been doing workout sessions with Mike Haddock, my team's strength and conditioning coach, to help me manage my physical health. For my mental health, I try to make sure that I have time to wind down and take a break from Ultimate, I really like to hang out with my friends, watch TV shows, and relaxing at my cottage.
MM: At the start of this season I tore my PCL playing Ultimate, so the last 8 weeks has been recovery for me. When an injury like this happens, it is super important to listen to the experts around you. Luckily we have a few very knowledgeable guys that work within the Toronto Ultimate community that I could consult on my injury. Mentally, I believe it is super important to regularly check in with your fellow teammates about how they are doing with a quick message or even a phone call. 
RC: I manage my health by seeing my physio when I get injured and try to adhere to their recommended treatment as much as possible. I also speak to a therapist at the university to make sure my mental health is in tip-top shape, as burn out and poor mental health associated with injuries are real concerns with athletes, and a subject that is not often talked about.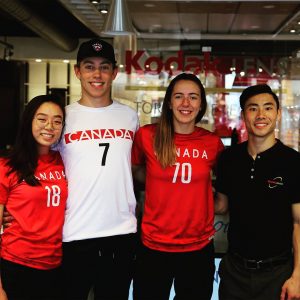 KLVC: Most importantly, how do you manage your eye health, and why do you think good vision is important in Ultimate?
BD: I've been eating a lot healthier and taking vitamins, which all help with maintaining good eye care. I've been starting to do regular check ups for my eyes and I also try to wear UV protective sunglasses when I go outside on a sunny day. Vision is really important for Ultimate since you need to see the disc and people on the field clearly to play well. The hardest thing is that while playing I have trouble protecting my eyes because I can't play with sunglasses and don't like playing with a hat.
MM: One thing that I try to do to manage my eye health is to have sunglasses with me at tournaments and games to reduce eyestrain when I'm not on the field. Like almost all sports, hand-eye coordination is huge in Ultimate and not having your eyes at 100% immediately puts yourself at a disadvantage to your competitors.
RC: I visit my eye doctor for our yearly checkups, making sure my prescription is up to date and properly following instructions when caring for contacts. It is extremely important to have good vision in Ultimate because our sport heavily relies on that sense throughout the game. You need to be able to see where the defenders are at all times to execute good offense or you need to be able to see the handler to see if they want you to cut under or deep. Between handlers eye contact is key, once eye contact is established that is when you know when to cut. All of these aspects would not be possible without good vision.
KLVC: If you had to give any advice to all the Ultimate players out there, what advice would you give on better managing your vision and health?
BD: Eating healthy and taking vitamins are so important. Also eating greens, fish, carrots, and foods that help your eyes. Have regular visits with your doctors to check up on your eyes and health. Sunglasses and hats are helpful on the sidelines, and some people use hats while playing, so if you're comfortable wearing them I'd recommend it.
MM: In any high-level sport having the competitive edge is huge, take all the small steps to be a better player and improve your skills. Listen to the experts and stick with it.
RC: Listen to your doctor/physio as they know what's best. Although it may be difficult, it will help you in the long run to keep playing the sport you love! In terms of vision, let your eyes rest and don't strain them all the time by wearing sunglasses when you can! After long tournaments, I for sure feel like I've burnt my eyes after being in the sun all day.
About Kodak Lens Vision Centres:
As a full service optometrist and optical centre, the KODAK Lens Vision Centre offers comprehensive eye health exams for families, children and adults. In addition to exams and KODAK Lenses, we also offer contact lens fitting, retinal photography, OCT, glaucoma management, vision therapy, co-management and consultation for laser and cataract surgery. With over 30 years of experience, our eye care professionals focus on providing the best eye care to their patients – we genuinely care about the health of your eyes and your overall well-being. Every day enjoy rich, crisp, and vibrant colour vision with KODAK Lenses.
How are we different?
7 locations across Toronto & GTA

Doctors of Optometry providing trusted, reliable eye care

Visible, easy to understand pricing

Options for every budget

Package pricing of frames and lenses starting at $95!

Great selection from smart to designer frames

Offering KODAK Lenses – a brand you know and trust
For more information or to book an appointment, call (416) 903-7899 or visit www.eyetrusteyecare.ca