Ultimate Canada Magazine – July 23, 2020.
Written by: Elizabeth Corey
It is no secret that the Ultimate community is still quite small when compared to major sports like hockey, football, and baseball, for example. It is still a developing sport despite growing each and every year. Luckily, we have amazing, passionate people who put in countless hours to help develop and grow the sport to its full potential. Through a series of articles, we continue to showcase leaders and their amazing work for the sport!
Next up, from Ontario, we are shining the spotlight on ReachUp, a non-profit organization that works to engage Indigenous children and youth in active, healthy living through the sport of Ultimate. We interviewed two members of the Board of Directors, Sarah Kidd and Kirk Nylen, to learn more about them and the organization.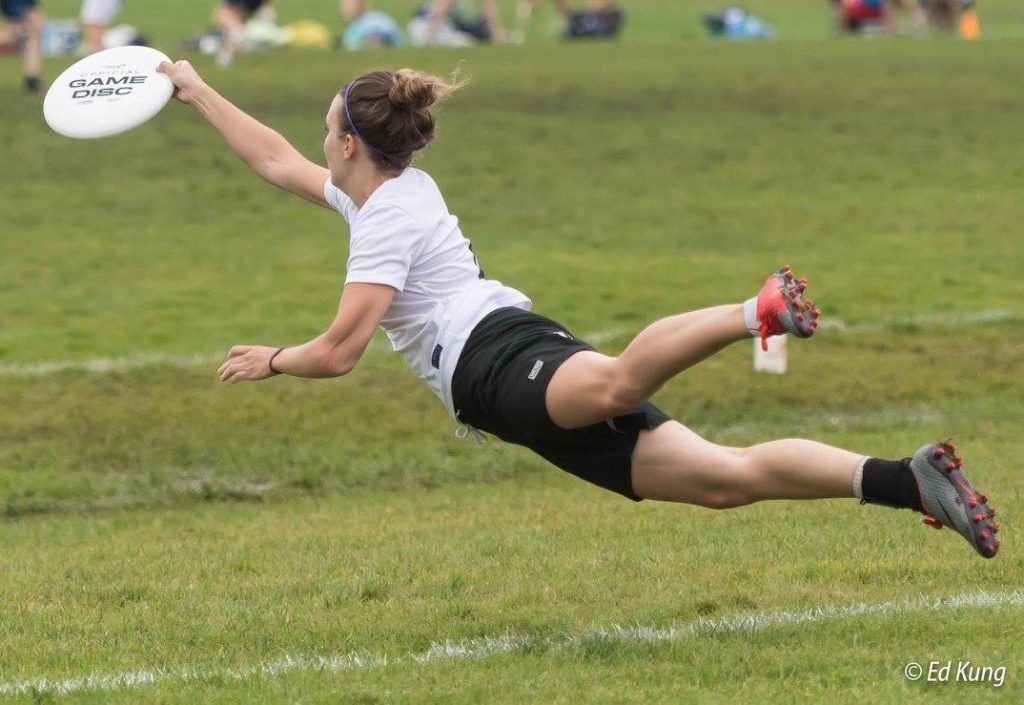 Sarah has been playing Ultimate for 15 years, and was first introduced to the sport while in high school and continues to play competitively to this day. Since starting her Ultimate career Sarah has played for the University of Toronto, toured with two elite women's teams, the Capitals and the 6ixers, and has represented Canada twice on the international stage. Sarah joined ReachUp as a Board Member and coach two years ago.
Kirk, one of the co-founders and coaches of ReachUp was first introduced to Ultimate while working in a research lab in Saskatoon. It wasn't until he began attending the University of Toronto in 2001 that he became hooked on the sport, and has been playing and coaching competitive Ultimate ever since. Kirk has represented Canada four times as a player and coach at the World Ultimate Championships.
While Kirk was working for Cancer Care Ontario (CCO), Alethea Kewayosh, Director of Aboriginal Cancer Control, wanted to create a strategy to engage Indigenous youth in a healthy and active way while educating them on preventing cancer. CCO determined that if you can prevent kids from starting smoking around grade 8, then there is a high chance they will not take it up. With this, Kirk suggested playing Ultimate as it is an affordable sport that can be played anywhere – grass, beach, snow, indoors, etc. CCO initiated the conversations with community leaders and provided funding for the coaches to travel all across Ontario. Together, they provided smoking cessation/ Ultimate workshops for Indigenous youth between the ages of 5 and 8 years old.
The pilot workshop took place at Lakeview Elementary school in M'Chigeeng First Nation on Manitoulin Island over a two-day period, in partnership with the Anishinabek Nation, a provincial/territorial organization that oversees civil communities along the North Shore of Lake Huron. It was a huge success where the youth, principal, and teachers collectively enjoyed learning about Ultimate. This garnered the attention of local media and helped form the roots for what was soon to be known as ReachUp. From there the program continued to grow, and ReachUp was eventually founded in 2014 by Kirk Nylen and Mark Agius.
"It gave people the opportunity to try something different, and one thing that was interesting that we found was often it was the kids that had the least sport experience that excelled when we first started training," Kirk explains. "There was a role reversal where the athletes are now learning from kids that don't play a lot of sport necessarily."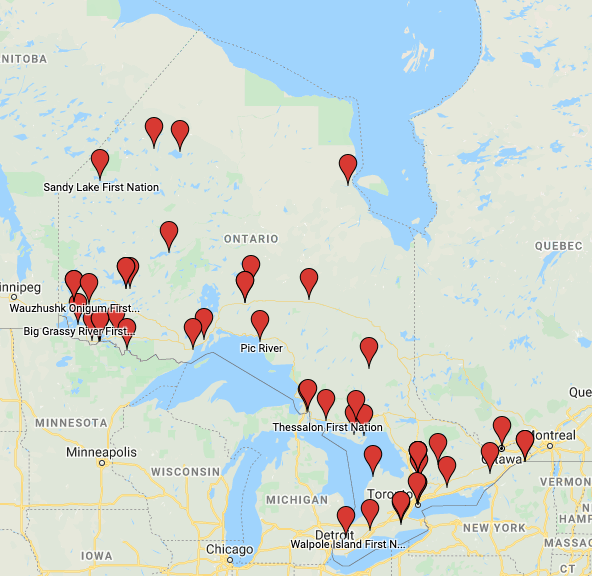 Since the pilot workshop, they have introduced Ultimate to over 50 communities and 3,000 kids, and maintain a roster of 50 volunteer coaches. Coaches have led up to 20 sessions in a single year.
The one pitfall of working with CCO, was that the workshop would take place in a community once, and coaches were only able to introduce Ultimate, rather than teach it. "Like anything, repetition and exposure are really important for you to reap the benefits of the sport that go beyond just the physical throwing and tossing. It is such an incredible community builder, it is such a positive sport," says Sarah.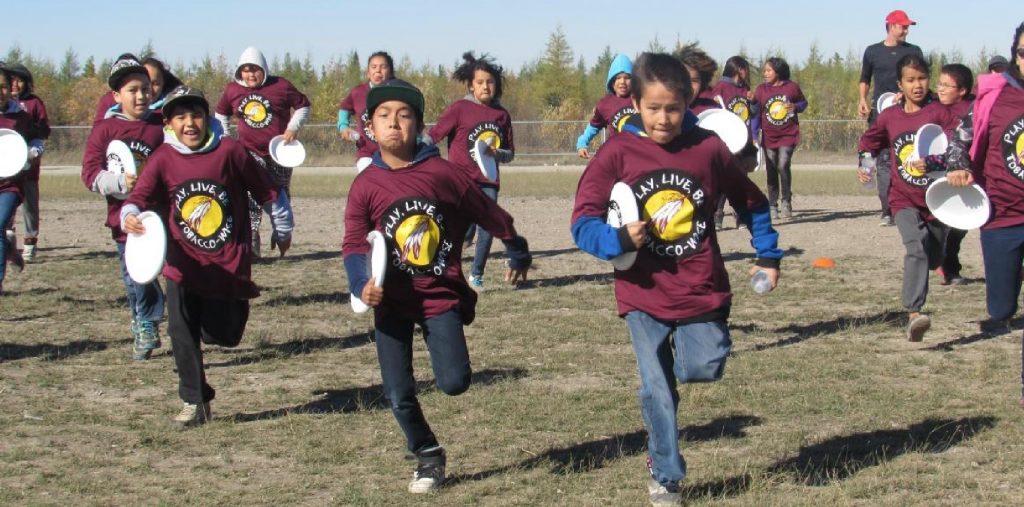 In order to develop and grow Ultimate, both Kirk and Sarah believe that the key ingredients to do so is providing access to space and tools. Kirk explains that "the simplest thing is that every kid needs a disc. When they have it they are going to throw it. That's when everything takes root. That's how I and a lot of other people started playing." Coaches would always leave a package containing discs and information about Ultimate behind. The day after a workshop in Bear Lake, when the coaches woke up there were kids throwing a disc around outside in the middle of winter. This goes to show that in fact, that when they have the disc, they will throw it.
The next key element to developing Ultimate is having role models. "We have indigenous frisbee players who I think could be role models for these kids," Kirk explains. "Everyone wants to see someone that is like them excelling at something, and when they do it totally changes their perception of what they think they can accomplish."
Last year, changes in the provincial government prevented CCO from continuing to support external groups, causing the funding for ReachUp to cease. This provided a unique opportunity for the Board of Directors to establish a new model and form new partnerships. The previous model was so reliant on CCO to provide funding and initiate conversations with the leaders. Now, there is an opportunity to go deeper and select a couple of communities that are close in proximity to one another and spend more time teaching them about Ultimate. ReachUp wants to create a pathway between learning the sport and actually getting engaged in more competitive Ultimate.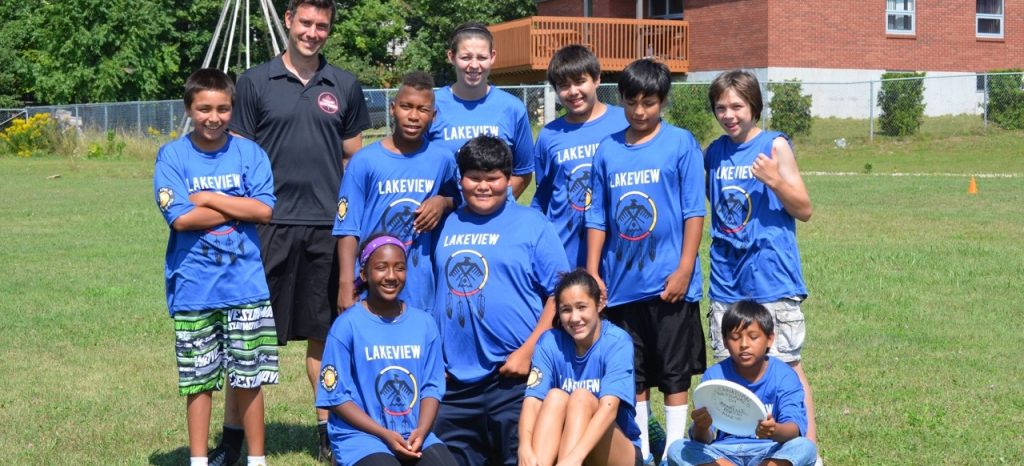 ReachUp recently began working with the Indigenous Sport and Wellness Coalition of Ontario. Through this partnership, they developed closer relationships and conversations with Indigenous leaders who can help identify communities where the new model will work and be impactful. "I think the relationship building that we have been doing over the years with the Indigenous leaders in Ontario have been really crucial to make sure that ReachUp is sustainable longer-term," Sarah explains. Before COVID-19 put a halt to everything, ReachUp coaches planned on hosting multiple sessions on Manitoulin Island, where there are six First Nations communities within 50 km of each other. The idea was to work with multiple communities in a single location, with the goal of eventually hosting an inter-community competition.
Since beginning 2 years ago with the Board of Directors for ReachUp, Sarah is thankful for the opportunity to discover new ways to remain tied to Ultimate off the field. "It is such a unifier, not only among ultimate players who have this opportunity to go to these communities, but then also being able to spend time to learn about these communities, to interact with the people there, and to get a better understanding of what life for Indigenous communities looks like, even just briefly, for a moment."
We are so lucky to have incredible individuals like Kirk, Sarah, and all those involved with ReachUp, a part of our community.
—
If you would like to nominate someone for the UCM Spotlight Series, please contact the Ultimate Canada Communications Manager, elizabeth@canadianultimate.com