Ultimate Canada Magazine – May 29, 2020.
Written by: Elizabeth Corey
It is no secret that the Ultimate community is pretty small when compared to other sports. It is still a developing sport despite growing each and every year. Luckily, we have amazing, passionate people who put in countless hours into making their Ultimate community better and help the sport grow to its full potential. Through a series of articles, we continue to showcase leaders and their amazing work for the sport!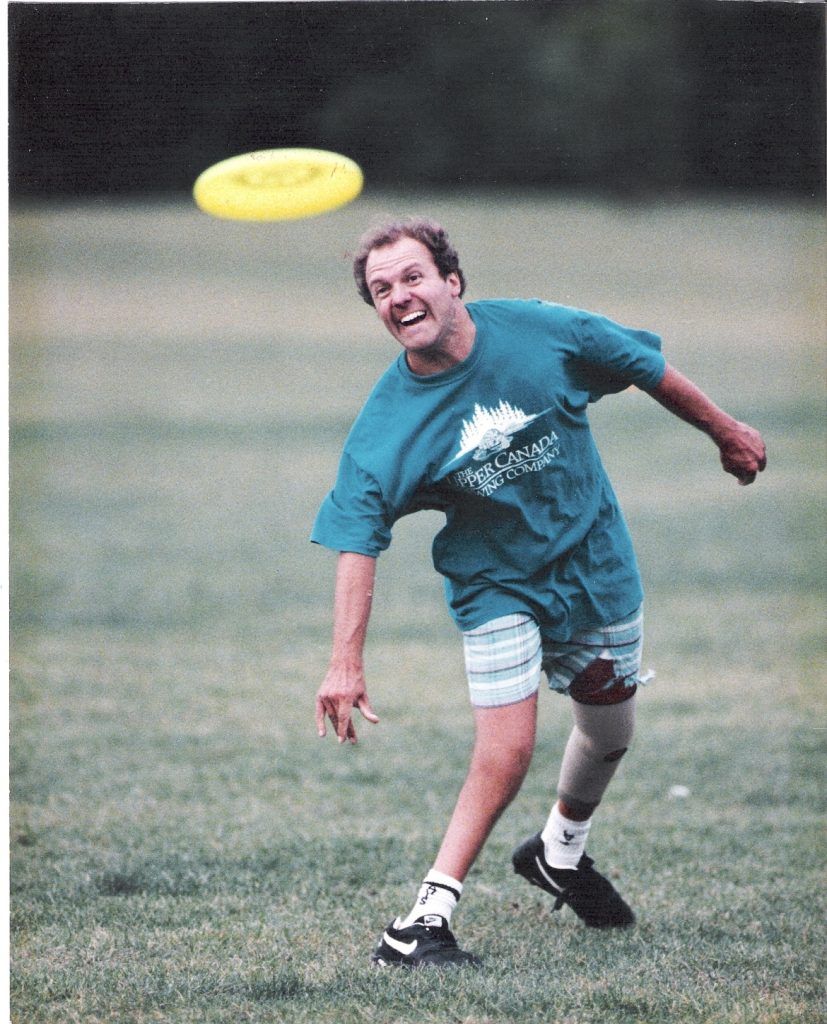 Next up, from Winnipeg, Manitoba, we will be shining the spotlight on Dean Wright. Dean has been involved in Ultimate for more than 30 years. He began playing in 1989 when the Winnipeg Ultimate League consisted of only four teams and continued to play for the next 21 years. For the majority of those years, Dean played on a team called Chuck and Millie, which was formed by his brother, cousins, and himself, and named after their grandparents.
Dean has often been described as the founder of junior Ultimate in Canada. In 1991, he began teaching and promoting Ultimate to the students at St. John's-Ravencourt School (SJR) in Winnipeg, Manitoba. Their Ultimate program is now the largest in Canada, with as many as 150 students from Grade 4 to 12. In 1994, Dean founded the Junior Division at the Canadian Ultimate Championships. That same year, he was appointed as the Canadian Ultimate Players Association (CUPA) National Junior Director, a position he held for ten years. In addition to this role, he was a member of the Ultimate Canada (formerly CUPA) Development Committee, presented at the Ultimate Canada Conference, and is a trained and certified Learning Facilitator and Evaluator for coaches at the Competition-Introduction level.
Dean also founded the annual Hold Back the Snow (HBTS) tournament. HBTS is a junior tournament for middle and high school teams and has been running every October for the past 26 years. The tournament has attracted teams from all over North America who continue to return year after year. "It feels so good to have people who I don't necessarily know approach me and tell me that they got hooked on Ultimate because of Hold Back The Snow", he exclaims. Dean noted that sharing the greatest sport with so many is one of his biggest accomplishments as a leader.
Dean's coaching experience goes beyond SJR. For ten years he coached Manitoba's junior provincial team, and the men's team, General Strike, for three years. On the international stage, he coached the Canadian Junior Open team twice, winning gold in 2002, and silver in 2004.
In terms of promoting and developing Ultimate, Dean believes that it starts with the kids. "You just have to get the kids to get involved once or twice, and they stay hooked", he says.
"I once had a young student at SJR who missed the bus after school. So, I invited him over to join the Ultimate practice while he waited for his mother to pick him up. The next day he purposely missed the bus so he could come to practice. This was almost 30 years ago, and Danny Saunders is still playing as well as being the Executive Director of Ultimate Canada."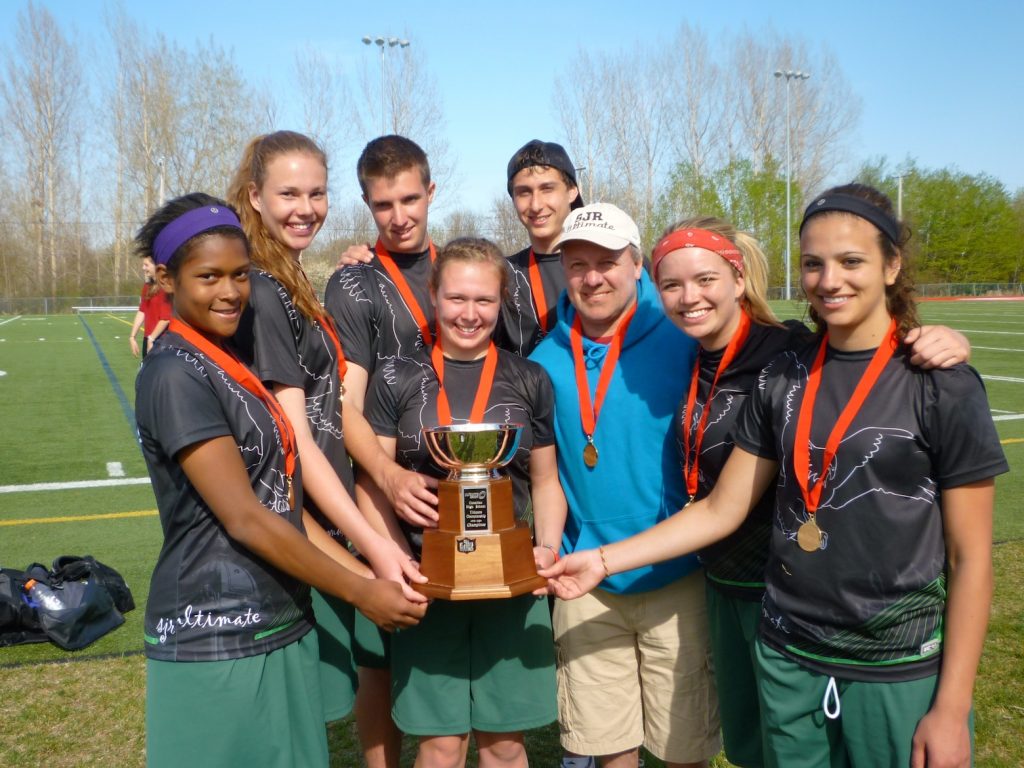 After wearing so many different Ultimate hats and being involved in Ultimate for so long, it is the smiles on the players' faces, and most importantly, being an Ultimate Dad keeps his ties to the sport so strong.
"Almost as much as coaching, I love watching my own children play the sport that I love so much. Last summer, I drove to Edmonton to watch my oldest daughter play at CUC. Sitting on the sideline, watching and cheering as a parent was a new experience for me. I must admit it was difficult to hold my tongue and keep my butt in my lawn chair at times."
Dean has been recognized for all of his work to grow Ultimate both provincially and nationally. He was inducted into the Manitoba Organization of Disc Sports Hall of Fame in 1998, the Ultimate Canada Hall of Fame in the Builder category in 2011, and was recently awarded a Years of Services Award by Sport Manitoba.
"I feel lucky that I have been in a number of positions over the years that has allowed me to promote Ultimate and introduce it to so many young people, many who are still playing."
Thank you Dean for being a key driver and advocate for the development of Ultimate at all levels!
—
If you would like to nominate someone for the UCM Spotlight Series, please contact the Ultimate Canada Communications Manager, elizabeth@canadianultimate.com