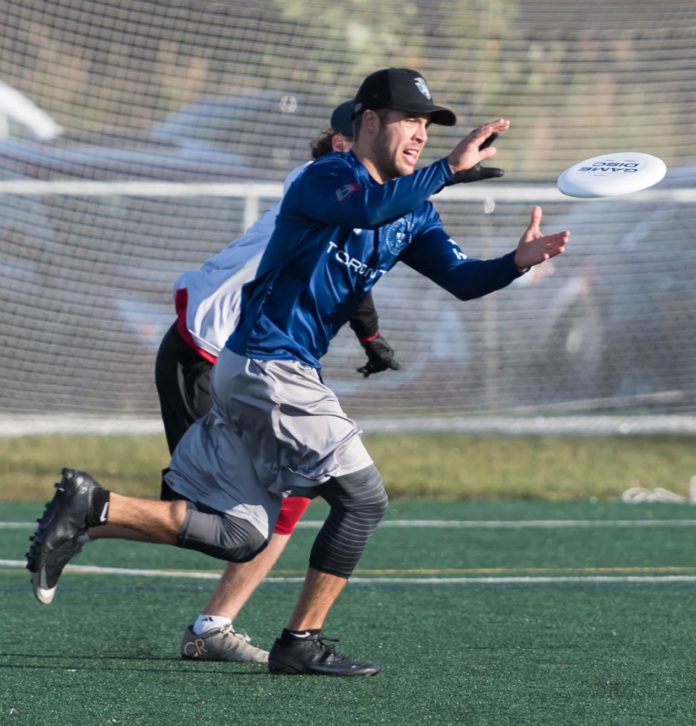 Written By: Kevin Underhill
UCM Archive: December 2016 Issue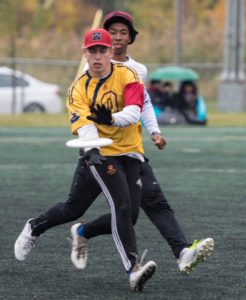 MIKE MACKENZIE (Queen's University)
There's no player in the university open division that moves quite like Mike MacKenzie. The Goat rookie brought back some of that crucial club experience to his university squad. He slots nicely into Queen's open side system using his speed to gain seemingly easy up-line passes for yards. Defensively, MacKenzie had his way with almost any matchup. MacKenzie is a player his team can count on for at least one huge play every game. Sure enough he delivered a momentum-changing Callahan goal in the semi-final game against Laval. Queen's took home their second title in as many years and I wouldn't expect them to go away anytime soon.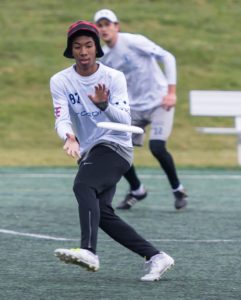 BRETTON TAN (University of Toronto)
Tan is a man that needs no introduction at the university level. The second-year Toronto specialist is an absolute menace on both sides of the disc. His speed and quick disc movement in small spaces allowed for an otherwise stagnant Toronto offense to fight through Sunday into the finals. Even in the finals, Tan was a bright star, making dramatic plays to give Toronto a chance against a deeper Queen's roster. Tan will no doubt use this season's silver medal as motivation for next season's CUUC.
ALAN SCARTH (University of Manitoba)
Scarth was the most complete player at the tournament this season. Scarth brought a wealth of experience to his role as leader of pre-tournament favourite, Manitoba. His handling skills have come a long way since his junior national team years and his cutting prowess has only gotten stronger. He caused matchup trouble for any team, having no problem with his opponents' top defender. With talented players like Scarth coming out of the university program, it won't be long before General Strike finally gets that elusive club championship title.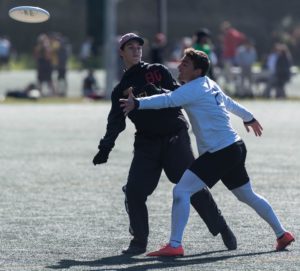 CONNOR ARMSTRONG (University of Guelph)
Guelph didn't have many bright spots this year at CUUC but they have one in Connor Armstrong. In the summer, Armstrong led his GT squad to a national title, bringing home MVP honours in the process. Guelph didn't see any of that success at this tournament but if they can build the next few years around Armstrong, it wouldn't be surprising to see them return to the title game. Armstrong is one of those versatile players that can handle with the best at the university level but has no problem using his height and athleticism in the lanes. Watch out for an Armstrong-led Guelph to make a run soon.
NICK DAQUISTO (University of Manitoba)
Daquisto is the definition of a 'big-man' in ultimate. Certainly no one at this tournament had an answer in the deep space for the big prairie boy. The Manitoba veteran was utterly dominant against one-on-one coverage. When Maniotba faced zone defense, Daquisto's role was significantly reduced. Daquisto has a nose for the goal and the talent to complement it. Watch out for him in the club scene.
FRANCIS Vallée (University of Laval)
Vallée was one of many shining stars on an upstart Laval team. He logged heavy minutes at CUUC and for good reason. There may not have been a more exciting player to watch. He had endless energy and passion and was incredibly tough to manage in the downfield space. Neither Manitoba nor Queen's really had an answer for Vallée. To many people's surprise, Laval surged through quarters and gave Queen's a tough go in the semis. That's where the Cinderella story ended but with dynamic players like Vallée, they'll be set for a few years to come.
JAY BOYCHUK (University of Toronto)
Boychuk is one tough player. Here is a guy that will grind his opponents down, one point at a time. That toughness is hard to teach. Boychuk has taken the last few years to refine the rest of his game and is now a complete player with a grinder's attitude. That's a dangerous combination, especially at the university level. It came as no surprise to see Boychuk throw the game-winning assist after grinding out a multi-turn universe point in the semifinals. *Without a doubt the best 'sports name' at the tournament.
HONOURABLE MENTIONS
Paul Mensah (Carleton), Kinley Gee (Guelph), Matt Ladyman (Manitoba), Jason Dueilla (Queen's).
All Photos Provided by Ed Kung