Written by: Rebecca Thompson
Ultimate Canada Magazine – October 18, 2017
The Queens monarchy was toppled this past weekend in Ottawa as the University of Toronto stormed undefeated to their first national title in almost a decade.
Toronto, led by all-star Bretton Tan, out-played the competition throughout the tournament leading up to their victory over Guelph in the final.
The road to get there was not easy as Toronto faced Queens in the semi-final, the two-time reigning national champions. Queens, pegged as the favourite to win CUUC this year after easily taking titles at Steeltown and CEUUC, were confronted by their first loss since 2014 after a universe point game against a fiery University of Laval team in pool play.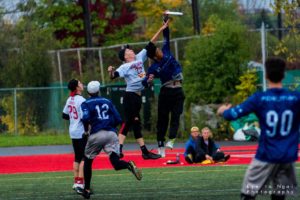 This loss placed Queens in the same side of the bracket as Toronto for a rematch of the CEUUC final.
For Tan, this was a rematch waiting to happen.
"I think one of the defining moments was when we got smoked by Queens at Easterns, like 13-4, and the team was disappointed," said Tan. "I told them: 'Hey it doesn't matter if we beat them now, it only matters if we beat them when there's muffins on the line,' so going into semis against them that helped fire us up."
After defeating Queens 11-9 to take away their chance at a three-peat, Toronto moved onto the finals against Guelph.
Having had to manage a tough Friday qualifier, the Guelph Gryphons only just punched their ticket to tier one with a universe point win over Waterloo.
The qualifier put them into a pool with Queens, Laval, and Carleton where they went 1-2 losing to both Queens and Laval.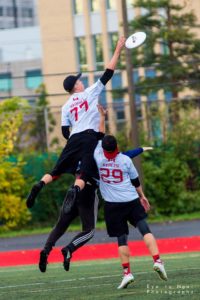 Come Sunday morning, Guelph proved that how they got there didn't matter, as they showed up with an energy and determination that had been lacking the previous two days. Led by veterans Connor Armstrong, Kinley Gee, and Parker Bollmann, The Gryphons flew past McGill and Laval to reach their first final since 2013.
Guelph took an early lead in the final but Toronto answered right away and took control for the rest of the game, eventually winning 13-10.
First-time coach Jacky Hau said that winning meant a lot to him and his team, whose players have wanted to win this title for years.
"When the final point ended, I saw the guys rush the field in excitement and happiness," said Hau. "They've worked really hard over the years, pushed themselves to become better players and learned to work together on the field."
Rounding out the podium this year was Laval, who took the bronze medal over a disheartened Queens.
Laval, who have the strength of players like Francis Vallée and Miguel Goderre, are only in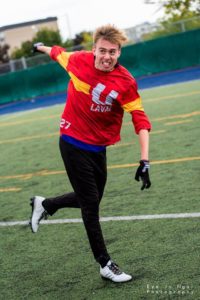 their second year at CUUC. And, with two national bronze medals already to their name, they are planning to stay on the podium going forward.
Vallée, who is returning next year, spoke about the future of the program: "Our team has proven so far that we have the talent and the depth to win big and important games. We had five teams [open and women's] at CUUC and this is proof of how many good and talented players we have on our campus and for the few years to come."
"I also see U Laval teams as an example to follow, to push university ultimate to the next level," Vallée continued. "Not only with the players, but also with the management around our teams. We are working hard on getting university ultimate as serious as possible, like we see in USA. We hope that one day, university season will be as important as club season for competitive ultimate players."